Dealer notes: GNYADA coat drive culminates & more store sales close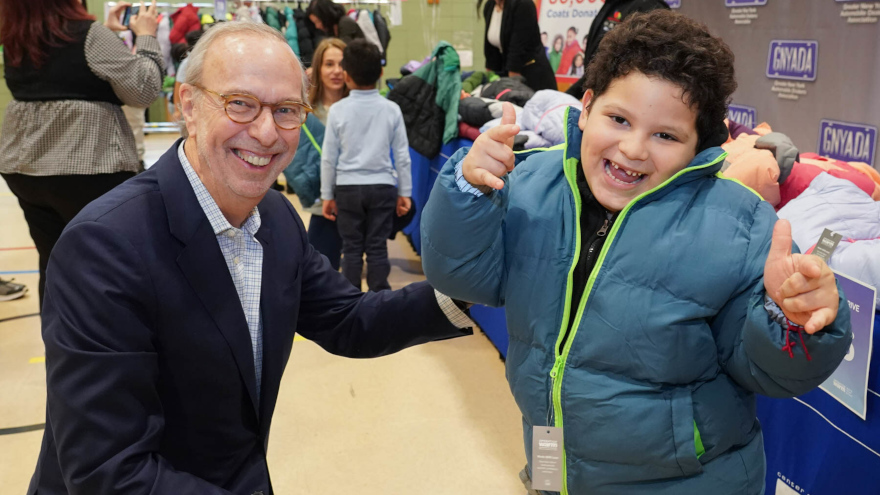 As more dealerships changed hands, the Greater New York Automobile Dealers Association (GNYADA) wrapped up its annual charity project in collaboration with Operation Warm as member stores raised more than $100,000 for a coat drive and donated thousands of coats to more than 30 schools and charitable organizations throughout downstate New York.
The campaign finished on Wednesday when dealers donated brand-new warm winter coats to the students of P.S. 179 in New York City.
"It warms my heart that during these tough economic times, people are still willing to make sure that children are warm and taken care of," P.S. 179 principal Sherry William said in a news release from GNYADA. "We are extremely grateful to the Greater NY Automobile Dealers Association for these wonderful brand-new coats."
For the past 10 years, GNYADA and its members have held this annual event. This year, GNYADA expanded its reach and provided even more coats to those who need them most in downstate New York.
"Local new car retailers understand that a warm coat can make a world of difference, and our Association members are doing their part to ensure that children in our community have access to the warmth they need to stay safe and healthy this winter," GNYADA chairman Oliver Brodlieb said.
GNYADA added that it is proud to bring this event to the community and demonstrate the commitment of local franchised retailers to the well-being and safety of children in need.
"Today, as we end this year's coat drive, I'm so happy that we are at this great school with all of these wonderful young people," GNYADA president Mark Schienberg said. "I would especially like to thank principal Sherry Williams and all the teachers and staff here at P.S. 179. You are here day in and day out supporting, nurturing, and encouraging these amazing kids to be the best that they can be. I am so pleased that we are able to support the great things you do."
Transactions updates from Haig & Performance
Haig Partners and Performance Brokerage Services both shared news releases this week highlighting dealership moves involving their firms.
Haig said it served as the exclusive sell-side advisor to Penske Automotive Group on the sale of its Marin Honda dealership located in San Rafael, Calif.
"It was an honor to represent Penske Automotive Group on the sale of Marin Honda in San Rafael, California. We are proud to be the advisor of choice to the largest automotive retail groups looking to divest dealerships for various reasons," Haig Partners president Alan Haig said.
With the sale of Marin Honda, the team at Haig Partners has been involved in the purchase or sale of 70 dealerships in California.
"The transaction demonstrates that there continues to be a robust appetite for dealerships despite concerns regarding inflation and changing market conditions," Haig said. "Many buyers remain confident that profits will be elevated for some time to come, so dealership values remain near record-high levels. It's still an excellent time for dealers looking to sell.
"Also, California very much remains a state where dealers want to invest. The state has a huge population that depends upon cars to get around, so dealerships can be highly profitable," he went on to say.
Meanwhile, Performance Brokerage Services announced the sale of Findlay RV in Las Vegas from Cliff Findlay of Findlay Automotive Group and Michael Hohl of Michael Hohl Automotive to Lazydays Holdings.
According to a news release, the dealership will remain at its current location at 4530 Boulder Highway in Las Vegas.
Lazydays, publicly traded as Lazydays Holdings, was founded in 1976. The dealership group currently operates 19 locations across 12 states. This acquisition is Lazydays' first since July 2022 when the company purchased Dave's Claremore RV in Oklahoma, which also was facilitated by Performance Brokerage Services.
Findlay RV was established in the mid-1980s by Ed Findlay and has remained at its current location since inception.
"I had the pleasure to work with Jesse Stopnitzky of Performance Brokerage Services on our recent sale of Findlay RV," Findlay Automotive Group chief financial officer Tyler Corder said in the news release. "Jesse was extremely diligent and professional throughout the entire process. His knowledge of the RV business was a big asset, and I especially appreciated his honesty and straight-forward approach to the marketing and negotiation process. I highly recommend Jesse Stopnitzky and the team at Performance Brokerage Services."
Stopnitzky, who is senior partner and director of the RV division at Performance Brokerage Services, was the exclusive advisor for this transaction.
"We are proud to have been entrusted by the Findlay and Hohl families with the sale of Findlay RV. Findlay Automotive Group is regarded as one of the classiest organizations in the automotive industry and it has been an honor working with them over the years," Stopnitzky said.
"Given the tremendous appetite for the Las Vegas market, we knew this would be a highly desired opportunity and we are thrilled to have identified Lazydays as the purchaser. We wish them great success with their acquisition and are excited to witness their continued growth first-hand. This was an exceptionally smooth transaction, which is attributed to the professionalism of all the organizations involved," Stopnitzky went on to say.