Dealer roundup: Mahalak Auto Group goes solar, Plaza Auto Mall sponsors Youth Summerfest, OC Welch Ford adds AI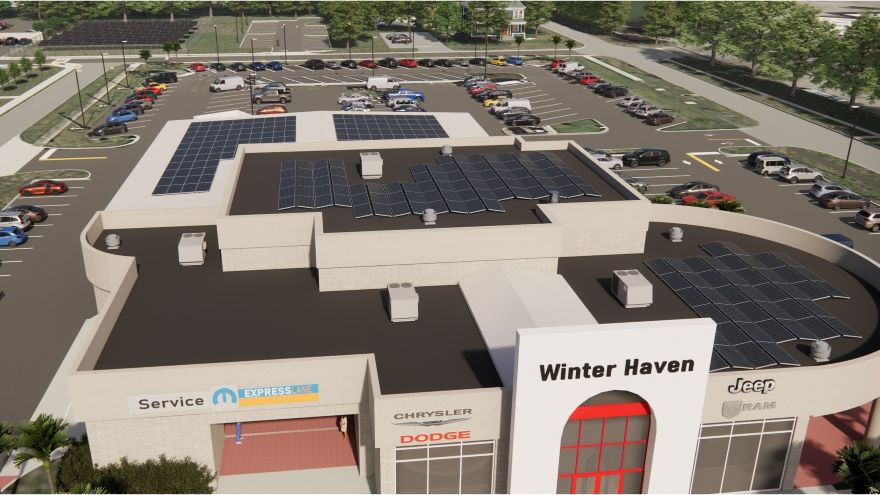 The Low Payment Kings, powered by Mahalak Auto Group, has partnered with ESA to invest in new rooftop and ground-mounted solar panel arrays to be installed at three of the group's Florida dealerships – Dodge Chrysler Jeep RAM of Winter Haven, Posner Park Chrysler Dodge Jeep RAM FIAT and Lake Wales Chrysler Dodge Jeep RAM.
Mahalak Auto Group said it made the decision to reduce its carbon footprint and contributing to a cleaner environment, and to save money on its climbing electric bills.
The group said it will also be installing more EV chargers at each dealership to support the growing number of electric vehicles on the road and provide a charging option for their customers.
"We believe that investing in renewable energy is not only good for the environment, but it also makes good business sense," Mahalak Auto Group CEO J.P. Mahalak said in a news release. "This investment opens up possibilities for our business, like ensuring our infrastructure can withstand the additional electric vehicle inventory and the accompanying charging stations on our lots.
"We are excited to see the positive impact that our new solar panels and EV chargers will have on our dealerships, our customers and the community as a whole."
Plaza Auto Mall sponsors Youth Summerfest
Plaza Auto Mall, a dealership group in New York, was a marquee sponsor of Brooklyn's annual Youth Summerfest for 2023, held Aug. 10 at the Prospect Park Zoo.
The free event, organized by Brooklyn district attorney Eric Gonzalez, drew a hundreds of children and families from across the borough — despite some rain — to celebrate the final days of summer before diving into the new school year.
More than 500 backpacks loaded with essential school supplies were distributed to children during the event, thanks to Plaza Auto Mall and other dedicated partners working to ensure every child has the tools needed to excel in their educational pursuits.
"For Plaza Auto Mall, community engagement goes beyond just business," Plaza Auto Mall group general manager Adam Rosatti said. "We believe in giving back and empowering future generations.
"Sponsoring the Youth Summerfest was our way of demonstrating a commitment to the young minds of Brooklyn. We're beyond delighted to see the happiness on the faces of children and their families."
In a news release, the dealership called the event "a testament to the enduring spirit of community collaboration, with a clear vision to foster healthy relations and ensure safer neighborhoods," and said it "echoes a resounding message of hope, optimism, and a commitment to a brighter tomorrow."
O.C. Welch Ford introduces 'Annie'
On its 38th anniversary, O.C. Welch Ford in Hardeeville, S.C., has introduced "Annie," an avatar and centerpiece of a comprehensive marketing campaign crafted by artificial intelligence.
In a release, the dealership said all aspects of the campaign to announce its "F-150 Scholars and Swings Event" are generated by AI technology, including advertising, social media, marketing copy, news releases, videos, images and emails.
"By integrating AI so thoroughly into our marketing approach on our 38th anniversary, we're not just embracing the future – we're creating it," O.C. Welch Ford president Ocie Welch III said. "Annie is the epitome of efficiency, and the substantial savings we achieve by using AI means we can directly offer our customers better deals and services.
"It's a win-win, both for O.C. Welch Ford and our valued clientele."
The dealership said the AI approach provides cost-efficiency and "represents a future-proof marketing strategy" that helps the business "dynamically adjust and respond to market trends and consumer needs."