Dealers Might Not See Much Green With Alternative Vehicles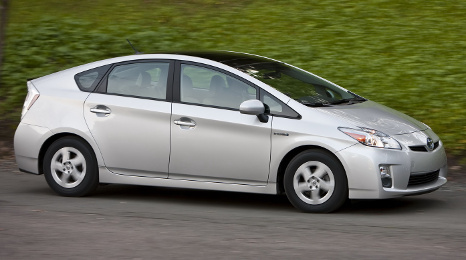 SCHAUMBURG, Ill. and SANTA MONICA, Calif -
With Earth Day being commemorated on Wednesday, both Edmunds.com and Experian Automotive uncovered a wide array of trends associated with hybrid and electric vehicles — with much of the analysis showing the lack of appeal for these units as well as diminishing financing opportunities if the consumer even purchased one of these models.
Edmunds determined today's gas prices are drawing hybrid and EV owners back toward "gas-guzzling" vehicles at a much more accelerated pace than in recent years.
Site analysts reported that about 22 percent of people who have traded in their hybrids and EVs in 2015 bought a new SUV. They said the number represents a sharp increase from 18.8 percent last year, and it is nearly double the rate of 11.9 percent just three years ago.
Overall, Edmunds noticed only 45 percent of this year's hybrid and EV trade-ins have gone toward the purchase of another alternative fuel vehicle, down from just over 60 percent in 2012. Director of industry analysis Jessica Caldwell emphasized that never before have loyalty rates for alternative-fuel vehicles fallen below 50 percent.
"For better or worse, it looks like many hybrid and EV owners are driven more by financial motives rather than a responsibility to the environment," Caldwell said.
"Three years ago, when gas was at near-record highs, it was a lot easier to rationalize the price premiums on alternative fuel vehicles," she continued. "But with today's gas prices as low as they are, the math just doesn't make a very compelling case."
To underscore the point, Edmunds calculated that at the peak average national gas price of $4.67 per gallon in October 2012, it would take five years to break even on the $3,770 price difference between a Toyota Camry LE Hybrid ($28,230) and a Toyota Camry LE ($24,460).
At today's national average gas price of $2.27 per gallon, analysts computed it would take twice as much time (10.5 years) to close the same gap.
Edmunds' analysis comes at a time when overall sales of alternative vehicles have continued to slide. The site noted EVs and hybrids accounted for just 2.7 percent of all new-vehicle sales in the first quarter of 2015, down from 3.3 percent during that same period last year.
Meanwhile, the share of SUVs has increased from 31.8 percent in Q1 2014 to 34.2 percent in Q1 2015, according to Edmunds.
Paying Cash for a "Green" Car
Experian Automotive found that consumers who purchased an alternative-powered vehicle did not just go green by cutting back on fossil fuel, but they used more green to buy them — cold hard cash.
According to a recent analysis of the alternative-powered vehicle market, findings showed that in 2014 more than 18 percent of consumers that purchased a "green" vehicle paid in cash, compared to 15.24 percent of those that purchased a gas-powered vehicle.
"Despite the increases we have seen in automotive financing over the past few years, it's interesting that a larger percentage of consumers buying 'green' vehicles are choosing to buy with cash," said Melinda Zabritski, senior director of automotive finance for Experian.
"To put it in context, nationally, consumers purchased new vehicles with cash roughly only 16 percent of the time. A possible reason for this could be that consumers buying 'green' vehicles are in the highest credit tiers, which could indicate they have more disposable income than those buying a gas vehicle," Zabritski continued.
By being in the highest credit tiers, consumers purchasing "green" vehicles also tend to be a slightly lower credit risk than those purchasing traditional models. For this analysis, "green" vehicles were defined by the following classifications: alternative power — electric car; alternative power — hybrid car; alternative power — hybrid truck.
Experian found that nearly 83 percent of consumers who purchased an alternative-powered vehicle fell within the prime credit category, compared to 71.5 percent of consumers who purchased a gas-powered vehicle. Additionally, analysts added the average credit score of a consumer purchasing "Green" was 737, while it was 711 for traditional vehicles.
Going "Green" Going Out Of Style?
Like Edmunds, Experian also noticed how the popularity of alternative vehicles is sagging.
From an overall market perspective, Experian determined the percentage of new registered alternative-powered vehicles experienced a slight decrease year-over, going from 4.1 percent in 2013 to 3.9 percent in 2014.
"While consumers purchasing an alternative-powered vehicle can satisfy their environmentally conscious side, the influx of traditionally powered vehicles with extremely high fuel efficiency have presented more options for consumers looking to save a buck at the fuel pump," Zabritski said.
At the model level, Experian noticed nearly 50 percent of all "green" vehicles registered in 2014 were Toyotas, led by the Toyota Prius (24.7 percent). The remaining top 10 included
— Toyota Prius C: 7.4 percent
— Ford Fusion: 6.9 percent
— Toyota Camry: 6.8 percent
— Nissan Leaf: 5.8 percent
— Toyota Prius V: 5.7 percent
— Ford C-Max: 4.2 percent
— Hyundai Sonata: 3.8 percent
— Chevrolet Volt: 3.5 percent
— Lexus CT 200h: 3.3 percent
For traditionally powered vehicles, Experian said the top model was the Honda Accord at 3 percent. The rest of the top 10 settled as follows:
— Ford F-150: 2.8 percent
— Honda CR-V: 2.7 percent
— Toyota Camry: 2.6 percent
— Chevrolet Silverado 1500: 2.6 percent
— Honda Civic: 2.6 percent
— Toyota Corolla: 2.2 percent
— Toyota RAV4: 2.0 percent
— Nissan Altima: 2.0 percent
— Ford Escape: 2.0 percent
Zabritski explained why dealers should pay attention to this registration trends for both alternative and traditionally powered vehicles.
"Gaining insight into what's happening in the different segments of the market allows consumers to paint a clearer picture of what options are most popular, but it also enables dealers and manufacturers to adjust their strategies and make more informed decisions," Zabritski said.
"By leveraging these insights, dealers and manufacturers are able to use this data for good, by providing inventory that not only meets the needs of the market, but also better fits in with consumer demand," she went on to say.
Experian also touched on six other findings from its Earth Day sparked analysis, including:
• In 2014, 53.3 percent of consumers took out a loan to purchase a "green" vehicle, while 70.2 percent of consumers took out a loan to purchase a traditional model.
• For leases, 28.2 percent of consumers leased an alternative-powered vehicle in 2014, compared to 29.6 percent of consumers leasing a gas-powered vehicle.
• The average loan for an alternative-powered vehicle in 2014 was $27,288, compared to $27,817 for a gas-powered vehicle.
• In 2014, the average monthly payment for an alternative-powered vehicle was $468; gas-powered vehicles were $473.
• The average lease payment for an alternative-powered vehicle was $358, compared to $407 for a gas-powered vehicle.
• The top five states with the highest percentage of alternative-powered vehicle registrations in 2014 were California, Hawaii, Oregon, Washington and Georgia.