Dealers, OEMs, Lenders & Rental Remarketers Tackle Ever-Changing Used-Car Market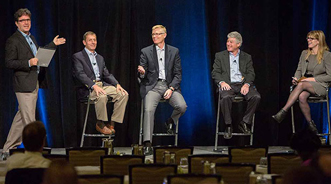 SCOTTSDALE, Ariz. -
One way to view the car business, as Hare Chevrolet dealer principal Courtney Cole put it, is to look at it as "riches and niches." And the used-car business is full of those "niches" of business opportunity for dealers, particularly as credit availability opens up.
"As long as you get creative enough," she said, "there are tons of opportunities."
Cole was speaking on two panel discussions Thursday morning at the National Remarketing Conference, offering the dealer perspective during sessions taking an in-depth look at used-car market for 2012 and beyond.
One of those panels was a discussion involving four of the five Used-Car All Stars that were honored Thursday at NRC: Cole, Larry H. Miller Group's Greg Johnson, West-Herr Automotive Group's Jack Anderson and Earnhardt Automotive Group's Gene Detrick.
(Sonic Automotive's Hal McLarty was the fifth honoree, but was not in attendance).
Dan Kennedy, manager of remarketing at General Motors, presented the quartet with their awards during a ceremony prior to the "Top Trends in the 2012–2013 Used Car Industry," where the four recipients shared some best practices and strategies they have honed for success in the used-car business.
But the best practices weren't just limited to dealers. To prompt closing remarks, the dealers were asked about what they would like to see from their auction partners.
Anderson emphasized the need for stronger notification for when cars will be available and healthier communication. Cole said any kind of mobile enhancements/offerings are beneficial, and similarly, Johnson noted the benefits of technology in the auction marketplace.
When the remarks made their way down to Detrick, he said humorously, "All of the above." He then later honed in on the importance of consistency in online vehicle descriptions.
Earlier Thursday, another panel — "The State of the Used-Car Industry" — included Cole as well as some representation from the rental, financial and OEM side of the business. Joining Cole were John Gottschalk of Ford Direct, Steve Harward of TD Auto Finance, Greg Thibault of Avis Budget Group and GM's Jennifer Costabile.
One of the angles to the conversation was that of used-car supply. Sharing her perspective from GM, Costabile noted that while lease return volume still has a ways to go, she said there's been some encouragement from GM to fleet clients to turn their fleets now while prices are high; which benefits both the automaker and the fleet companies themselves.
Cole shared an interesting point about used inventory acquisition, pointing to a strategy from her Chevy store. When prices hit a dip, they buy as many vehicles as they can.
It boils down to "finding these lines of opportunity and going after them during these moments."
Another major topic of discussion was technology and the increasing presence of the Internet. For instance, when asked what areas of technology that have piqued interest, Harward emphasized the importance of technology that makes buyers more comfortable.
Gottschalk was asked what the best dealers are doing to utilize FordDirect on both the new- and used-car sides of the business. He stressed things like mobile-enabled websites, the importance of photographs, easy-to-use websites, and maintaining one's reputation online.
And in his closing comments, Gottschalk had a message for the remarketing side of the business: the advent of online channels is great, but he implored the importance of keeping focus on the dealer.