Details of Vehicle Privacy Report now available from Privacy4Cars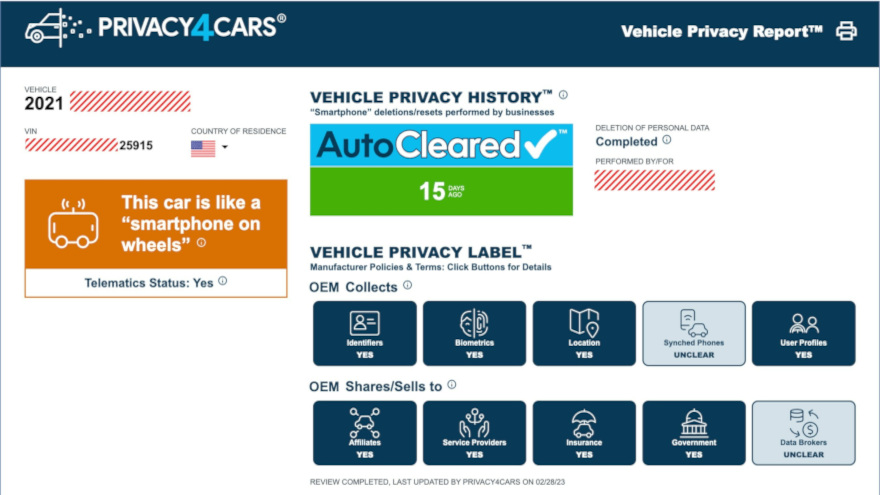 Privacy4Cars continued its journey toward solving privacy challenges posed by vehicle data this week.
The privacy-tech company introduced what it believes is a "groundbreaking new tool." Executives highlighted the Privacy4Cars' Vehicle Privacy Report can allow consumers to see key privacy facts about a vehicle, including personal information (PI) the manufacturer collects, shares and sells, with the simple entry of a vehicle's VIN.
It is available now exclusively at vehicleprivacyreport.com.
"Consumers don't realize that when they purchase a vehicle they also agree to have their PI collected, shared, and sold- and potentially left behind and leaked unless proper safeguards are put in place," Privacy4Cars founder and CEO Andrea Amico said in a news release. "Unfortunately, until today, trying to understand what owners, renters, and passengers are agreeing to required hours to research and read complex legal documents.
"We realized this was a massive transparency challenge for both consumers who are unable to factor privacy into their purchasing decisions, and also for auto businesses who lack a simple way to disclose to their customers those data agreements that nowadays are an integral part of buying, renting, financing, and insuring a vehicle," Amico continued.
During its research, Privacy4Cars found that it would take general consumers two and a half hours to read through all material necessary to understand the privacy policies and terms of the average automaker.
Further concerning, when Privacy4Cars sent consumers to "mystery shop" at more than 150 dealerships between 2020-2023, the company found that less than 5% of salespeople correctly represented that vehicles collect PI and that manufacturers have the rights to share and sell this PI.
And Privacy4Cars said no dealership was able to explain the data differences between two different vehicles mystery shoppers were test driving.
"From this, the idea for its Vehicle Privacy Report tool was born," Privacy4Cars said.
Each Vehicle Privacy Report includes two key pieces of information.
One is the Vehicle Privacy Label, which is a set of ten standardized clickable icons that synthesize the data collection, sharing, and selling practices of vehicle manufacturers, per their public documents.
The other is the Vehicle Privacy History, which lists known actions businesses have taken to protect the privacy of their customers.
For dealers, Privacy4Cars said the Vehicle Privacy Report tool can be embedded into their sales sites to help fairly communicate the data practices of automakers for each specific vehicle on their lot.
Amico highlighted those "Privacy Care" dealerships will be able to automatically populate VIN-specific badges and information on their websites' Vehicle Detail Pages, offering dealerships a new avenue to increase VDP engagement, build consumer trust, and limit risk of Unfair and Deceptive Practices accusations.
"Privacy is the new safety," Amico said. "Our hope is that Privacy4Cars' Vehicle Privacy Report will make privacy tangible and valuable for consumers, through use of our transparent disclosures preventing market distortions and incentivizing companies to improve their practices and distinguish themselves from the competition when they build, sell, buy, rent, loan, finance, and insure vehicles.
"We're confident that our new Vehicle Privacy Report is a move in the right direction for the rapidly digitizing auto industry," Amico went on to say, adding that businesses looking to utilize the service for their own vehicles will receive a free 30-day trial during the launch period.
For more information about Privacy4Cars' Vehicle Privacy Report, visit vehicleprivacyreport.com.