Dominion Dealer Solutions Rolls Out Several Announcements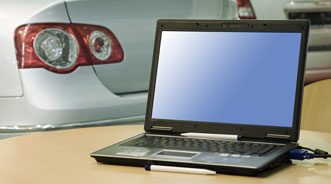 LAS VEGAS -
Leading up to and during the National Automobile Dealers Association's Convention & Expo, Dominion Dealer Solutions has been launching a variety of upgrades and new features.
For example, the company announced it has launched a dealer-branded consumer mobile app. The Be Back app, a white-labeled mobile application branded for each dealership, is a mobile glove box app designed to help consumers manage their vehicle's maintenance needs from one device.
Recently named the 2011 Most Innovative Dealership Solution by DrivingSales, Dominion Dealer Solutions' Be Back mobile app was also awarded the 2011 Innovation Cup by a panel of dealers at the Third Annual DrivingSales Executive Summit (DSES).
"The Be Back app is Dominion Dealer Solutions' first entry in providing mobile solutions that bring value to the dealership and consumer," noted Ed Braunbeck, general product manager for Dominion Dealer Solutions. "We see mobile platforms as a means to build and strengthen the relationship between the two."
From the dealer's perspective, the Be Back app will help dealerships stay more connected with their current customers, increase brand recognition and boost customer retention, management explained. In addition, the app can enable dealers to monitor and act on a customer's ability to evaluate his vehicle's equity, schedule service appointments and shop for new and used inventory.
The Be Back app provides consumers with quick, 24/7 mobile access to dealership information, appointment scheduling, service history, vehicle recall notifications and maintenance reminders.
The app can be downloaded through iTunes for Apple devices and Android Market for Droid devices.
"We have been shopping for a mobile application that would increase the customer's connection with our dealership," stated Ric McCoy, e-commerce director for Andy Mohr Automotive Group. "We are excited to be one of the first dealers to utilize the Be Back app to enhance our customers' experience and deliver tangible results in terms of service appointments and repeat buyers,."
"Mobile has to be part of any dealer's technological platform strategy," noted Glen Garvin, group general manager for Dominion Dealer Solutions. "As more customers consume content on their mobile devices, having your dealership represented with a custom application designed with both the dealer and the consumer in mind is a win-win for everyone."
For more information on the Dominion Dealer Solutions Be Back app, visit www.drivedominion.com/automotive-dealer-app.html.
Dominion Launches Integrated Inventory Offering
In other news from the company, it has launched an integrated inventory management offering for dealers. The new application combines three critical inventory elements — inventory data, analytics and merchandising — in one product. Created to align Dominion Dealer Solutions' UI/UX applications, provide better workflow and improve overall performance, Dominion's Inventory Management system provides deep, real-time data integrations with the company's marketing and CRM products, management explained.
The new inventory management system integrates customer information from Dominion Dealer Solutions' CRM, formerly Autobase CRM, directly to customer inventory. This integration provides Internet or lot shoppers with real-time updates of available make, model, year and trim information. Through this system, dealers can transfer applicable vehicle information into customer records, including test drives, write-ups, trade-in information, customer visit details and gross profit information. This optimized experience for both dealers and consumers features readily available in-stock and stock images, electronic vehicle brochures and vehicle videos, officials reported. These features will be made available to Dominion's current dealer and OEM customers at no additional cost.
"This release is an evolution in our development effort to support the growing and changing needs of our dealers", stated Sean Conley, general product manager for Dominion Dealer Solutions. "With our recent enhancements and integrations, we are confident we are delivering to dealers the most intelligent and comprehensive solution to manage inventory in one web-based application."
In addition to direct integration between Dominion's CRM and Inventory systems, the Inventory Management product now integrates with Dominion's industry leading equity alerts application, DealerAlerts, to provide an industry exclusive for mutual dealers.
The new integration enables dealers to source vehicles through their current customer base. As an additional feature, dealers will be able to select "my customers" inventory just as they would be able to view inventory from other sources, including ADESA and Manheim.
When a dealer selects "my customers," they will be alerted to customers with positive equity and can access equity applications for more detailed customer information. Those customers currently using inventory management analytics through Dominion will see this as an added option in the Sourcing tool.
Rich Crawford, vice president of product management, noted, "Inventory is a key infrastructure layer of our single Dominion solution. Dealers want solutions that simplify their lives. By providing a single place for dealers to manage and market inventory with direct connections into leading customer and marketing solutions, we are fulfilling this request from dealers."
Jaguar Taps Dominion for Equity Alert Tool
The company went on to report that its equity alert tool, DealActivator, has been chosen by Jaguar North America as a premier provider of equity mining solutions to its retailers nationwide.
DealActivator mines the retailer's database for highly-qualified equity customers from sales and service, delivering data to the dealer daily. DealActivator also provides customized support email and direct mail campaigns from each retailer to these customers. Jaguar North America has included this program as part of their nationwide retailer-sponsored opportunities. DealActivator improves sales and customer loyalty through previously untapped equity customers.
"We are delighted by Jaguar North America's selection of our equity lead generation tool for their retailers. We look forward to a collaborative relationship where we can fine-tune our products to enhance their retailers' performance," said Robert Berndt, president of Dominion Dealer Solutions.
DealActivator provides competitive advantages to local retailers by harvesting current customers from the DMS, creating a new sales initiative in the service drive, and then delivering the best possible prospects by pushing customers into the market early. DealActivator also makes contact with a retailer's best customers by utilizing automated multi-channel messaging that sends pre-qualified buyers directly to the showroom, thus driving significant revenue and ROI, officials noted.
"We are pleased that the new partnership between Jaguar and Dominion will lead to greater lead generation for our retailers, and therefore positions the brand for sales growth in the coming year," said David Pryor, brand vice president, Jaguar North America.