Dominion DMS integrates with ProMax to help dealers be 'a step ahead of competition'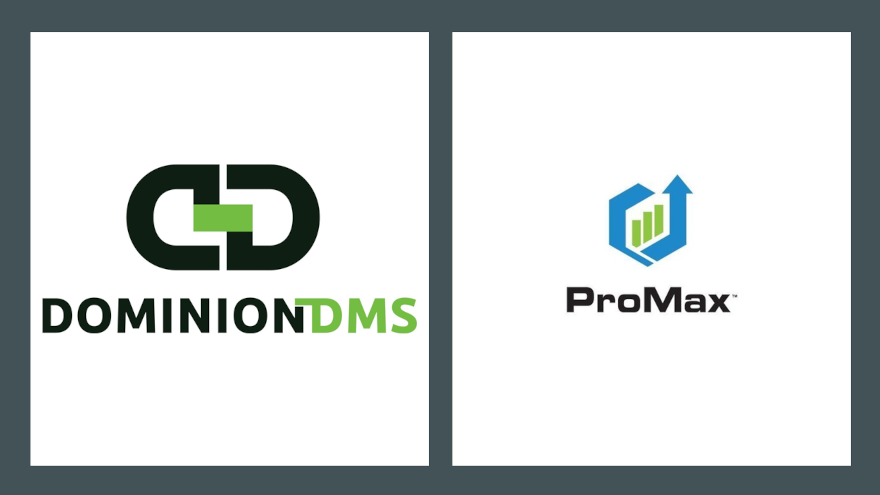 This week, Dominion DMS announced integration with ProMax to give dealers various options to increase efficiency and profitability.
The service providers said ProMax has features that will complement VUE DMS and give dealers the tools "they need to be a step ahead of the competition."
Mazda Direct general sales manager Tim Honaker said through a news release that "running a successful dealership means that the tools we use have to promote efficiency and productivity.
"The integration between VUE and ProMax allows my team to work at the highest level, and this helps to create happy and loyal customers," Honaker continued.
ProMax offers dealers in five operational functions, including:
—Websites: Attract consumers at the beginning of their journey with a customized, state-of-the-art website. Easily managed and seamlessly integrated into the ProMax system, these websites utilize appealing design, fast load times, and SEO that can enables your store to stand out from the competition.
—CRM/ILM: ProMax's has the capability to attract prospects, nurture existing relationships, and win back former customers. ProMax CRM can combine all aspects of lead management, follow-up, work plans, and more into a streamlined all-in-one solution, easy to use, scalable, and customizable to your dealership's needs.
—Inventory: ProMax Inventory has functionality to manage, analyze, optimize, and market your vehicle inventory accurately and professionally with easily sortable data, customized reporting, and seamless integrations with all DMS and third-party websites.
—Desking: This tool can calculate all available options before selecting the best choices for every type of deal.
—Data Mining/Marketing: Dealers can leverage the ProMax Data Core to build campaigns around credit, subprime, events, and more, and deliver custom messaging to a target audience. Dealers also can utilize a full-service BDC and direct mail to boost traffic and profits in both your service and sales department.
With Dominion's VUE DMS, dealers can use a robust suite of core features, including:
—$0 core monthly support
—$0 conversion and training
—Unlimited users
—Encrypted integration to any application
—Continuous software enhancements
—Robust suite of core features
—Access from any web connection
—Choose the apps you want
"ProMax is proud to partner with a company like Dominion with decades of experience serving dealerships. Our shared passion for continually innovating ways to deliver superior industry solutions that enhance the quality and efficiency of dealer processes makes for a great partnership. With VUE, dealers can take advantage of a true cloud-based experience that ensures secure and safe data transactions at highly reduced costs," said Melissa Sinclair, who is vice president of strategic business initiatives at ProMax.
Dominion DMS vice president of business development Arlene Clements added, "Partnering with companies like ProMax proves that Dominion DMS is looking at the best solutions to integrate with to offer dealerships the ability to maximize their productivity and profitability."