Draiver signs on as primary partner for No. 43 Camaro in Chicago Street Race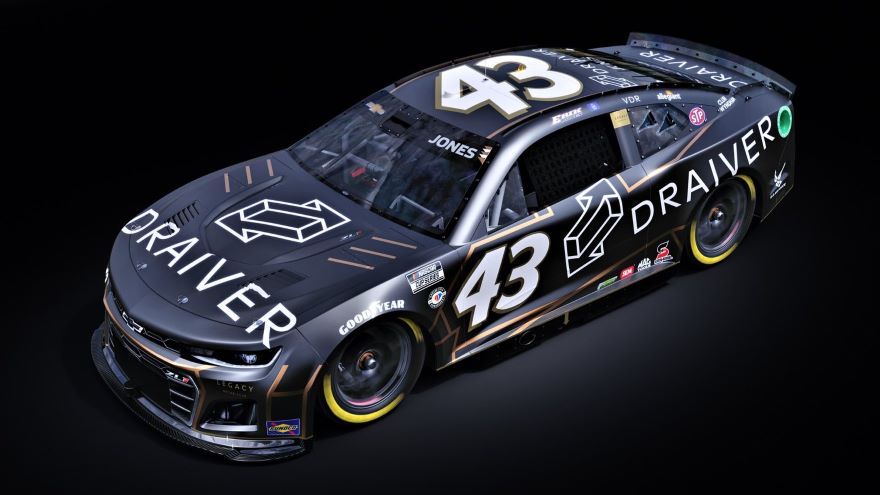 Draiver has joined with car owner LEGACY MOTOR CLUB as the primary partner on the No. 43 Chevrolet Camaro ZL1 to be driven by Erik Jones in the NASCAR Cup Series' inaugural Chicago Street Race on Sunday.
Draiver is an on-demand vehicle delivery company based in Overland Park, Kan., with operations throughout the U.S., Canada and South America.
"LEGACY MOTOR CLUB and Erik Jones value speed and innovation as much as we do," Draiver co-founder and CEO Zarif Haque said in a news release. "As experts in smarter, faster vehicle movement, Draiver is perfectly aligned with NASCAR and its very first Chicago Street Race."
Draiver moves vehicles through an advanced AI logistics platform and a fully insured independent driver network designed to deliver vehicles faster, safer, and more profitably.
"It's awesome to have Draiver on the No. 43 Chevrolet for the Chicago Street Course event," Jones said. "This is a new event so there will be lots of eyes on this race and a new partner coming into the sport is just exciting overall.
"The paint scheme on the No. 43 is really neat and clean and will stand out on the track. A street course in NASCAR is new for everyone, so we hope to have a great showing for Draiver and our fans."
The car bears the No. 43 made famous by Hall of Fame driver Richard Petty, winner of a record 200 NASCAR Cup Series races and seven series championships. Petty currently serves as LEGACY MOTOR CLUB's team ambassador.
LEGACY MOTOR CLUB co-owner Jimmie Johnson, also a seven-time NASCAR Cup Series champion, said bringing new partners to the team and the sport of stock car racing is critical for continued growth.
"There will be a lot of eyes on this race in Chicago and so it's a great opportunity for Draiver to join the club," he said.
The 200-mile race will be televised on NBC and Peacock beginning at 5:30 p.m. (EDT.).
MRN Radio and SIRIUS XM Channel 90 will also broadcast the event live.