Drive Fixed Ops Through Transparency & Trust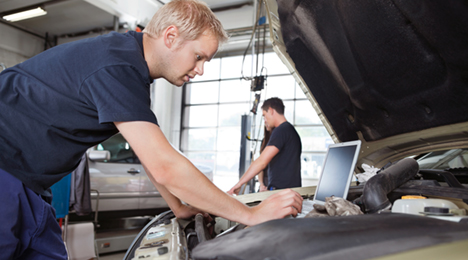 SAN FRANCISCO -
In the landscape of the digital auto world, Greg McGivney of Cars.com points out, there have been a number of advancements in price transparency on both the used- and new-car side that have helped consumers make confident decisions in their vehicle and dealership selections.
So why not make a similar move on the service side, considering how important that slice of the business is for dealerships?
Such was the thinking behind Cars.com revealing at the NADA Convention & Expo its first-ever program aimed at helping dealership service departments stand out, before eventually launching this program known as RepairPal Certified nationwide on March 2.
Cars.com partnered with RepairPal to develop RepairPal Certified, a certification badge program that "assures consumers that a dealership's service department has strong customer satisfaction scores and offers guaranteed fair prices, warranties for its work and qualified technicians."
McGivney — the general manager and vice president of strategy and business development at Cars.com — talked to Auto Remarketing at NADA about this new program before its official launch in March.
"As we looked at the landscape, the area of service and repair is very important from a financial standpoint for a dealer, from a profitability, as well from as a frequency standpoint," McGivney said. "So you have a lot more ROs (repair orders) come through the service bays than you do selling new cars or used cars on a unit basis.
"As Cars.com looked at ways that we can continue to help dealers work better with consumers and deliver better value, we felt that moving into digital in the fixed operations area was just a natural migration for the success that we've had in our core business on new and used-car shopping," he continued.
Trust, transparency, confidence. As Cars.com and others allude to, establishing these foundations is becoming more important in the car business itself — and while that extends to the service shop, dealers are perhaps getting an unfair bad rap.
"I think today, consumers have some trepidation on patronizing dealers from the service standpoint, and we recognize that. And I think that halo that they make those assumptions under is a bit misguided. And part of it is, because there hasn't been this transparency of why I should go to a dealerships versus, say, a national chain. And when we looked at that, the research showed that dealers do not exorbitantly overprice; they are competitively priced with some of the alternative solutions out there to provide the service and repair to the consumer."
Alex Vetter, Cars.com chief executive officer, shared in the initial product announcement: "With RepairPal Certified, Cars.com is offering dealers a way to promote quality work and fair prices, giving consumers the trust they need and flipping preconceived notions about dealership service."
Earning and keeping RepairPal certification requires a dealership service department to complete an assessment every 90 days. That includes four areas:
— Technical Assessment: the dealership must have OEM-certified technicians
— Minimum Warranty: at least a 12-month/12,000-mile plan
— Customer Satisfaction: a minimum number of Cars.com Service Reviews with an overall 4-star rating in sales or service.
— Price Guarantee: The pricing must fall within the RepairPal Estimator
"Those four key ingredients provide the comfort area of trust, which then gives the consumer that confidence to choose that dealer over an uncertified dealer or through an alternative solution, maybe going to a chain. Because they know they'll be taken care of," McGivney said.
Delivering a Positive Experience
The biggest challenge dealerships and automakers are faced with these days is owner loyalty, says Jim Roche of Xtime, who shared this statistic to help illustrate just how important it is to generate repeat business.
Each percentage point increase in owner loyalty brings the average dealer an additional $150,000 annually in revenue.
"General Motors recently published a figure that said for every 1 percent increase in owner loyalty that they get, it's worth $700 million. So, we're talking big money," Roche said.
"Critical to owner loyalty is service retention, because of the number of touch points that come through the service department versus the front end of the store," he continued. "And service retention is so critical that if you're not retaining your customers through your service department, you'll see your owner loyalty drop by an average of 50 percent."
Roche, Xtime's senior vice president of sales, marketing and managed services, was talking with Auto Remarketing at the NADA Convention in January. Xtime is a provider of retention solutions for the retail auto business and is owned by Cox Automotive.
Xtime aims to help dealerships provide an ownership experience similar to those found in places like Amazon that offer a "premier digital experience."
The keys are a delivering "value, convenience and trust" in the experience.
Roche added: "If you think about value in any transaction, but automotive specifically, you want to know three things: what do I need? When can I get it? And how much does it cost?
"Convenience means when you answer those three questions, do it in a way that is most convenient for me versus being convenient for you," he continued. "And trust means – and this is really a key one in the dealer world – the answer to those questions needs to be consistent.
"In other words, I don't want to go to your website and get one bit of information and then come to the dealership and get another bit of information, be told something different when I go to the cashier (and) be told it's a different price."