Edmunds honors 80 dealers with Five Star Award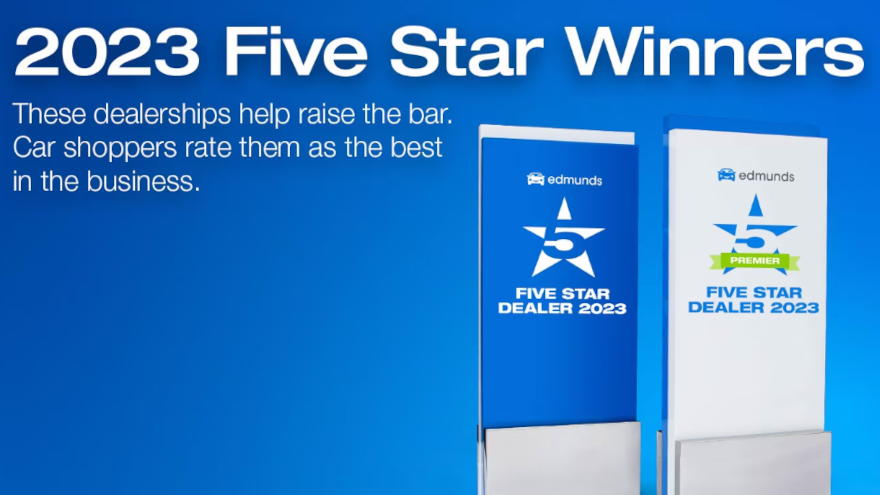 A total of 80 dealers have something else to celebrate.
On Thursday, Edmunds announced winners of the 2023 Edmunds Five Star Dealer Awards that went to 80 dealers nationwide for outstanding customer satisfaction ratings.
Edmunds said 11 of those honorees also earned the Edmunds Five Star Premier Dealer designation.
To qualify for a Five Star Dealer Award, the firm said dealers must be actively participating in the Edmunds Dealer Partner program, receive at least 30 sales reviews in 2022 and earn an average customer sales review rating of at least 4.5 stars on Edmunds during the 2022 calendar year.
To qualify for a Five Star Premier Award, Edmunds indicated dealers must meet all the requirements of a Five Star Dealer Award and also receive at least 150 sales reviews on Edmunds in 2022.
Winning dealerships are distinguished by the Five Star Dealer badge on Edmunds and are also presented with a physical trophy to celebrate their achievement.
"Dealerships across the country continued to navigate inventory shortages in 2022 amid other market hurdles, including fluctuations in used car values and major shifts in consumer shopping behavior. This year's Five Star Dealer recipients demonstrated incredible tenacity in the face of these challenges while setting the highest standards of service with their customers," Edmunds president Seth Berkowitz said in a news release.
"As the market continues to evolve at a breakneck pace, we're grateful to partner with dealerships that prioritize delivering an exceptional car shopping experience and earn the deepest trust and respect of their customers," Berkowitz continued.
To find the full list of 2023 winners, go to https://www.edmunds.com/industry/five-star-dealers.html.