Edmunds report finds high prices aren't slowing consumer demand for used cars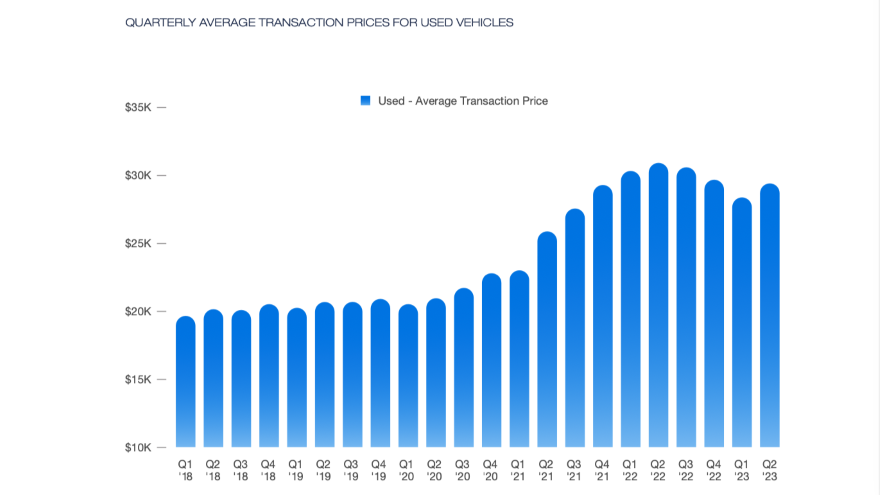 Prices and interest rates are high, but that's not stopping — or even slowing — consumer demand for used vehicles, according to the latest report from Edmunds.
Edmunds' Q2 2023 Used Vehicle Report showed a strong market for used sales, powered by years of postponed vehicle purchases, despite continued unfavorable conditions for car shoppers.
"Used-vehicle demand continued to defy the odds in Q2," Edmunds director of insights Ivan Drury said in a news release. "Shoppers are facing interest rates not seen since the Great Recession and inventory challenges have kept prices historically high, but used purchases are continuing to chug along."
The high demand, Drury said, is being driven by a large number of consumers who have been "sitting things out" since the beginning of the COVID pandemic in 2020 are now "likely being forced back into the market out of sheer necessity."
Those consumers are back in the market with a vengeance. Edmunds' data found average days to turn for used vehicles fell to 34 days in Q2 2023, compared to 39 days before the pandemic in Q2 2019.
Analysts said that's a strong indicator that consumers have made buying a vehicle a high priority regardless of the price and other factors.
They're acting in part because prices have begun declining from the unprecedented peak of the past year, though they're still far above pre-pandemic levels.
The average used transaction price for the second quarter of 2023, according to the report, was $29,472 – down 4.6% from the record $30,905 of Q2 2022. But it was still a whopping 46% above the Q2 2018 average $20,153. And the 3.8% quarter-over-quarter rise was more than the typical 2% seasonal increase.
The report also found:
Used cars are getting older: In Q2 2019, 58% of dealers' used car sales were vehicles three years old or newer. This year, it was 49%.
Edmunds analysts said that's the result of disruptions in rental car agency replacement purchases and leasing cycles in recent years, which have lessened the availability of newer used cars.
Higher-mileage vehicles cost more: Used vehicles with 100,000-150,000 miles cost 40% more in Q2 2023 than four years ago and prices for vehicles with 150,000-200,000 miles are up 28% from Q2 2019.
Off-lease inventory down: The off-lease pipeline is feeling the effects of the drop in leasing volume during the pandemic. Just one in five new vehicles are leased in today's market, compared to one in three just a few years ago.
Edmunds' analysts said that won't be getting better anytime soon, as many captive finance companies now have rules against working with third-party companies for buyouts and early lease terminations.
EV leasing not yet a factor: While EV leasing has climbed, with leases accounting for almost half of EVs sold by dealers this year. But analysts said the volume of electric vehicles, which make up just 7% of the market, is too small to make an impact, and it will be "many years" before a significant number of EVs will hit the used market.
In addition, the high level of EV starting prices makes it unlikely off-lease EVs will lose enough value over the next few years to drop below the $25,000 threshold to qualify for the Inflation Reduction Act's used EV tax credit.
Looking ahead: The report said there are few certainties in the current unpredictable used-car market, but the one thing that is certain is consumers purchasing a vehicle will find it "nearly impossible … to get their hands on a used-vehicle comparable to what they bought years ago in features, mileage or price."
The analysts said, "Consumers willing to wait for a return to normalcy within the used market unfortunately could be sitting idle for years since there are no easy solutions to the problems in the used-vehicle market."
It said the news for dealers and automakers is "most buyers will either become acclimated to higher prices or begrudgingly make a purchase because they won't be able to wait any longer."