EV automaker Mullen Tech makes 2 new hires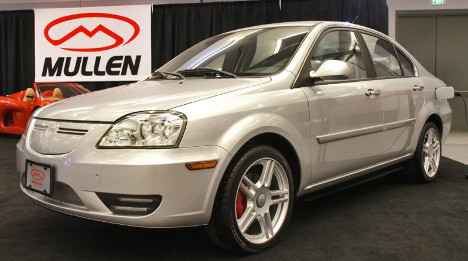 BENICIA, Calif. -
A new, pre-IPO car manufacturer that looks to compete with automakers such as Tesla Motors has hired two new executives.
Mullen Technologies Inc. has promoted Paul Saluzzi as its new chief operating officer, and Gary Rosenzweig as executive vice president.
The new California-based electric vehicle manufacturer and distributor aims to provide a variety of affordable electric cars to the American and world market.
Currently, the company manufactures a proprietary USDOT-certified four-door electric sedan.
Management said the automaker is in negotiations with several international vehicle manufacturers to "develop joint ventures to bring quality, cost-effective vehicles to the United States for certification and distribution."
Highlighting the background of the two new hires, Saluzzi brings 20 years of experience in the financial industry with him to the new COO position. He most recently served as the global director of the Friends & Family Program for IPOs at Merrill Lynch for 16 years.
The executive has supervised over 2,000 initial public offerings in his career, and personally managed IPOs for clients, such as NetFlix, HerbaLife, Hertz, Dream Works and BlackStone Group.
"Today begins a new era in the evolution, advancement and expansion of Mullen Technologies, Inc.'s quest to become the largest electric car manufacturer and distributor in the world," said David Michery, chief executive officer of Mullen Technologies. "Mr. Paul Saluzzi, with his 16 years of experience at Merrill Lynch, along with his expertise of the public markets and connections to some of the most powerful individuals on earth, gives Mullen a competitive edge and window of opportunity to expand its enterprise on a global level."
Rosenzweig, the new EVP, has worked with public and private companies in acquisitions, distribution, production development and various operating integrations for the past 17 years as president and producer of Rosensweig Co. The automaker shared he has relationships with marketing and advertising companies, such as, Grey Advertising, Saatchi & Saatchi, Bloom, ITN, Carrot, Hudson Media, McCann Ericson, Comcast Cable and many others.
Rosenzweig will operate in the newly formed Mullen Manhattan Financial Center in New York.
"Mr. Rosenzweig is a key element to the success of Mullen and we are proud to have him on our team," said Michery. "One of Mr. Rosenzweig's primary responsibilities will be to properly express the quality of our vehicle line, the business model to compete with Tesla, and expose the benefits of investing in Mullen's plans compared to start-up companies like Faraday Future. Mullen relies on honest and fair ideals and common sense business practices to bring the best valued product to the American consumer."