Exploring used-car inventory acquisition in ever-changing environment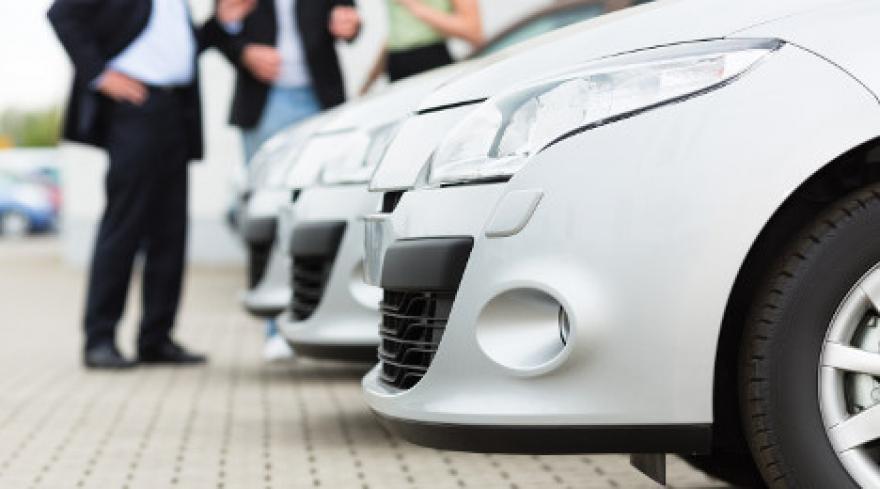 Since the COVID-19 pandemic hit in early 2020, the talk has been of tight used-car inventory, new-vehicle production shortages and high prices for both used and new.
The tides are finally turning, albeit slowly. That said, inventory acquisition for used inventory is still an issue for many dealers.
And trade-in appraisals, reconditioning costs and valuation for used vehicles are top-of-mind for dealers.
Two sessions at NADA Show 2023 this week in Dallas touch on these very topics in detail.
Randy Barone, vice president of business development at ACV Auctions, will be leading a session titled, "Windshield or rear-view mirror? How do you manage used cars?," where he will discuss what he sees as unprecedented levels of volatility in the last several years in the used-car business.
According to the session summary, Barone says to dealers, "Prepare to pivot ahead of market fluctuations and inventory volatility through better data to value cars accurately, buy more profitable vehicles and manage inventory."
Dennis McGinn, founder of Rapid Recon, which has been acquired by Vehlo, will speak on effective recon strategies for retail and wholesale markets in another session at NADA. Matt Hubiak of Swickord Auto Group, Jared Ricart of Ricart Automotive Group and Tom Dunn of Fred Martin Superstore will join McGinn, offering the dealer perspective to this topic.
In an interview with Auto Remarketing, McGinn got down to the nitty-gritty of effective recon strategies for retail and wholesale markets that will be covered in detail during his NADA session.
McGinn said that the used-car market is still in transition across the U.S., "from dealers still scrambling for inventory to others experiencing a softening of demand and the beginning return of margin compression."
COVID and its impact on new- and used-vehicle availability has forced dealers to put "buying centers" together to take advantage of acquiring vehicles from local markets, finding success in most of these endeavors, according to McGinn.
But there are other changes taking place as well, especially in the recon department.
"I also am seeing a re-focus on reconditioning processes, because of the frantic times of buyers standing at dealers' doors willing to pay whatever price is asked, and dealers needing sale-ready vehicles to sell them," McGinn said. "That only happens when reconditioning can adjust to the market and volume demand on the fly."
Reconditioning workflow software can help with these processes, although McGinn said the industry is still not seeing across-the-board adoption of these digital tools.
But the dealers who have embraced workflow accountability "are generating excellent examples of creating and delivering peak reconditioning performances using standardized metrics," he said.
The results? Creating for dealers a much better chance of predicting how to respond quickly to ongoing demand and inventory availability.
"So, in a current market like this one, the used-car operation backed by modern reconditioning best practices is making everyone's job easier and more controlled," McGinn said.
Another way to look at it: The workflow structure, organization, and performance reporting provide everyone — from the general manager to the technicians to the detailers and to vendors and the sourcing inventory folks — provides "a more predictable and accurate way of running a dealership."
As the wholesale market changes yet again, and as dealers find it necessary to source older and higher-mileage vehicles for their used inventory, McGinn contends those not using the most efficient reconditioning processes will have difficulty bringing these vehicles to sale-ready condition profitably.
"The same can be said of dealers who want to retail vehicles they once wholesaled," McGinn said. "Their ability to carefully monitor and manage recon costs and quickly get such cars sales-ready is critical to capturing margin on these higher-risk vehicles."
Transparency throughout the whole recon process also continues to play a crucial role in auto retail. McGinn cited a survey of 1,000 potential car buyers from franchised and independent dealers, a study that Rapid Recon partnered with Valiant Market Research to conduct.
These surveys went out to potential car shoppers who will likely buy a vehicle within the next three years.
The findings underscore transparency's importance to the auto retailer/custom relationship. When asked to rate the importance of transparency on a 10-point scale, with 10 being extremely Important and 1 being not important, respondents rated transparency a 9.2 out of 10.
"To further probe the potential impact of transparency on customer behavior, the survey asked respondents to rate the importance of reconditioning reports – details of how the dealer reconditioned the used car a consumer is considering," said McGinn. "Customers found reconditioning reports as part of the used-vehicle sales process appealing, 4.5 on a 5-point scale."
Getting ahead of used market volatility key to success in today's market
Barone, VP of business development at ACV Auctions, spoke with Auto Remarketing from a wholesale perspective, as well as offering tips on navigating "unprecedented levels of volatility" over the last several years. And the environment is changing once again as it normalizes to pre-COVID levels.
"Literally the ground beneath us is changing as we speak. You (buyers and sellers) were looking at used-car values from being at an all-time high. We have never seen the pricing index as it has been," Barone said.
That said, look back to July, and the industry saw these numbers coming down — "rapidly coming down," he said.
This equates to a percentage or a percentage-and-a-half per week, according to ACV data.
These declines show the impact of where we would be in a "normal" market pre-COVID holiday season.
But the market has come off such a high in the dealer market, dealers are holding onto vehicles too long to get the price they have been used to the past few years.
"Not too long ago, they (dealers) were able to basically put any price on whatever they wanted, and that car would sell," he said.
So, dealers have gotten away from gaining data and performing analysis on every vehicle buy and sell.
"And right now, what we're seeing is the ramifications of that," said Barone. "So as the market starts to correct, we've got dealers with the wrong cars; we've got dealers with cars that are way overpriced; we have dealers that have chosen to hang onto cars too long."
How does the industry deal with this? Barone, who leads regular 20 Group sessions, is pushing dealer clients on establishing the "right places" to acquire inventory.
"We're telling them the best places to get vehicles right now, and we have to go back and make sure we're looking for as many cars as we possibly can be monitoring, or that are coming back into the dealership," said Barone. "Because that market is still a very viable opportunity for these returns. And then buying cars out of other used departments and buying cars directly from the consumer, as well."
So, where's the best source of cars right now?
According to Barone, it comes down to this:
Where do I get the best quality?
Where are these good vehicles for my inventory, in particular?
"They're often going to be cars you buy directly from the consumer … so, that focus helps correct the market," Barone said.
In the changing market, dealers need to focus and educate themselves on buying cars based on data — for example, the data from their respective dealer management systems.
Look at the "DNA" of a store. And look at the market data.
"Market data is not just (looking at) if this car is doing well on my market, but does it turn? Does it look like there's a lot of them that are selling? Not 'for sale' — but has there been a lot that have sold?" Barone said.
"So those are better to be able to stock and have that inventory when we get back to using real information to make inventory decisions," Barone said.
On top of having the right car and getting it from the right source, "it comes down to having the right number of cars to hit the dealers' goals.
"I know what days' supply my system says is right, I look in at whatever my inventory management system is, and it tells me that this is my day supply," Barone said.
But what the industry has moved away from is knowing "what makes all that up."
"We have to really dial in, so during my workshop we'll actually break out, what is days' supply (and) how is it calculated?," said Barone. "Not just that it's showing a number in my inventory management system, but what really goes into that?"
He contends dealers need to have a very short supply right now when things are still so volatile in the wholesale used-car market.
"Then I want to make sure that I've got the right price; the right number of cars, and the right supply of cars, and even have it dialed into when I'm replenishing those cars, so that I am keeping a steady inventory," said Barone.
Then, dealers need to have a "renewed process" with these cars, either by trade or via buying from a wholesale service or consumers to "fill the gap."
"We have to get back to building value, building a better description of those cars and building more value, because it's going to come back to not just having the right car, but just driving that car directly to make that car stand out against the competition," Barone said.
Before the new-car shortage, the main way to stand out was pricing the cars against each other — but now "that's a recipe for disaster," Barone said.
"The way you're going to make your car stand out is by building a better description, having a better process, describing your vehicles better online and also on the lot," said Barone. "That's going to be a big focal point."