Few adjectives needed to summarize Edmunds Q1 Used Vehicle Report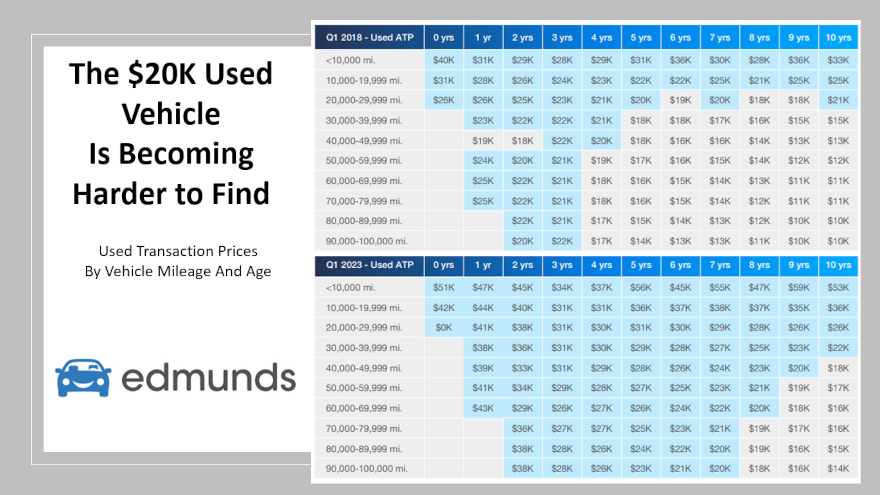 The Q1 2023 Used Vehicle Report and the data collected by Edmunds' analysts likely can be summarized in just a couple of words.
Older and more expensive.
Edmunds acknowledged used-vehicle retail prices remain historically high. Analysts found that the average used vehicle transaction price in the first quarter actually dipped by 6.4% year-over-year to $28,381, compared to $30,329 in Q1 2022.
But that average is 44% higher than the typical used transaction price in Q1 2018, which was $19,657.
Your dealership probably is seeing many customers who want a reliable vehicle that costs less than $20,000. Edmunds pinpointed how difficult a delivery proposition that has become.
Edmunds indicated the share of used vehicles sold for less than $20,000 was 30.6% in Q1 2023 compared to 60.5% five years earlier.
In the new-vehicle market, the level is almost miniscule. Edmunds said the share of new models retailed for less than $20,000 was less than 1% in Q1.
And Edmunds described how the primary wells of used-vehicle industry aren't flowing like previously, either.
"The supply of used vehicles is being squeezed across the board, which is contributing to increased demand and elevated prices in the market," analysts said when introducing these metrics:
—Lease volume dropped significantly to 559,000 vehicles in Q1 2023 from 1 million vehicles in Q1 2018.
—Trade-in volume declined to 5.5 million vehicles in 2022 from 6.2 million vehicles in 2018.
—Off-rental vehicles, which have historically been a steady source for near-new used vehicles, are now much older and pricier. The average off-rental vehicle age climbed to 3.0 years in March 2023 from 1.9 years in 2019, and the average price climbed to $28,916 in March 2023 from $15,829 in 2019.
"The good news is that used prices have softened enough in Q1 to offer some relief for consumers getting pushed out of the new market. The not-so-good news is that the used vehicle market continues to be challenging for car shoppers since there are fewer vehicles available and demand is keeping prices historically high," Edmunds director of insights Ivan Drury said in a news release.
"Consumers returning to the used market for the first time in years might find conditions a bit shocking: Not long ago, $20,000 was seen as an acceptable amount to spend on a used car to get an optimal blend of miles and age. In today's market, $20,000 puts consumers into a much older or much higher-mileage vehicle," Drury continued
Edmunds' latest report highlighted one bright spot for drivers who have held onto their vehicle the past few years: They've virtually driven for free over the last few years due to elevated used-vehicle values.
For example, in Q1 2023, the average mileage of a 5-year-old (2018 model year) Toyota Camry was 60,565 miles (a 130% increase compared to an average of 26,288 miles in Q1 of 2020), but instead of a price decline, the average transaction price of the vehicle increased by 8% in Q1 2023 to $21,223 compared to $19,656 in Q1 2020.
Edmunds analysts note that used vehicle prices are likely going to stay elevated through the rest of 2023 unless new vehicle sales take a turn.
"If new car sales stall out, automakers and dealers could leverage heavier incentives to entice consumers into new purchases, which would in turn place downward pressure on used car values," Drury said.
"But since most automakers have been deliberate in aligning vehicle production and demand to avoid the inventory glut issues they faced prior to the pandemic, consumers probably shouldn't count on any major bargains or discounts through the rest of the year," he went on to say.
The entire report can be found via this website.