Find Missed Opportunities in Fixed Ops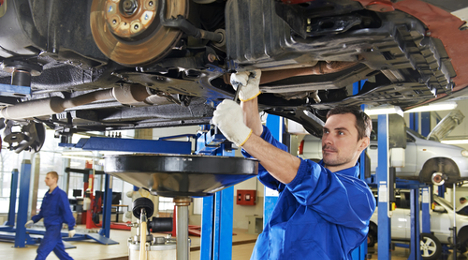 SAN FRANCISCO -
The service and fixed operations industry is a $310 billion business. The problem is, only a little more than a quarter of that goes to franchised dealerships, says Netsertive's Tim O'Rourke, citing outside research.
"The franchised dealers are getting 27 percent of that ($310 billion total), according to their own internal data. They are getting about $85 million," O'Rourke, Netsertive's sales director of auto, told Auto Remarketing at the NADA Convention & Expo in January. "The rest of that is flowing to the third-party service providers … or those who are doing it themselves."
"So, there is a tremendous opportunity there, and the battle is being fought online," he continued. "People have said overwhelmingly they search online when they are trying to figure out where they are going to get their service performed, and the franchised dealers just aren't there."
But based on the outside research shared by Netsertive, perhaps they should be. On dealer websites, 97 percent of material is sales-based; just 2 percent to 3 percent is for service, O'Rourke said.
Which is somewhat odd, considering how profitable the service side can be: despite comprising less than a quarter of sales, more than half (54 percent) of dealer profits come from the service side.
"It could really be a game changer for the dealers, if they could change their marketing practices, which we are encouraging them to do," O'Rourke said. "They need to get in the game, and they need to be working with the right partners and have a good solid strategy and allocate the right amount of budget."
Of course, there are many things dealers can be doing online to push their service department. At the top of that list, says O'Rourke, is utilizing search. In fact, he said, 70 percent of parts/service purchasers used search at some point.
"Much farther down the line is social. It's still important, but you want to cover that first base. What we are doing with dealers today is they are just not present at all. So, to go and tell a dealer we will help them with their social, we would be skipping some of the more important areas," O'Rourke said. "Search is first, but having said that, down the road, and not that far down the road, we certainly anticipate adding that, especially Facebook.
"We are a Google premier partner, but we also work with Bing and Yahoo and Facebook. And it's all very customer-centric. Based on the dealer's strategy, we want to drive the best performance we can for each campaign, and whatever tools we need to use to do that, we'll use," he continued.
The 'Zero-Mile Defection'
Another missed opportunity is the customer in your own front yard: those who buy a vehicle from you.
There are a couple reasons why a customer who purchased a car from a given dealership may not return to that same store for service, a phenomena often referred to as the "zero-mile defection," says Chris Ice, the vice president of product marketing at Xtime, a provider of retention solutions for the retail auto business that is owned by Cox Automotive.
One possibility, he said, is out-of-market sales via the Internet. And that's understandable: a customer in Charlotte, for example that found their car online and buys it from a dealership in Atlanta, probably isn't going to drive down from North Carolina to Georgia to get their car serviced.
However, the other reason he cites is a bit more problematic.
"But the other, especially in rural areas, for example, or the Midwest, you come up through generations where you've got a guy (who you turn to for vehicle service)," Ice told Auto Remarketing at NADA. "You have the guy and that's the guy you see … and if dealers aren't actively introducing the sales customer to the service department at the time of vehicle delivery, you've missed that opportunity to make that customer aware that they actually do provide service, and in some cases with no cost or pre-paid maintenance, it's included with the vehicle.
"They just don't know. There's not that awareness because they're not making that hand-off from sales to service, and they're going to the guy that they've always seen," he said. "I think the challenge there will be, as the vehicle product gets more complicated, it's going to be more difficult for 'Bob on the corner' to take care of the vehicle in the way it needs to be taken care of.
"So, it's a great opportunity right now for dealers, with the vehicle product that they have, to get engaged in making that sales to service handoff, introduce that customer to the service department and establish that relationship upfront," Ice said. "I think you'll see that reduce that zero-mile defection."
Editor's Note: The outside research Netsertive cited is from Cars.com, Dealer Communications, Ward's Auto and the National Automobile Dealers Association.
Staff Writer Sarah Rubenoff contributed to this report.Look for more fixed ops coverage in our April 1 issue.