Ford Harnesses Social Media for 2014 Fiesta Ad Campaign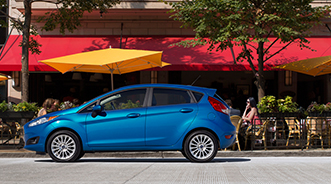 NEW YORK -
Ford is implementing its first-ever, fully user-generated ad campaign to introduce the new 2014 Ford Fiesta, enlisting the people power of social media.
In making the announcement on Tuesday, Ford officials said the company is seeking 100 "social influencers" who will convey the attributes and personality of the new Fiesta through a mix of paid media, social media and experiential events.
Ford made the announcement at the Social Media Week convention in New York, noting that this social engagement program builds on a 2009 campaign used to first launch the Fiesta.
"Fiesta was designed to reflect the individuality of the customer, so we feel the marketing efforts should give the reins to the people who will be driving it," said Jim Farley, Ford's executive vice president of Global Marketing, Sales and Service and Lincoln.
"We have a fuel-efficient, tech-savvy and stylish car that doesn't sacrifice on performance; it truly has its own personality. That personality will come through in the stories and experiences of real people," Farley said.
The Fiesta Movement: A Social Remix, will use content created only by selected influencers or "agents," then reveal it through multiple media channels and partners.
The agents will include celebrities, current Fiesta owners and newcomers, who will carry out a series of nationwide missions with the 2014 model, to be seen on TV shows, social media sites and paid advertisements.
Agents will be selected based on their stories and "social prominence," the company said, among other attributes. They will debut the content they create on their own social pages and as it gains popularity, Ford will feature it on www.fiestamovement.com.
Ford officials noted that during the original Fiesta Movement, agents traveled more than 1 million miles in Fiestas, created more than 50,000 pieces of content, and generated nearly 30 million views through social media.
"Consumers — Millennials in particular — like being a part of the brands they feel represent them," said Keith Koeppen, Ford advertising and media manager. "This demographic is accustomed to creating content about their lives, so it just makes sense to give their creativity a bigger platform with greater scale.
"The possibilities are limitless," he said. "For example, if there's a video we really like, we can turn it into a TV commercial, if there's a photo we think is really eye-catching, we can incorporate it into a print campaign."
The Fiesta Movement content will live on www.fiestamovement.com.

Continue the conversation with Auto Remarketing on both LinkedIn and Twitter.