GM to Discontinue Goodwrench Brand Name & Roll Out Certified Service Brands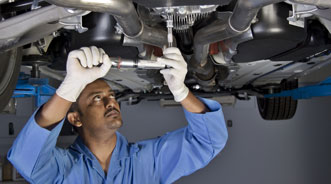 DETROIT -
General Motors revealed Monday that it will be parting ways with its Goodwrench service brand name and will instead have a Certified Service brand for each of its four core vehicle makes.
They will go by the following names: Chevrolet Certified Service, Buick Certified Service, Cadillac Certified Service and GMC Certified Service.
Explaining its decision, GM said it is aiming to foster a stronger connection between each of its makes and customers.
"Our number one priority is providing a world-class ownership experience that creates positive long-lasting relationships with our customers," stated Steve Hill, vice president and general manager of GM Customer Care and Aftersales.
"Certified Service supports GM's strategy to focus on the four brands — Chevrolet, Buick, GMC and Cadillac — and is a natural extension of the customer's vehicle purchase experience at the dealership," he added.
As far as timing, the automaker said in a statement that it will "phase out" the Goodwrench brand in the U.S. effective Feb. 1.
"This is more than a name change — it is a declaration of our commitment to our customers, with exclusive vehicle diagnostics and connectivity via OnStar, competitively priced services and parts, increased adviser and technician training, and working jointly with our dealers to focus on customer satisfaction," Hill shared.