GoMoto Digital allows car buyers to start online, finish at store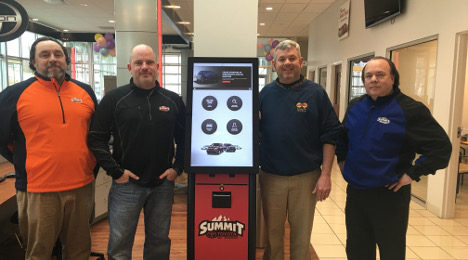 PHILADELPHIA -
Cloud-based customer engagement solutions provider GoMoto is rolling out a digital platform that will allow consumers to start the purchase process on the Web and then continue it inside the dealership walls.
This lets the dealer "capture" the consumer before they even set foot on the lot.
GoMoto Digital is set to roll out Thursday.
"Numerous auto industry surveys have found that many consumers want to complete the entire car buying process online and for auto dealerships to deliver advanced technologies that will get them in and out of the showroom in minimum time," GoMoto chief executive officer and co-founder Todd Marcelle said in a news release. "GoMoto's online and offline platforms deliver on those demands unlike any other product on the market today."
Through GoMoto Digital, the customer can start online, then show their license at the store to continue the process. Whether the shopper is online or at the store, they can receive monthly payment options and fill out a credit-approval. They do not have to give out a Social Security number to do so.
The goal is to have the customer complete the buying process in under an hour.
In a follow email with Auto Remarketing, Marcelle points out that, "dealers need to provide transparency, simplicity and convenience for customers for new and used. It comes down to the customer experience, transaction time and dealers' ability to adapt … like the used-car vendors have done. That process starts by clearly offering a path for consumers online that states the dealership's transparent process and provides the consumer tools to control the sales experience."
He adds: "Our platform allows that consumer to select their vehicle of interest by payment, gain credit qualification on our system using soft pull (no SSN and also provides dealership with the consumers full bureau) and customizes the payment based on the lender/OEM rates the dealerships can set up and can also include the equity trade value.
"This allows dealers to shorten the sales cycle in-store significantly, move away from race to bottom and win the customer for life which is what drives real value at the dealership. Second once the customer comes in the deal is brought up immediately upon the customer check in on our digital HUB," he said. "The same functionality works in-store if a customer wants to gain approval and shop by payment, etc., on the Hub our any mobile device."