How Can You Go Mobile in Your Dealership?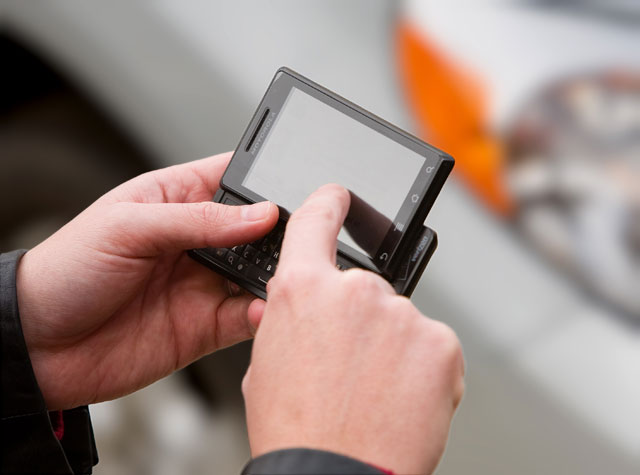 CENTREVILLE, Va -
One of the new keys to the success of your business is right there in the palm of your hand. It's the thing most of us put in our pocket or handbag right after our wallet. It's your smartphone — and it could be working a lot harder for you than it is now.
Dealers are using all sorts of mobile devices in their everyday operations. The capability of these devices is limitless. As the competition for quality used vehicles grows even tighter, the smart move is to use the power of your smartphone. You can operate your dealership on-the-go, making fast, informed decisions from acquisition to retail that will ultimately improve your bottom line.
Consider this example. At the auction, you and another competing dealer are eyeing the same unit in the lane. He pulls the vehicle value, history report and market pricing in seconds using his mobile device.
You anxiously flip through your trusty book and your phone stays useless in your pocket. Chances are he wins the bid or lets you overpay for a car he knows his customers may not want. Plus, he's already busy putting the cars he acquired up online with new photos and pricing, all by using his mobile device. No matter what the scenario, competing with dealers who have already gone mobile is like entering the family sedan into a NASCAR race — you just can't keep up.
More than 440,000 mobile sites and over 500,000 mobile apps exist today, including a growing number of auto-industry related apps. It may seem daunting to integrate this emerging technology into your business, but these tools are a must-have for both acquisition and retail. For many successful dealers mobile devices have made buying and selling cars simpler.
What Are "Mobile Apps" and How Do They Help Dealers?
To sum up this new technology, an app is a software application that helps people accomplish tasks faster. They are developed for mobile smartphones, such as iPhone, Droid and BlackBerry. Apps essentially make information actionable … or, applicable, if you will.
The applications for business operations are potentially limitless. Among other things, an app can use the hard drive of the mobile device to store data for faster recall and operation, perform calculations, access hardware features such as camera and GPS — all without an Internet connection. Talk about improving productivity.
So far, mobile apps have been downloaded more than 7 billion times from Apple alone. At its core, the Internet revolution was about how technology harnessed the power of information to generate efficiencies, and this is exactly the opportunity mobile apps offer to dealerships today, providing information on the go and the ability to tie it all together and take action.
How Can Mobile Apps Streamline Your Business?
Let's take one of the most critical and complex dealership processes requiring multiple touch-points: inventory appraising, pricing, management and merchandising. In the old days, dealers had to lug around multiple books, such as KBB, Black Book, NADA guides, etc. Then, when the Internet came along, all this information transferred online and was made available in a single log-in creating huge efficiencies — along with additional layers of complexity as consumer eyeballs also shifted online.
As the dealership audience broadened with the growth of the Internet, so did the competitive radius, necessitating the photographing and uploading of robust vehicle images and content to multiple listing sites — mandating new vendors, more competitive and relevant pricing protocols, and more layers of coordination to manage and maintain the new inventory/sales channel.
The introduction of mobile browser-based tools into the process provided dealerships with an added layer of visibility accessible on the go — but one that lacked a built-in ability to act in real-time on that information organically across the dealership. For example, you can read a stock quote on your mobile phone on a hot moving tip, but have no capacity to act on this information.
And this is where the secret sauce of a mobile app comes in. Just as a mobile app enables stock trading on the go, an app such as eCarList's 'True Target Mobile' can enable dealerships to take a massive dataset and a complex, multi-step, -vendor and -personnel process and make it all work at almost the touch of a button on a single handheld device.
With an app like True Target Mobile, dealerships can accurately appraise and price their vehicles via mobile access to pricing data from multiple books, as well as current data from eBay, AutoTrader, and Cars.com, and they have the ability to filter, organize and view the data geographically for territory (including vehicle pricing from competitive dealerships) to provide a precisely relevant market pricing assessment of each individual vehicle. They can perform a VIN scan, integrate vehicle history reports from Carfax and then share those appraisals and pricing with other mobile devices into the same database.
But that's not all: dealers can use the app to literally 'own' the marketing and merchandising of vehicles. Take photos (and because it is tied into a robust inventory management system, the app will note which vehicles need to have photos taken). Then add or remove images to existing inventory while integrating with key personnel such as the sales rep, general manager, etc. (not to mention the actual buyer), and providing visibility into critical organizational functions.
Are There Other Benefits to Going Mobile?
On the acquisition side, smartphones provide access to information you need to stock your lot with cars that customers want. It's no secret that the used-car supply is decreasing due to rising demand and the fact that people are simply keeping their cars longer. The competition at auction is getting tighter and your customer's trade may be a bit more valuable now.
Think about the top concerns your customers have when shopping for a used car: previous damage, maintenance, ownership history, and of course, price. It used to be that you had to wait to get back to your desk to find these things out. Especially at auction, that could mean the difference between maximizing your profit margin on cars that will sell quickly and overpaying for ones that won't move off your lot.
Tools like Carfax Vehicle History Reports are readily-available through various mobile devices to verify this important information and bid with confidence. Pricing information and other details are also at your fingertips no matter where you are. Remember, too, that vehicle history affects vehicle price — having your mobile device handy helps you tie it all together quickly and successfully acquire the right cars for your lot.
Today's mobile devices provide access to information that brings transparency and process efficiency to dealers so they can more accurately and cost-effectively merchandise their vehicles, eliminate unnecessary vendors, focus their sales force on selling, and, ultimately, accelerate inventory turn rate — all from the palm of the sales professional's hand.
With billions of apps downloaded, and many more on their way, the possibilities mobile is opening up for our industry are truly extraordinary — and in the current economic climate, leveraging new and user-friendly technology is key to moving more cars and saving money in the process.
Len Critcher is chief executive officer of eCarList, provider of an award-winning inventory management and online marketing solutions designed to make it easy for dealerships to fully own and control the vehicle merchandising process through one unified platform.
Lance Vickery is director of dealer business at Carfax and has spent more than 25 years in the auto industry.