How dealers can avoid fate of big-box store closures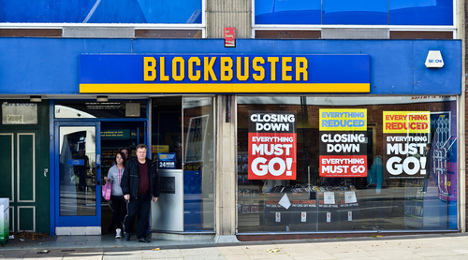 CARY, N.C. -
Car dealerships don't appear in any imminent danger of joining the brick-and-mortar retail graveyard haunted by the fates of big-box stores in other industries, many of whom were usurped by the likes of Amazon and Netflix and their own failures to adapt to customer demand.
In the case of dealers, says David Kain, "I think it's more, we have identified the enemy, and the enemy is us."
Kain — founder of the Kain Automotive company that provides Internet sales training and digital marketing solutions — is the son of a car dealer and worked in his family's store for 20 years. He also co-founded FordDirect.com and was its president and chief operating officer.
"And I think their greater risk is lack of innovation, unwillingness to meet the consumer where they want to be served," he said of dealers, "and that level of resistance, I think, will tend to mitigate as the OEMs create requirements for digital retailing and blend that with the consumer acceptance of a more streamlined process."
Dealers are bound to "come along," he said.
Kain compares it to the inception of the Web in the mid-1990s.
The knock was, "it was a fad; nobody's going to do it. You can't buy cars online," he said.
Twenty-plus years later, my, how that mindset has changed.
"You may not be to the point of complete digital retailing, but consumers sure love it and smart dealers sure love it," Kain said. "And yes, some dealers are still resistant to it, and they are doing fine. But when market time's up and consumers vote with their thumbs or their fingertips, the bad dealers will probably suffer."
In the new-car market, the only real legitimate threat is Tesla, due to state franchise laws – of which Kain said he is a "proponent" — that prevent carmakers from selling directly to consumers.
"However, I think what's happening and will continue to happen is that companies like Carvana and CarMax will eat the lunch of less-prepared franchised dealer used-car operations," he said.
How do dealers prevent this from happening? Innovation, Kain says, and adjust their own models based on lessons learned from these would-be lunch-eaters.
He lauds Carvana, for example, for putting all its vehicles online and specifically pointing out any imperfections the vehicle might have. The full demonstrations and live pictures are also a plus, he said.
Crediting it in part to OEM compliance, the market is showing a "slow innovation of dealership websites to meet a Carvana-type standard. And I think that's a problem for dealers. And I think dealers are going to have to push their OEMs to allow them to work without so many constraints on their own websites, and be able to mimic those kind of sites."
He gives the examples of Sonic Automotive, Price Simms Auto Group and Schomp Automotive as those who are being innovative.
In its latest earnings conference call, Sonic discussed several technology updates. Among those: an appraisal app that will be introduced in the near future.
Perhaps most significant, Sonic customers will soon be able handle the entire transaction online, executive vice president Jeff Dyke said during the April call.
"They'll be able to buy a car online and we'll deliver, white-glove, the car to their place of business, their home, wherever they would like," Dyke said.
He added: "I know it's not a large part of the customer base today but we project that over time, that's going to grow and that opportunity will be there for our consumers to use at their convenience."
Over at Asbury Automotive Group, there has been a 25-person in-house digital marketing team for close to two years. In Asbury's latest earnings call, chief executive Craig Monaghan credits this team a great deal for helping to lift internally generated Internet leads by 37 percent in 2016.
Digital accounts for three-quarters of Asbury's ad spend, he said.
What's more, Asbury had 130-percent more website visitors in Q1 than it did a year ago, Monaghan said, and 5 percent of unit sales in the first quarter started in the "PUSHSTART" online sales tool.
Blending online, in-store & letting customers choose
It wasn't brick-and-mortar stores that caused giants like Macy's to tumble, Kain said.
Rather, it was more about their "resistance to blend online and offline," he said.
The lesson dealers should take away from those companies is to "learn to embrace change."
Have a blend of online and offline and let the customer determine what works for them.
"The most obvious model and retail gross generated per square feet model is the Apple Store and I think that's a good lesson," he said.
You can pick up your new iPhone at the store, test it out there, test it out at home. It's up to the customer, Kain said.
There are also lessons dealer sales associates can learn from Apple Store associates, and vice versa, he said. In fact, at some of the stores Kain works with, there are former Apple employees who have moved into the dealership sales world.
Likewise, there are progressive dealerships that are fine-tuning their hours and facilities to make it more amenable to a more youthful and "discerning" sales staff. That includes adjusting compensation plans to be more about salary and bonuses rather than trying to attract folks through 100-percent commissions.
The auto business might also learn from other retail models, including pizza, real-estate and shoes.
Learn from other industries
In comments shared ahead of a speech at the Automotive Forum in New York, Cox Automotive chief operating officer Mark O'Neil cites entities like Amazon, Domino's, Rocket Mortgage and Zappos that have used technology to make a more efficient, transparent, customized and enjoyable buying process.
Cox Automotive argues that doing the same in automotive could bear similar results.
So, what can the auto industry learn from folks who have succeeded (or, conversely, not succeeded) in digital retail?
"I think the learnings from all these folks are, it needs to be intuitive. Whether you're buying eyeglasses or ordering pizza, there's no one there to guide you through the process," O'Neil said in a follow-up interview with Auto Remarketing. "So, you need to make sure you design your technology in a way that is self-evident; it's intuitive (for) the consumer to figure out themselves."