Hyundai dealers will eventually be able to sell used cars on Amazon, too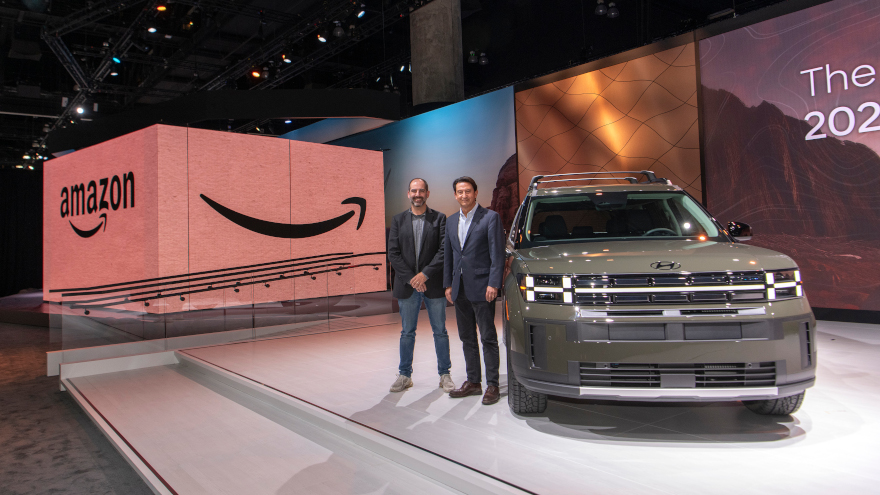 Dealers selling cars on Amazon? It's finally happening. And eventually, they will be able to move pre-owned units on the platform, too.
As part of a broad strategic partnership between Amazon and Hyundai Motor Company announced Thursday at the Los Angeles Auto Show, car dealers will be able to sell cars through Amazon's U.S. store for the first time starting next year, with Hyundai as the first brand to be available.
And eventually, dealers will be able to sell both new and used vehicles through Amazon, a Hyundai spokesperson confirmed to Auto Remarketing via email.
The process is designed to let consumers easily buy the vehicle online and then pick it up at their local dealership or have that dealer deliver it to them.
"Customers will be able to search on Amazon for available vehicles in their area based on a range of preferences, including model, trim, color and features, choose their preferred car, and then check out online with their chosen payment and financing options — all within the Amazon experience they already know and trust," the companies said in a joint news release.
"This new shopping experience will create another way for dealers to build awareness of their selection and offer convenience to their customers," they added.
As part of the partnership, Amazon Web Services is now the preferred cloud provider for Hyundai as it digitally transforms its operations, production and customer service. Additionally, the two companies will bring the Alexa Built-in experience to the next generation of Hyundai vehicles.
"Hyundai is a very innovative company that shares Amazon's passion for trying to make customers' lives better and easier every day," Amazon CEO Andy Jassy said in the release.
"Our broad, strategic partnership should do just that, from changing the ease with which customers can buy vehicles online, to making it simple to use Alexa in Hyundai vehicles for entertainment, shopping, smart home adjustments and calendar checks, to enabling Hyundai to transform their customer experiences and business operations by moving to AWS," Jassy said. "We look forward to inventing together for many years."
Hyundai Motor Company president and CEO Jaehoon Chang added: "Partnering with one of the world's most customer-centric organizations unlocks incredible opportunities as we continue to expand our portfolio, grow our sales network, transition to electrification and realize the future of smart mobility.
"Amazon is the ideal partner to help realize our vision of progress for humanity, including improving how people and goods move more efficiently and sustainably," Chang said. "Hyundai is the first automotive company available for full end-to-end transactions in Amazon's U.S. store and this is another example of how we continue to push for ways to elevate the customer journey together with our outstanding retail partners."