IAA tower dispatch process automation system wins patent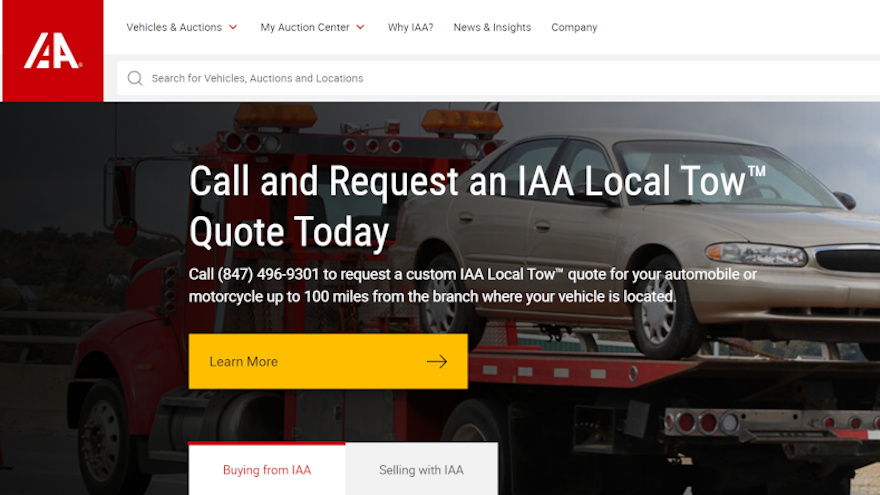 WESTCHESTER, Ill. -
The U.S. Patent and Trademark Office awarded a patent to global digital marketplace IAA for an "Automatic Dispatch System for Tow Service Providers," and IAA said the technology "streamlines the recovery process for total loss vehicles."
IAA filed for the patent in May, and it was approved in August.
The patent, under U.S. Patent No. 10,796,583, includes 19 claims protecting and recognizing innovations developed by IAA for an enterprise server that provides an automated and efficient tow dispatch service.
In addition to describing a method for dispatching work assignments to tow service providers, the patent also describes a system for optimizing the assignment of a pool of tow request stocks to available tow service providers.
More specifically, fulfillment requirements of the tow request stocks are analyzed and matched to suitable tow service providers. IAA has other patent applications pending, in addition to the current patent, that the company says cover further "innovations."
With Automated Dispatch, available tow jobs are accessible to the largest potential pool of towing service providers. That occurs through assigning vehicle retrieval relative to the geo-location of the device requesting the work.
Drivers can locate vehicles, check in and complete the entire transport process. The process includes pick-up and drop-off at accessible facilities or holding yards, via the app.
With dispatch automation, towing service providers can optimize their vehicle loads, and it gives transparency of vehicle location and status to IAA seller clients.
The patent names inventors senior director of transportation logistics Brett Wallin; director of field operations for product management Anthony Roth; senior manager for product Christopher Poulos; and IT team lead Mradul Modi.
"Automating the towing and dispatch cycle of salvage vehicles has streamlined the entire vehicle recovery process, allowing IAA to transport vehicle assets with greater speed and efficiency than ever before," Wallin said in a news release. "The patent award for dispatch automation is a testament to IAA's technical capabilities to meet clients' ever-changing needs."
California expansion
In other IAA news, the company announced it was expanding its Southern California market by adding a new Los Angeles South Branch location. The company said the new location will increase IAA's footprint in the area and said the new location will serve local selling clients' expanding needs.
The new branch, located at 1903 N. Blinn Avenue in Wilmington, Calif., provides needed additional storage inventory space in the market, president of U.S. operations Tim O'Day said.
"The location aligns perfectly with IAA's ongoing expansion strategy to invest in real estate located within growing regions to better serve our buyer and seller communities," O'Day said.
A listing of the branch's preview and sales days is available.