Insurance at Top of Dealers' Worries in Aftermath of Hurricane Sandy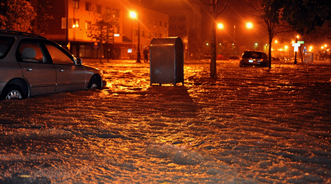 SCOTTSDALE, Ariz. -
For the state that has been wracked by two sweeping storms in the past 14 months — first Hurricane Irene in 2011 and the more recent Superstorm Sandy — many dealers are still struggling to get back on their feet; assessing damage from October's storm and working through insurance claims at a quick clip.
Mark Scheinberg, president of the Greater New York Automobile Dealers Association told NADA Used Car Guide that "some big issues right now revolve around insurance," for dealers in areas damaged by Sandy.
"Flood insurance was not available for most of the coastal property, so damage to property is on the dealer," Scheinberg said.
He also stressed that FEMA does not help with business losses, so dealers must deal with storm impact on their own.
That said, the Greater New York Automobile Dealers Association has contributed $250,000 on top of the $1M provided by NADA to the Emergency Relief Fund of the National Automobile Dealer's Charitable Foundation.
Approximately 340 dealers in New York were affected, and about 25 percent still have issues, either with phone lines, power, or Internet (as of Nov. 8), officials shared.
And it isn't just physical damage they are worried about.
"Many dealers' insurance plans do not cover for losses from losing business days. This is a challenge since about 85 percent of dealers service employees are union and are guaranteed a 30 hour minimum work week," Scheinberg told NADA UCG.
As for the vehicles themselves, thankfully, Scheinberg explained that many new vehicles are covered by floorplan insurance, so many dealers are "not on the hook" for damaged vehicles.
"There were a lot of units lost because any salt water damage on vehicles results in a salvage situation. Also, since dealers don't have much real estate, many vehicles were stored on piers and in other areas near the coast," Scheinberg explained.
Offering a little perspective, last week Penske Motor Group estimated the business impact from Superstorm Sandy.
The company's 36 dealerships along the eastern United States were impacted by the storm and lost, on average, three to four days of business, with the dealerships in the New York metropolitan area suffering a more prolonged impact, according to officials.
The most severe damage was felt in Jersey City, N.J., where three of the company's dealerships sustained damage from flooding, including the loss of approximately 1,000 new and used vehicles which were in inventory.
Power was restored to those dealerships on Nov. 6, and the dealerships have re-opened for business.
Penske chairman Roger Penske said, "Our first priority continues to be the personal well-being of our employees and their families, some of which have suffered enormous hardship. We have established a donation program through the American Red Cross whereby all of our employees can contribute directly to the relief efforts and, as a company, we are directly assisting employees who suffered storm-related losses."
The Penske dealerships in the eastern U.S. accounted for approximately 17 percent of the company's retail unit sales and consolidated revenues for the three months ended September 30.
And as dealers continue to assess damage and deal with the impact at home, manufacturers and OEMs are doing their own part.
Manufacturers have responded by adding incentives to help facilitate new-vehicle sales, and NADA estimates that between 30–35 percent of consumers needing to replace a vehicle will buy new.
And as stores assess where to replace lost inventory, officials noted that dealers are optimistic that inventory can be quickly reallocated from other regions to supplant the lost vehicles.
Vehicles from Florida, Texas and Ohio may represent the largest number of units that make their way into New York and New Jersey, according to car lease transfer website Swapalease.com who studied vehicle transfer patterns since January and identified those three states as representing the most frequent originations of leases transferred into New York or New Jersey.
In fact, 18.5 percent of all vehicles transferred into New York have come from Florida so far in 2012.
Other states feeding into New York and New Jersey on a smaller scale have included North Carolina, Illinois, Minnesota and Alabama.
"Keep in mind that the Northeast represents the largest concentration of leased vehicles throughout the country. Luxury vehicles such as the BMW 3 Series, Mercedes C Class, Lexus and Cadillac brands, which make up a large portion of leases, will most likely be in need of replacement," officials stressed.
Dealers are also claiming that they are seeing improved traffic in the dealerships already and are getting a lot of local consumers that they haven't seen previously, Scheinberg concluded.