IntelliChoice Honors Top CPO Programs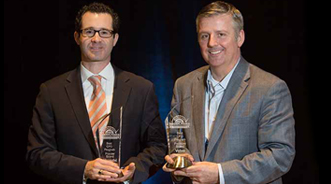 SCOTTSDALE, Ariz. -
IntelliChoice.com announced its 2013 Certified Pre-Owned awards Tuesday afternoon at Used Car Week, and receiving the Best Popular CPO Program Award was Hyundai, while Volvo took honors as the Best Premium CPO Program Award winner.
Hyundai has won the popular category two years in a row, and Volvo extended its streak of premium category wins to six straight years.
During Tuesday's CPO Forum action at Used Car Week, Auto Remarketing caught up with Jose Froehlich, the senior manager of certified pre-owned at Hyundai Motor America, and Steve Golow, the CPO and remarketing manager at Volvo Cars of North America.
"It's an honor to be recognized by IntelliChoice as the winner (of the popular category) in 2013," Froehlich said.
"And I know there was a lot of strong competition this year," he added, noting how several brands have improved their respective CPO offerings. "To win for the second year in a row was a surprise and certainly an honor."
Through October, Hyundai has sold 58,024 vehicles this year, which represents about a 51-percent improvement over the same period of 2011.
Looking at the program's growth, Froehlich touched on the upgrades Hyundai has made to its program this year, which include a revised website (www.hyundaicertified.com) and additional listings/advertising with the brand's advertising partners Cars.com, AutoTrader.com and Edmunds.com.
Hyundai has also made further enhancements to its APR offerings, Froehlich said, and the overall enhancements (CPO and otherwise) provided by Carfax.
And he also went back to the company's dealers.
"The dealers are where the growth comes from," Froehlich said, pointing out their recognition of the program's importance and their support.
As for Volvo, Golow said the program essentially stuck with what has been working for them for so long. "We kept a strong program strong," he said.
That said, Volvo has been working "behind the scenes" on some program upgrades that will be rolled out in early 2013, Golow said. These enhancements will help "separate us from the rest of the pack."
"If we're one of the best in class," Golow said, "these changes will make us best in class."
When asked where he sees Volvo's CPO strength, Golow pointed to the warranty and inspection process. Echoing that sentiment, IntelliChoice noted Volvo's performance in the warranty and inspection metrics, which the firm calls "the two most important areas for a pre-owned vehicle."
In the inspection scoring, Volvo earned a 100- percent rating. Meanwhile, its warranty score was in the top five as was its used ownership cost score. Officials also emphasized that the brand "showed no weaknesses in any significant area of the program review."
Meanwhile, Hyundai earned the second strongest warranty rating, and its inspection process rated 100 percent.
More on IntelliChoice Awards
The awards program is in its 14th year and examined 27 brands across nine different features, including metrics like warranty coverage, inspection criteria, used cost of ownership and more.
"IntelliChoice issues the industry's only report card for Certified Pre-Owned vehicles. Many manufacturers develop their CPO programs using the IntelliChoice.com inspection and ranking criteria as benchmarks," said Eric Anderson, ownership database supervisor at IntelliChoice. "We're proud to be setting industry standards that result in better, safer, longer-lasting pre-owned vehicles."
IntelliChoice also announced four other winners on Tuesday.
The Best Popular CPO Warranty Award went to Mini, and the Best Premium CPO Warranty Award went to Porsche.
The Best Popular Brand Used Ownership Costs Award went to Honda, while the Best Premium Brand Used Ownership Costs was given to Lincoln.