J.D. Power: Reprieve in Used Supply 'Right Around the Corner'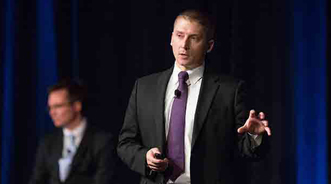 SCOTTSDALE, Ariz. -
For dealers feeling the pinch of tight used-vehicle supply over the past few years, Joe Derkos had an encouraging message Monday afternoon during the opening day keynote address at Used Car Week.
"Relief is right around the corner," said Derkos, J.D Power's director of consulting and analytics. "In fact, we're probably already there."
Derkos and J.D. Power's Stephan Schroeder were delivering the "J.D. Power Retail Used Vehicle Market Outlook" presentation that wrapped up Day 1 of the CPO Forum, which included a look into where used supply may be headed and much more.
During the opening segment of the presentation — which included a deep dive into data from the franchised retail network — Derkos pointed out that off-lease supply is expected to increase 38 percent year-over-year in 2013, with purchase returns expected to increase 3 percent.
All told, this would be a 7-percent gain in off-lease/purchase return volume next year.
Moving along, Derkos also offered a breakdown of FICO scores in the used-car market. He pointed out that average scores have declined in each of the last three years, and that "C" and "D" grade credit-tier used-car buyers are significantly more prevalent in the used-car market.
This, he said, presents an "opportunity for CPO to cast a wider net" and pull in a greater amount of lower-tier customers.
CPO Trends
Derkos also took an opportunity to look at some detailed findings in the certified market. Interestingly enough, the data has shown that when looking at CPO sales volume as proportion of total used volume, the more established brands have seen decreases while the up-and-coming brands have been climbing.
He attributed this surge for the upstarts to the increased investments they've made in their respective programs. Derkos said there is still a ways to go to where the market hits parity, but it appears like it is headed that way.
Schroeder then followed Derkos by sharing some insights into certified shopper behaviors. One of the many pieces of insight he mentioned was the fact that 35 percent of CPO considerers employed more than one device (between desktops, tablets and smartphones) to shop.
Breaking that down further, 99 percent used a desktop, 18 percent used a tablet and 20 percent used a smartphone.
He also noted that shoppers considering certified units tend to visit 4.9 automaker websites on average while browsing 4.3 third-party sites (a category that also includes enthusiast and member sites).