Kontos spots rising prices on late-model vehicles at auction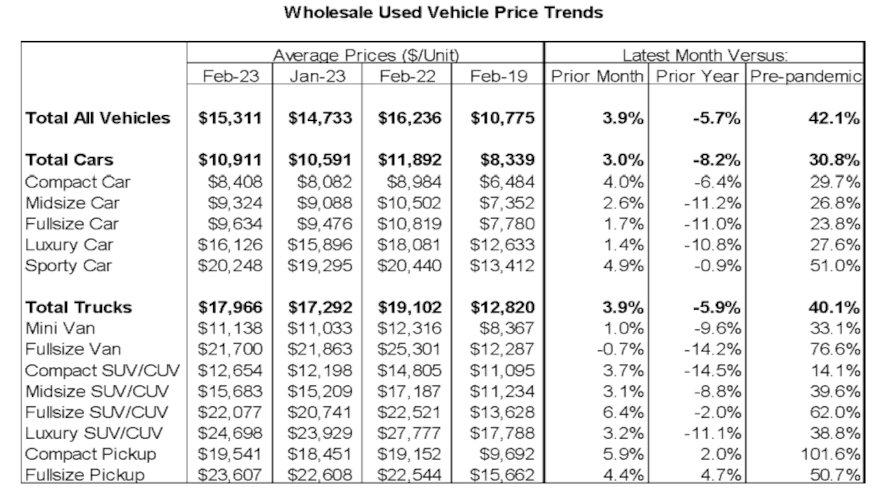 Even though some automakers have expanded certified pre-owned vehicle eligibility to include older model-years, dealer demand for the late-model vehicles that have historically been the bread-and-butter of CPO programs remains strong.
And their values in the wholesale market are climbing in early 2023.
That's according to the latest Kontos Kommentary report from ADESA chief economist Tom Kontos released Tuesday.
In the report, Kontos shares a breakdown of wholesale price activity for fleet/lease sales of 3-year-old units with 36,000-45,000 miles, which he notes represent late-model vehicles.
After climbing in February to reach an average of $25,433, prices for those vehicles were already up to $26,054 during the week ending March 19, Kontos said in the commentary.
"Late-model price growth in part reflects strong demand for CPO-eligible units," he said.
Speaking of CPO, Kontos shared data indicating that certified sales are up 13.9% year-to-date through February, with dealers having moved 407,980 units.
"Note that CPO sales have improved this year despite wholesale supply shortages of late-model used vehicles eligible for certification," he said.
"This improvement in sales is partly the result of expansion by OEMs of their certification programs to include older units," Kontos said. "In addition, many inflation-sensitive consumers are substituting new vehicle purchases with less-expensive CPO buys."