Latest Kontos wholesale market prediction comes to fruition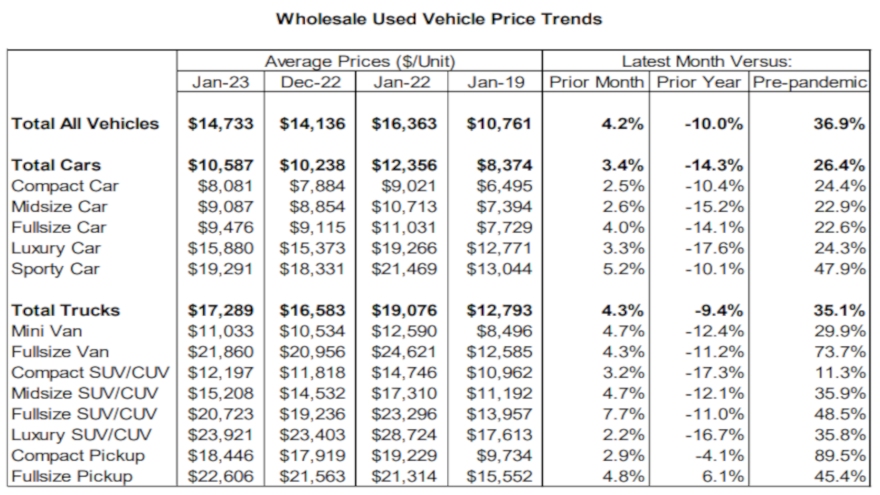 ADESA chief economist Tom Kontos is getting validation about a projection he made a year ago: As new-vehicle supply improved, used-vehicle price growth would return closer to its typical one-to-one relationship with new models.
That validation was part of the newest installment of the Kontos Kommentary that included ADESA US Analytical Services' monthly analysis of auction industry used-vehicle prices by vehicle model class.
That analysis showed wholesale prices in January averaged $14,733. That reading was up 4.2% compared to December but down 10.0% relative to January 2022. It also was up 36.9% versus pre-pandemic/January 2019 levels.
Kontos noted that average prices have increased so far in February and stood at $15,161 for the week ending Feb. 12
"Average wholesale used-vehicle prices in January were solidly up relative to December, ending a streak of seven monthly declines in the latter part of 2022. These price increases have continued into February," Kontos said in his analysis sent to Auto Remarketing last week.
And now for that validation.
Kontos recollected that at this time last year he provided an analysis of the historical relationship between the used and new vehicle consumer price indexes, using figures from the U.S. Bureau of Labor Statistics.
In that analysis, Kontos pointed out that the historical ratio of the used vehicle CPI to the new vehicle CPI averaged about 1:1 before the pandemic.
"This made sense, since used-vehicle price increases are generally limited to the growth rate in new vehicle prices; ultimately, new vehicle prices represent a ceiling on used-vehicle prices because new and used vehicles are substitute goods," Kontos said.
However, Kontos noted that the ratio jumped to 1.28:1 in June 2021 and remained elevated into early 2022 "in large part due to the chip shortage and other supply chain bottlenecks that limited new vehicle availability."
So, now that 2023 has arrived?
"That price normalization appears to have indeed been taking place since mid-2022. This could mean that the 'correction' in used-vehicle prices may be nearing an end, which, along with resumption of the typical spring/tax season uptick, could help explain the increases in wholesale prices we've seen since the beginning of the year," Kontos said.