Manheim Reveals Simulcast Everywhere, Annual Market Report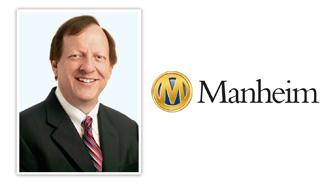 LAS VEGAS -
In a special press conference on-site at the National Automobile Dealers Association's Annual Convention & Expo, Manheim management not only revealed its 2012 Used Car Market Report, but also unveiled the launch of Simulcast Everywhere.
This new solution is designed to bring the auction to the car, anywhere in the world, with live auctioneer-led sales.
In the Used Car Market Report, Sandy Schwartz, president of Manheim, discusses this new offering, saying, "In 2011, we conducted a series of successful pilot tests of our newest and most exciting service, Simulcast Everywhere. Simulcast was launched nearly 10 years ago and was an immediate success because it enabled online bidders to participate in live auctions on their personal computers. Simulcast Everywhere goes a step further by bringing the auctioneer and live auction to the seller's location.
"Simulcast Everywhere enables sellers to remarket vehicles faster, and that allows dealers to search larger inventories and bid on more vehicles earlier in the remarketing cycle. It is an innovation that enables all of us — dealers, commercial consignors and Manheim — to work more effectively," he added.
Simuclast Everywhere features competitive bidding within an OVE.com-style environment to bring the "in-lane excitement of sale day" to the online experience, according to officials.
"The idea for Simulcast Everywhere really came from listening to our customers and learning what kinds of digital tools would make it easier for them to buy and sell cars," explained Joe George, group vice president of Manheim Digital.
"Building upon those insights, we developed Simulcast Everywhere before rolling out this game-changing offering," he continued.
In the annual market report, Schwartz also noted, "Today, our customers purchase approximately 25 percent of the vehicles remarketed through a Manheim digital channel. But as we continue to roll out new mobile applications and online services, and dealers gain confidence in buying and selling vehicles online, we believe that number will rise quickly above 50 percent.
"At Manheim, our goal is not to dictate where buyers and sellers connect, but rather to ensure that they can quickly and confidently transact in any manner that is convenient for them, whether that is by smartphone, tablet, PC, or bidding in a lane," he continued.
So how does Manheim Everywhere work? Management explained that a still picture of a vehicle is displayed with a live audio stream of the auctioneer calling each vehicle. A vehicle bid log constantly keeps sales activity up-to-date. Moreover, general vehicle details, quick access to condition reports and the full run list of vehicles are available onscreen at a glance.
"The unprecedented auction platform delivers distinct advantages to buyers and sellers.Buyers gain access to a larger pool of inventory in a familiar, fully transparent marketplace where they can see everyone who is participating in the sale," management pointed out.
"This level of transparency gives customers a high level of confidence during Simulcast Everywhere events. Also, vehicles come with condition reports so buyers have all the information they need to make informed purchasing decision," they added.
The solution is designed to allow sellers to find the best market price for their vehicles. It is also designed to expose a seller's inventory to a wider buyer marketplace including vehicles not on Manheim's property, saving sellers transportation fees associated with bringing vehicles to the auction.
Manheim will be hosting live mock sales at NADA booth No. 1169 for dealers where it will also be giving out prizes.
"We are proud to celebrate our 10th anniversary of employing a platform that changed the way people buy and sell cars in the remarketing wholesale industry," explained George. "With the launch of Simulcast Everywhere, Manheim continues its commitment to innovate products that help customers do business with us anytime, anywhere and in any way they like."
For more information or to watch a video of the solution, visit http://mymanheimeverywhere.com.
Manheim's Annual Used Car Market Report
Manufacturers, rental car companies, lenders and dealers increased revenues and earnings in 2011 despite a weak economic backdrop. Manheim's Tom Webb credited this growth to business restructurings, productivity gains, effective use of new technologies and "good old-fashioned customer service."
In addition to a year-in-review/outlook and a chapter on the remarketing industry as a whole, the book features chapters on dealers, rental, leasing repossessions, commercial and government fleets and salvage.
Some of the facts highlighted in the report include:
—New car and light-duty truck sales were up 10 percent over 2010 to 12.8 million units. This fell short of Manheim's 13.1 million projection due to lost sales resulting from inventory shortages after the Japanese earthquake. New vehicles sold at a 13.1 million annualized rate in the first four months of the year and at a 13.3 million annualized clip in the final four months. It was the 11.9 million sales pace in the middle four months that dampened the annual total.
—Meanwhile, used vehicle sales were 38.8 million in 2011, the strongest level in four years. Manufacturer pre-owned sales totaled 1.7 million, a record high. Likewise, used vehicles retailed by the seven publically traded dealership groups also reached a record high in 2011 at just under 1 million units.
Wholesale Trends from Manheim:
—A significant reduction in commercial assignment volumes more than offset the increase in dealer consignment in 2011. Preliminary numbers suggest the number of vehicles remarketed through the National Auto Auction Association member-auctions declined by about 8 percent in 2011 to just under 7.8 million units, marking the fourth consecutive year of falling volumes.
—The Manheim Used Vehicle Vlaue Index topped out in May 2011 at 127.8 and remained at historically high levels, adjusted for mileage and seasonality, through year-end. For the year, the index average 124.9, up from 120.5 in 2010, for a gain of 3.7 percent.
—Small and midsized cars had substantially higher prices in 2011 than in 2010, while all other market segments showed flat pricing or declines.
—Technology continues to transform the wholesale marketplace.
—For example, online transactions now account for 25 percent of all Manheim sales. The launch of Simulcast Everywhere in 2011 allows for real-time bidding in live auctions conducted from anywhere vehicles are located — dealerships, car rental lots or marshaling yards.
—In 2011, 118,000 users logged into OVE.com each week, an increase of 11 percent over the same period in 2010.
—Manheim received more than 4 million visits to its mobile website, iPhone app and Android app in 2011. The iPhone and iPad accounted for 64 percent of mobile visits and android devices accounted for 32 percent of mobile visits.
Dealers:
—Used-vehicle sales by franchised dealers increased 8 percent to slightly more than 13.8 million units, while sales by independent dealers increased by 6 percent to just under 13.8 million. Private-party sales (11.2 million) rose only 1 percent. With vehicle owners finding dealers willing to pay top dollar for their car or truck and also finding credit readily available through them, dealers gained share in the used-vehicle market at the expense of private party transactions.
Rental:
—The rental industry generated record revenues (22.4 billion) in 2011, up from 20.6 billion in 2010.
—Increased airline travel led to a larger number of transaction days, but a sharp increase in the size of the rental fleet resulted in more competition and lower rates. The rental industry purchased slightly fewer new vehicles than in 2010, so the increase in fleet size reflected longer lengths of service.
Leasing:
—The number of new leases written in 2011 totaled 2.11 million, an increase of 17 percent from 2010.
—As a result of the past pattern in new-lease originations, total off-lease volumes will decline in 2012 as they did in 2011. Off-lease volumes will grow in 2013 and then accelerate significantly in 2014. It is likely, however, that a declining percentage of off-lease vehicles will be remarketed through auctions and will instead be purchased by the grounding dealers or lessees.
Repossessions:
—After a record number of repossessions occurred in 2009, there was a steep decline. The peak-to-trough swing was from an estimated 1.9 million units in 2009 to 1.3 million in 2011, a drop of 32 percent.
—Given the recent growth in originations and some easing in lending standards, repossession volumes will likely grow in future years.
Commercial and Government Fleets:
—In 2011, new-vehicle purchases by commercial fleets rose by 16 percent to more than 531,000 units.
—On the remarketing side, commercial fleet managers took advantage of strong demand from both independent and franchised dealers, and high prices for their end-of-service units. In fact, mileage and seasonally adjusted auction prices for end-of-service midsize cars and pickup trucks reached an all-time high in April 2011.
—Government fleets acquired 214,500 units in 2011, down 1 percent from 2010 and well off the peak of 313,000 units in 2007. Government fleet demand will likely remain weak as a result of mandates to reduce fleet costs.
—Government fleets remarketed slightly more vehicles than they bought in 2011, usually through live Simulcast.
Salvage:
—In 2011, salvage auction participants found conditions comparable to whole-car auctions, with tight supply and strong demand leading to higher prices. These conditions should persist through 2012.
—The export market for salvage vehicles softened in early 2011 as demand from Europe weakened, but they picked up in the second half with increased buying from Mexico and Latin America.