Market conditions continue to chip away at high used-car values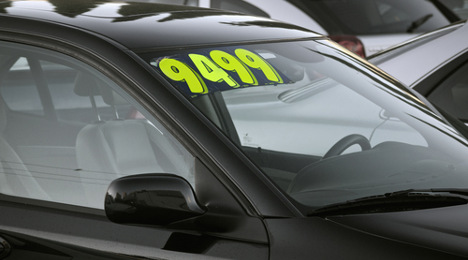 DETROIT -
Overall used-vehicle values are high, hoisted by truck prices strong enough to pull weakened used cars along for the ride.
It's a trend most analysts who measure how the growing onslaught of off-lease cars and trucks impact used-vehicle prices expect to continue, at least for the rest of 2017.
But they also expect laws of supply and demand and rising new-vehicle inventories and incentives to continue to put downward pressure on used-vehicle prices.
"Cumulatively, it gets tougher and tougher" for the market to efficiently absorb those vehicles, said Tom Kontos, chief economist at KAR Auction Services. "Even though the market has been remarkably resilient to this point, it becomes even more difficult as we go into the second half of the year."
Jonathan Smoke, chief economist at Cox Automotive, said consumers' vehicles depreciate at a rate of about 1.7 percent per month, having grown from about 1.5 percent per month over "the last couple of years."
The faster depreciation pace reflects the growing volume of used-vehicles in the marketplace, he said.
"That's going to continue because we don't reach the peak level of off-lease vehicles until around 2019," Smoke added.
Still, the Manheim Used Vehicle Value Index has not reflected price declines industry watchers expected to see this year, Smoke said.
In fact, after four months of being relatively flat, the index hit a record 127.9 in May, buoyed by strong consumer demand for used-vehicles and a rising number of higher priced late-model, off-lease vehicles at auctions.
May's reading is up from 124.7 in April and 124.4 in May 2016. The index's previous record of 127.8 was in May 2011. The index reflects wholesale used-vehicle prices and is adjusted for vehicle mix, mileage and time of year. It cannot be adjusted to reflect vehicle age, said Smoke, noting that May's auction inventory "was the youngest mix of vehicles we've ever seen."
Index remains stable
He expects the index for the rest of the year to roughly remain stable with no substantial movement in either direction.
Smoke said Cox Automotive is updating its off-lease vehicle projections to more accurately reflect the many off-lease vehicles that enter the used-vehicle market ahead of their original lease end-date under manufacturer pull-ahead programs.
He said it is more accurate to refer to annual off-lease numbers as "lease maturities."
In 2017, lease maturities are projected to total 3.6 million units and peak between 4.1 million and 4.3 million in 2019, Smoke said. That's up from 3 million in 2016.
Data compiled by KAR Auction Services shows that the average price of used vehicles overall grew 3.9 percent in May — the most recent information available at press time — compared to May 2016.
Leading the way were trucks, with an average price in May that grew 4.5 percent year-over-year to $13,244. But the average price of used cars in May stayed nearly identical at $8,954.
The year-over-year declines are even deeper for some three-year-old vehicles with 36,000 to 45,000 miles on their odometers. For example, the average price of midsize cars within those perimeters plunged 6 percent to $11,715; average prices of compact SUVs and CUVs combined skidded 3.6 percent to $20,192.
KAR Auction's Kontos said these vehicles, sold by financial institutions, fleet/leasing companies and others, are good proxies for off-lease vehicles that typically enter the marketplace after about 36 months.
"When you look at averages and indexes you can be deceived into thinking things are better than they are," he cautions.
Ivan Drury, senior analyst at Edmunds, agrees that prices of 3-year-old used vehicles, though still fairly high, are trending lower and will continue to do so the rest of the year.
But it's going to "be a while" before the price decrease trickles down to 6- and 7-year-old vehicles, he said. Supplies of those vehicles are tight because new-vehicle sales and leasing plunged during the 2008-2010 economic downturn.
Recession remnants
For example, in the first quarter of 2017, the average price of a 6-year-old vehicle was $15,100, representing 47 percent of its $32,000 MSRP. That is up from an average price of $11,100 in the first quarter of 2010, or 38 percent of its $29,500 MSRP.
Drury said "basic transportation" vehicles in the $5,000 to $10,000 range are generally 9 to 12 years old and in such high demand, dealers can't keep them on their lots.
"You need to get somewhere, you need it for a job; whatever the need may be, that's the kind of car people are hoping to get and unfortunately, it's slim pickings," he said.
J.D. Power Valuation Services, formerly NADA Used Car Guide, expects used-vehicle prices to tumble 6 percent in 2017, compared to a 4 percent slide in 2016.
David Paris, J.D. Power analyst, said used-vehicle prices are being pressured by plateauing new-vehicle sales and increasingly higher incentives to move them. Though some manufacturers have announced production cuts, Paris said it may not be enough to bring new-vehicle inventories in line with slowing sales. When new-vehicle transaction prices decline, used-vehicle values follow suit.
"We're really seeing a lot of pressure from the new side of the market," he added. "They're still building cars and growing incentives to sell them."