Meet the '40 Under 40: Industry' honorees for 2023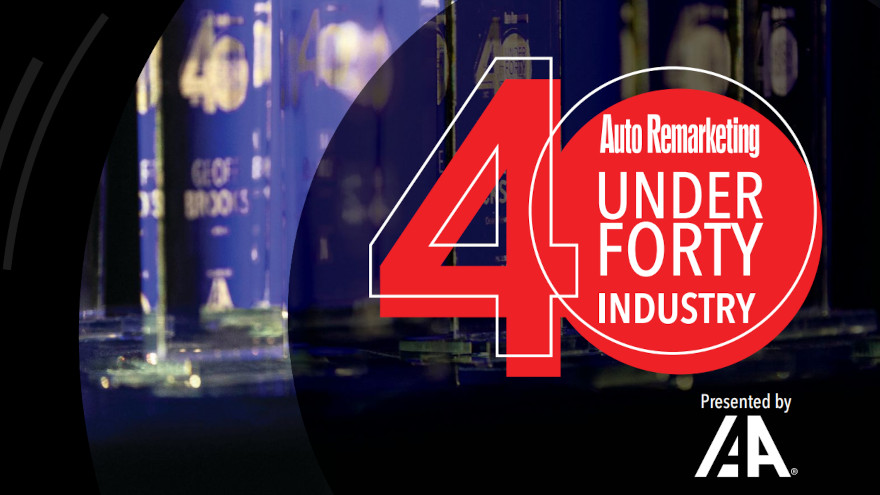 In this installment of Auto Remarketing's 40 Under 40 franchise, we feature the 2023 honorees in the "40 Under 40: Industry" program, which is sponsored by IAA and focuses on consignors, auctions, auto finance, vendors, tech companies, associations and other players within the used-car space.
Honorees will be recognized in the upcoming October issue of Auto Remarketing and at Used Car Week, which is being held Nov. 6-9 at the Westin Kierland Resort in Scottsdale, Ariz.
The full list of 40 Under 40: Industry honorees can be found below. Congrats to all!
Jordan Abel, ADESA
Fatima Ali, Copart
Abigail Balk, Greater Rockford Auto Auction/Great Lakes Auto Auction
Mark Bland, CarOffer
Susan Brodie, EBlock
Matt Burke, Agora Data
Lizz Callaway, Microsoft Autos
Justin Charbonneau, Automotive Ventures
Elena Ciccotelli, EVs for Everyone Podcast
Bryanna Cox, Asset Resolutions
Kyle Drake, Americas Auto Auction
Eftim Eftimov, Ship.Cars
Samantha Foster, UVeye
Jameel Ghata, PAVE
Sam Goldenberg, Autosled
Jessica Goldner Bowman, OPENLANE
TJ Gover, McConkey Auction Group
Steve Hudnall, IAA
Alden Ireland, DAX – Dealers Auction Xchange
Ian Isch, Edmunds
Ramsey Jassim, ACV Auctions
Alex Kalogero, American Recovery Service
Julie Lepore, CarGurus
Josh Lorenz, Orlando Longwood Auto Auction
Megan Mahon, Remarketing+
Matt Mekolichick, Lehigh Valley Auto Auction
Alex Melen, SmartSites
Stephen Miller, Fyusion, Inc.
Edwin Morgan, Santander Consumer USA
Susan O'Rourke, Carmigo
James Romero, RunBuggy
Buddy Rosenberg, Repair OnDemand
Sean Ryan, iPacket
Miriam Salama, Location Services, LLC
Igor Skinder, Volkswagen of America
Brandon Thompson, Mid-State Auto Auction
JD Vance, Bloomsburg Auto Auction
Brittany Weichmann, Millennium Capital and Recovery Corporation
Danny Zaslavsky, VINCUE & Country Hill Motors
Jess Zita, Wells Fargo Auto