Most recent car buyers now want home delivery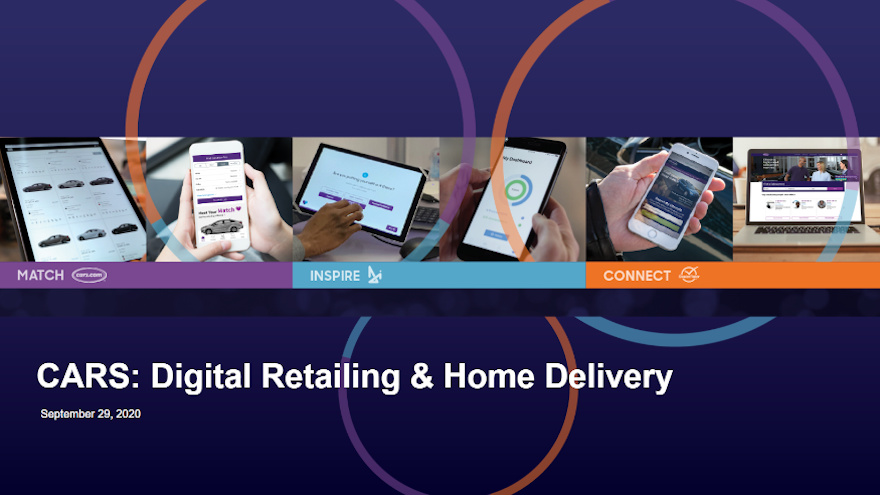 CHICAGO -
Real-time messaging and chat functionality, virtual vehicle walk-arounds and test drives with video, and completing financing and trade-ins online.
Those are some of the new methods consumers are using to purchase their new or used cars from local dealerships.
Sixty-one percent of recent car buyers would want their newly purchased car delivered at home from their local dealership, Cars.com stated, sourcing a September DealerRater consumer survey.
Cars.com said the stay-at-home economy is not just driving trends toward home cooking and home improvement projects.
It is also bring a surge in buying cars delivered directly to consumers' homes.
Cars.com says dealers are responding to that trend. CARS Dealer Community studies in March and August show a 35% increase in local dealerships offering home delivery services since March.
As shoppers and sellers juggle homeschooling and working from home, the COVID-19 pandemic accelerated their adoption of virtual car-buying tools and contactless home delivery options.
Those digital offerings provided a lifeline to local dealerships during showroom closures. In the months that followed, the offerings helped them compete effectively against disruptors and national online-only car sellers.
Consumers have turned to personal car ownership as their "preferred and safe mode of transportation" at the start of the pandemic and far beyond, Cars.com chief executive officer Alex Vetter said in a news release.
Vetter continued, "While the technology and digital retailing tools are not new to the industry or CARS, there is a noticeable increased usage driven by shopper demand and dealers are rapidly shifting their strategies to meet this new consumer expectation."
Demand is growing for home delivery and virtual car-buying options from dealerships, according to Cars.com research.
COVID-19 is the main reason people are still buying cars. Fifty-seven percent of those who purchased a car within the last six months said the pandemic was the reason for the purchase, according to CARS Gen Pop In-Market Car Shoppers from August.
The pandemic resulted in an acceleration in online car shopping and buying, according to Cars.com Internal Data, Adobe Site Analysis, from September. Nationwide, walk-in traffic to dealership showrooms is still down 15%. Digital visits mainly replaced walk-in traffic, and Cars.com said that takes place as consumers "prefer to stay home and shop from afar."
Fifty-seven percent of recent buyers said they conducted most of the vehicle transaction online with their local dealership. At 81%, online buying is highest in New York. Los Angeles follows at 73%. Next came Chicago at 65%, Atlanta at 64%, and Dallas at 63%.
Another finding from the research: Consumers are engaging more with dealers that offer virtual services.
Since Cars.com launched its new Virtual Appointment and Home Delivery badges on its website to show which dealers are offering those services, the company reports a 30% increase in contact and user engagement for dealers offering home delivery and virtual options over those still offering the "traditional showroom experience," according to Cars.com Internal Data, Badge Analysis, from September.
Another finding: "Dealers are meeting consumers on their turf — their homes," Cars.com writes.
At the start of the pandemic in March, 49% of dealers said they offered home delivery services.
By August, 66% offered the services.
That is a 35% increase in less than six months, according to CARS Dealer Community. Approximately 20% of recent car buyers used home delivery from their local dealership, according to a DealerRater consumer survey from August. Sixty-one percent of recent buyers would use that service from their local dealership if it were offered. Cars.com says that shows "sustained interest in this growing trend."
Although luxury brands dominate home delivery, non-luxury is starting to move into the top 10. Recent car buyers who took advantage of home delivery purchased from a mix of luxury and non-luxury auto brands. Most home deliveries by brand by recent buyers include:
1. Land Rover
2. Mitsubishi
3. Lincoln
4. Mercedes-Benz
5. Volvo
6. Nissan
7. Infiniti
8. Cadillac
9. Acura
10. Buick