NAAA returns to Dallas to once again host 'Total Access' in conjunction with NADA Show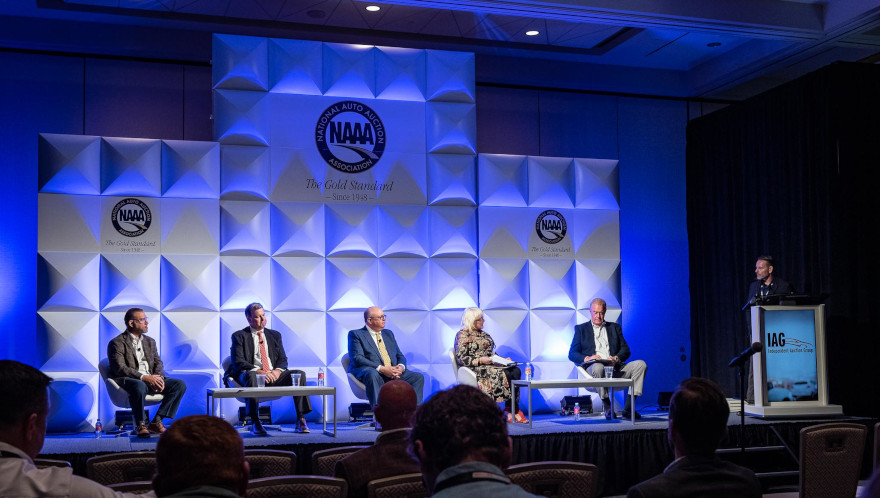 Look at any transaction at an auto auction.
It always involves a car dealer.
"Period. That's absolutely inarguable," says Garrison Hudkins, the 2023 president of the National Auto Auction Association and president of Southern Auto Auction in Connecticut.
"But in today's world, there's a dealer usually on both sides of the transaction," he said. "And it's important for us to continue to remember that the dealers themselves are a vital contributor to the partnership between the wholesale auction industry, between the NAAA, the NADA and the various independent associations at the state level and nationwide."
In the grand ecosystem and many moving parts of the hundreds of auto auctions throughout North America, dealers are often the fuel that keeps the engine running, to say the least.
That's part of what aligns NAAA with the National Automobile Dealers Association, which hosts its annual NADA Show 2023 event in Dallas this coming week.
And for the second straight year, NAAA will hold its spring meeting, titled "Total Access," in conjunction with NADA's annual convention. Total Access runs Wednesday and Thursday at the Hilton Anatole in Dallas.
Calling NADA "a beacon of associations," Hudkins said, "To be able to partner with somebody like that is an honor. It's incredible. (NADA CEO) Mike Stanton and his entire team have been very gracious and supportive in this partnership. And I can't thank them enough either."
Legislative work 'PART' of what unites NAAA, NADA
The alignment of NAAA and NADA goes beyond events, of course. Joined by similar auto industry groups, the associations are often fighting for the same legislation on Capitol Hill in support of the industry at large.
The legislation currently commanding the most focus from NAAA is the "Preventing Auto Recycling Theft Act," also referred to as the PART Act.
According to Congress.gov, it was introduced in the U.S. House of Representatives in January 2022, and "stablishes requirements for motor vehicles related to catalytic converters and other motor vehicle parts that contain precious metals."
A summary of the bill on that site indicates: "The National Highway Traffic Safety Administration must revise the motor vehicle theft prevention standard for new motor vehicles to include catalytic converters among the parts that require an inscribed or affixed identifying number
"Additionally, the Department of Transportation must establish a grant program through which law enforcement agencies and other entities can stamp vehicle identification numbers onto catalytic converters of existing vehicles," the summary states. "The bill establishes retention requirements for the purchase of motor vehicle parts that contain precious metals. It also sets forth criminal penalties for the theft of catalytic converters or any precious metals removed from a vehicle."
The impact of catalytic converter theft reaches consumers, dealers, auto auctions and beyond. As Hudkins notes, it affects everyone.
NAAA is working with NADA and partner organizations on the act.
"Advocacy remains a core linkage between our two organizations. And there's a lot of things going on out there to advocate for. There's a lot of the FTC rules, there's a lot of things being put back on dealers," Hudkins said. "But I think the biggest thing that we're focusing right now is the PART Act, and that's related to this giant problem of catalytic converter theft, all across the country.
"No one's immune to this. And we really have to work hard together to get the legislative bodies to understand how this is impacting businesses," he said. "So, the PART Act really I think is the biggest thing we need to stay focused (on)."
Hudkins emphasized the need for greater consequences committing this theft and for enforcement to be strengthened at the federal level. Currently, he said, states are handling it on a state-by-state basis.
"It needs to become a cooperation at the federal level among the states. There's nobody immune from this catalytic converter problem," Hudkins said. "Nobody. Businesses and/or consumers."
He added: "But it's also about getting the smart regulations out there. You want to be reactive without being overreactive. And I think the PART Act gets very much to the core of this issue."
What's on tap at Total Access?
Much like last year, many Total Access attendees will attend NADA Show, as well, Hudkins said.
"There are (agenda items) specific to our association from content and things that we continue to push to our members to make them better in their jobs. But there's a lot of stuff the NADA is going to talk about, too, where you can take some of that and bring it back to your business," he said.
As for the Total Access agenda itself, there will be the usual chapter, board of directors and committee meetings.
There are two education/training content items that Hudkins highlighted, the first of which is the Leadership Summit, which is set for 11 a.m. to 1:30 p.m. local time on Thursday.
It will feature a keynote address from best-selling author and motivational speaker Shola Richards, who is CEO and founder of Go Together Global.
"I personally find any opportunity I can to hear about things that can make us a little better people, coworkers, leaders — whatever it is. If you can hear one or two things that you can say, 'let me take that back,' I'm really excited about that," Hudkins said.
He added: "The world's a really difficult place right now, and things are probably a little rougher than they need to be. And we have to remind ourselves to take a step back. And I think Shola will be able to give us some ideas on how to level-set things moving forward."
In the spirt of safety and preparedness, there will also be training on how to respond to an active shooter/workplace violence. It will be held 1-3 p.m. on Wednesday and led by James Hamilton, senior vice president of quality in protection and training for Gavin De Becker & Associates and a protection expert.
He created the Close Protection Course for the FBI Academy, according to a bio from NAAA.
"It's an unfortunate reality that we have to talk about these things. But not talking about it is not going to make it go away. And we have worked hard in our business to develop plans for disaster recovery — hurricanes, tornadoes, floods," Hudkins said. "We've built plans for accidents or incidents. You build plans for an IT disaster. Those things happen. But so do active shooter events … Look, it's not a sexy topic. It's not a fun topic. But the things that we have to look out for often are not, but we have to have a plan."
Elsewhere, the open forum at the NAAA event will be a major focus, as well, Hudkins said.
Additionally, there will be a kickoff to the association's 75th anniversary celebration. That will be held at 5 pm on Wednesday.
While Hudkins didn't spill the beans on what NAAA's diamond anniversary year will entail, he did offer this preview: "At a high level, we're going to celebrate our industry, recognize our industry, give back to our members and continue to work on what you heard me say (at the NAAA Convention) … we are a people business and our people build our products. Our people serve our customers, our people serve our communities, we serve our people. And it's going to be a continuation of that."