NADA Show roundup: TIME Dealer of the Year, EV education & more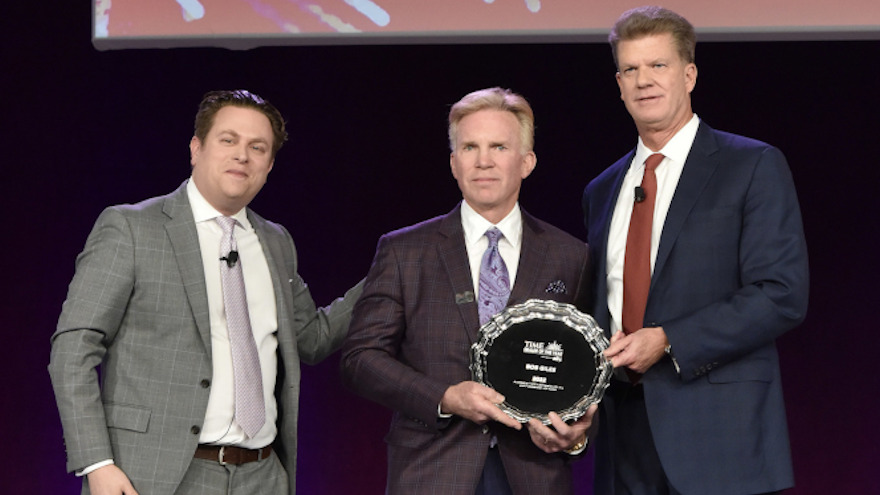 Electric vehicles were discussed so much at NADA Show 2022, a portion of the shiny, new Las Vegas Convention Center was rebranded as Electric Avenue.
As franchised dealers and their association learned more about the availability of and best practices for retailing EVs, the National Automobile Dealers Association also honored one of its own as the 2022 TIME Dealer of the Year
The honor from TIME and Ally Financial was given to Bob Giles, owner of Giles Automotive in Lafayette, La., at the 105th show, which wrapped on Sunday.
Now in its 53rd year, the TIME Dealer of the Year award is one of the auto industry's most prestigious and highly coveted honors.
Keith Grossman, president of TIME, and Doug Timmerman, president of dealer financial services at Ally, announced Giles as the winner at a ceremony honoring all the dealer nominees. Giles was chosen from a field of nearly 16,000 franchised dealers across the country, 47 of whom made the nominee list.
Timmerman said in a news release, "Even as America's auto dealers adapt to a rapidly changing auto market, the commitment to their customers, employees, and communities remains unparalleled. The TIME Dealer of the Year nominees stand out for doing it right in their industry and steadfastly giving back to their communities."
In addition to Giles, the four dealers recognized as TIME Dealer of the Year finalists included:
— Robert Sickel, Pine Belt Chevrolet, Lakewood, N.J.
— Todd Ouellette Sr., Long-Lewis Ford of the Shoals, Muscle Shoals, Ala.
— Gregg Kunes, Kunes Country Ford-Lincoln, Delavan, Wisc.
— Chris Wilson, Wilson Motor Company, Logan, Utah
Ally, the exclusive sponsor of the TIME Dealer of the Year Award, will give $10,000 to the charity of Giles' choice.
The company also will donate $5,000 to nonprofit organizations selected by each of the four finalists. Will Green, president of the Louisiana Automobile Dealers Association who nominated Giles for the award, will also select a charity recipient.
In recognition of their achievements and generosity, Ally also gave $1,000 to the charities of choice for each of the 47 nominees.
Officials said the Louisiana dealer's extraordinary business and community leadership earned Giles the most prestigious award in the automotive retail industry. A standout of his many contributions was the launch of the Giles Essential Errand Running Service, which offers grocery and essential item deliveries by dealership staff to senior citizens and immunocompromised individuals.
Giles earned a degree in accounting from Texas A&M University in College Station in 1976, but his training in the retail automotive industry began at age 11, when he was paid 25 cents an hour to wash vehicles on the lot at his dad's Ford dealership in Denison, Texas.
From there, Giles spent time working in all departments, learning how to operate a dealership from the ground up. That experience, paired with his accounting degree, led Giles to start selling vehicles after graduating from college and landed him a role as sales manager at 24 years old.
A few years later, Giles was awarded a Volkswagen, Porsche and Audi store in Lafayette, and he moved to the city on his 28th birthday to establish what would become Giles Automotive.
Today, the auto group includes three stores in Lafayette, one in Opelousas, La., and one in El Paso, Texas, representing Nissan, Subaru and Volvo brands.
Giles has been an active member of both his state and local dealer associations.
For the Lafayette Auto Dealers Association where he was named chair of the board four times, Giles was instrumental in launching the group's annual car show and sale in 1984. Giles has also advocated for his fellow dealers during his time as a member of the Louisiana Automobile Dealers Association.
"I worked with the state association to put forth initiatives to benefit all dealers in the state, and focused on warranty reimbursement rates, technician training, purchasing groups and beneficial legislation impacting auto dealers," he said in the news release.
Beyond his industry, Giles is a community leader who has initiated campaigns to help local organizations grow and expand. He partnered with a local TV station to create the Acadiana Community Heroes campaign, which recognized deserving individuals or nonprofit organizations that have made a difference in his area. The recipients received a monetary prize and exposure for their cause.
Giles also has been active in the Outreach Center, which provides shelter and services to the homeless in the Acadiana region for many years helping to increase their annual fundraiser from around $100,000 annually to more than $500,000.
Other organizations Giles supports include:
— Dreams Come True of Louisiana, which grants dreams to children with life-threatening illnesses
— Acadiana Animal Aid, a no-kill animal shelter in Carencro, La.
— Hunters for the Hungry, as local sportsmen provide fish and game for meals at homeless shelters
— Love Our Schools
Officials reiterated the TIME Dealer of the Year winner and finalists were chosen by a faculty panel from the Tauber Institute for Global Operations at the University of Michigan. Dealers are nominated for the award by state and regional automotive trade association executives.
NADA launches dealership electric vehicle education program
Beyond displays of EVs at the event, NADA showed another way it's charged up about electric vehicles.
The association launched a new program, in collaboration with the Center for Sustainable Energy and Plug In America, that's designed to enhance EV education at franchised dealerships nationwide.
Officials explained the dealership EV training program developed through this partnership is supported by the Alliance for Automotive Innovation, which will engage all vehicle manufacturers to further dealership participation across the U.S.
While automakers continue to bring more EVs to market, NADA acknowledged that providing future EV buyers with the information and expertise to get them comfortable and confident with their first EV purchase is far more crucial to mass-market adoption and fleet turnover than just product alone.
"By bringing these two EV-focused powerhouse organizations together with NADA, we will efficiently educate dealers and help accelerate the mass market adoption of electric vehicles in the U.S.," NADA president and chief executive officer Mike Stanton said in another news release. "The dealership training program leverages the strengths of each organization and will ensure dealers are more than prepared to sell and service the EV future."
NADA highlighted the online, interactive program will be designed to complement OEM model-specific training and will serve as a brand-agnostic review of essential content that dealership sales staff need to be able to communicate with customers to efficiently close EV sales.
The association mentioned the program will offer quick, easily digestible talking points that can allow sales staff to encourage potential EV buyers. The program also will include short modules to appeal to different learning styles.
"The electric vehicle market is moving beyond early adopters to consumers who have lots of questions about what it's like to own an EV," CSE president Lawrence Goldenhersh said. "Auto dealer sales staff sit at the nexus in this market transition, and will be called upon to provide confidence-creating, point-of-sale education to millions of auto buyers considering the move to an EV. We are honored to be working with NADA to provide the training that will empower these sales teams to be a trusted resource to the auto buyers they serve."
Plug In America executive director Joel Levin added, "The transition to electric vehicles is now inevitable and dealers play an important role in helping consumers as they make the switch. We are excited to work with NADA and CSE to help dealers educate consumers about the many benefits of EVs, from cleaner air to convenience to the great driving experience."
As a result of successfully completing the course, NADA said dealership sales staff will receive a program certification that documents their full understanding of and proficiency in various core competencies.
Additionally, successful program participants will also receive Plug In America's PlugStar certification. Sales staff who earn a certification will be eligible to participate in the all-new Dealer Referral Network, a consumer resource for identifying dealerships with staff trained and certified in EV sales.
"The auto industry is undergoing a significant transformation, and preparing the workforce will be key as new electric vehicle technologies come to market," Alliance for Automotive Innovation president and CEO John Bozzella said. "We look forward to working with our dealer partners on this program."
Winner of Women Driving Auto Retail Video Contest
Bob Giles wasn't the only one involved with NADA Show 2022 to claim an award.
On the event's closing day, NADA named Carmen Hinton as the winner of the fifth annual Women Driving Auto Retail Video Contest, sponsored exclusively by Stellantis. Hinton is the service manager at Carter Myers Automotive's Valley Subaru Service Manager in Staunton, Va.
"Every year, it is amazing to see the caliber of women working in the auto retail industry through this contest," said Val Bowen, president of ValMark Chevrolet in New Braunfels, Texas and NADA board of directors member. "These videos are truly inspiring and make me proud to be a woman working in this industry."
"Women purchase more than 60 percent of all new cars sold in the U.S. and influence more than 85 percent of all car purchases. I've always been surrounded by strong intelligent women in my family and I am a strong ally for women in all dealership roles," said Wes Lutz, president of Extreme Chrysler/Dodge/Jeep, RAM Inc. in Jackson, Mich, who presented the award alongside Bowen.
Launched in August 2019, the video contest is part of NADA's Women Driving Auto Retail initiative, which highlights the current voices of women working in dealerships and encourages other women to pursue automotive careers.
The video contest celebrates women who work in all areas of dealerships and aims to encourage more women to pursue a career in auto retail.
"I love what I do" said Hinton, who joined the auto retail industry with little experience and has been with Carter Myers Automotive for 11 years. "I am still learning every day. There are still obstacles that I am overcoming, but I feel like it has made me a better person."
Stellantis agrees that gender diversity in the automotive space is crucial.
"Building a diverse employee talent pool continues to be a critical focus for Stellantis, its dealers, and its business partners," said Phil Langley, who is vice president of the Stellantis dealer network. "Improving the diversity of our dealer network within all roles in the dealership starts with having a strong bench of qualified candidates who are excited to represent the Stellantis brands and products."
In a video of three minutes of less, NADA highlighted that this year's contest called on women working in the auto retail industry to share their experience, how their auto retail career journey began and why the industry is a great career path for other women.
"If you are a woman or know a woman interested in learning more about the successes Stellantis brands have had in the marketplace and want to join the family, I would encourage you to reach out to your local dealer and learn more about available opportunities," said Eric Wong, Stellantis senior manager of dealer market representation, diversity and technology.
Hinton's winning video can be watched here.
To view submissions from the 10 semifinalists on this website and find more information on NADA's Women Driving Auto Retail initiative online here.