Next step in Autenrieth's auction journey: NAAA presidency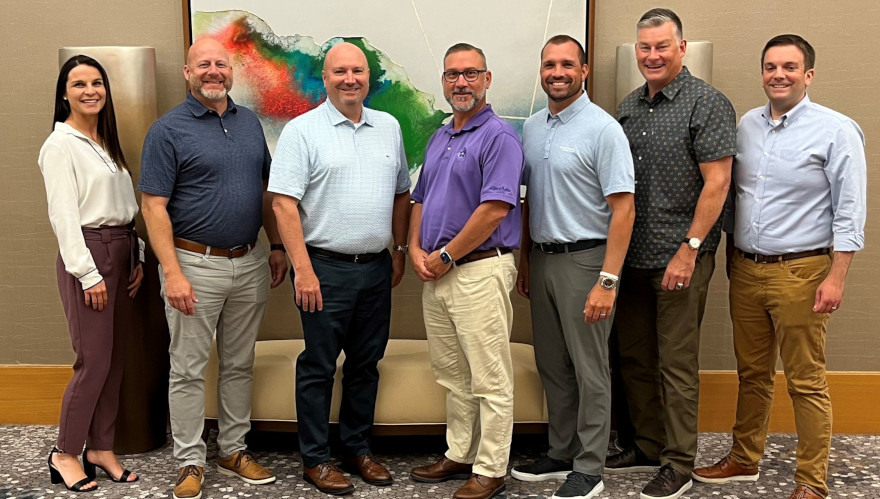 Eric Autenrieth's most memorable moment at a National Auto Auction Association convention, understandably, is a personal one.
Back in 2001, he and his wife Lisa got married as the NAAA was hosting its annual gathering in San Francisco.
"We didn't want a big wedding. If you have a big wedding, inevitably, you leave somebody off the guest list and they're mad at you," Autenrieth said during an episode of the Auto Remarketing Podcast earlier this year.
"So, we decided that we were going to surprise both (sets) of our parents and we got married in a park in Sausalito across the bay from San Francisco," he said. "We showed up there and surprised our parents. We had a preacher and a photographer.
"I think my mom has forgiven us by now; I'm not real positive. She won't admit it if she did … she wanted a big wedding for us, but the story is pretty cool to tell."
While nothing tops the cake quite like a wedding, next month's NAAA World Remarketing Convention is likely to be a milestone one for Autenrieth and the association itself.
NAAA is celebrating its 75th anniversary and Autenrieth will become the association's president for the upcoming year.
This continues a family legacy for Autenrieth, whose parents Henry and Patty Stanley are both NAAA Hall of Famers.
Patty Stanley was president of the ServNet auction group from 2014 through 2015, and was chair of its board in 2016 and 2017; meanwhile, Henry Stanley was the 1999-2000 NAAA president.
Autenrieth is the CEO of the Stanley-Autenrieth Auction Group and chairman of the board at ServNet, of which the family's Carolina Auto Auction and Indiana Auto Auctions are members. Before becoming chair, he served a term as ServNet's president.
Currently, NAAA's president-elect, Autenrieth previously served as its vice president. And like his parents, he is an NAAA Warren Young Fellow.
He grew up in the family business, but it wasn't until after working outside of auctions after college that Autenrieth realized his true calling.
'The growing up part'
It all started with cutting the grass.
That was Autenrieth's first job as a kid at Ohio Auto Auction, which was his parents' business at the time.
"Back then, lawnmowers didn't start as easily as they do now," Autenrieth told Auto Remarketing in an interview this summer.
He would cut one small patch of grass and then had to restart the mower and proceed to the next "island of grass."
Autenrieth's jobs at the auction during his youth ran the gamut from working at the car-wash drying stations to the sale-day snack shop and shoe-shine stand.
By 14, he had advanced to the role of lane captain during the summer, and by 16, Autenrieth had the job most youngsters that age would envy: driving the cars on and off the auction lot.
"That's like (being) a kid in a candy store, to be 16 years old and get to drive some of these cars," he said.
Autenrieth worked with the auction's drivers, who took the teenager under their wing.
One day, he remembers, they visit a dealership to pick up vehicles. And there was a Porsche.
"I got to claim (the job of driving it)," Autenrieth said. "(And) with the drivers, they were all good with it. The owner came out with the keys … he only focused on the Porsche. He said, 'Who's driving the Porsche?'
"I said, 'I am.' And he said, 'No you're not.'," Autenrieth said. "That was the growing up part."
A career begins
The family owned Ohio Auto Auction until 1987, then returned to the auction industry in 1990. At that point, Autenrieth was in college in Ohio at the University of Rio Grande. After school, he moved to Columbus, Ohio, where he worked outside of the auction business.
He worked in retail leasing for a local lease company for three years and wasn't in love with the job, which required a tie and was essentially done over the phone.
Henry Stanley could tell Autenrieth was "not real thrilled in that role," Autenrieth said, and offered him an opportunity to join the family business in an entry-level outside sales role at their auction in South Carolina.
At that point, Autenrieth realized, "Man, this is exactly what I've been looking for. No two days are the same. You're not stuck behind a desk every day, but you have a desk if you need it. You're out building relationships, meeting people."
So, he headed south in 1997, and his first stint at Carolina Auto Auction was for 10 years. He worked in outside sales, then became the auction's salvage manager, before moving into sales/marketing manager and national accounts manager roles and then becoming assistant general manager.
When the family purchased Indiana Auto Auction in 2007, Autenrieth moved north to manage that facility. He would return to Carolina Auto Auction to lead that auction in 2016
He became the CEO this year of the Stanley-Autenrieth Auction Group, which includes both the Carolina and Indiana auctions.
As the leader of the family's business, Autenrieth has gleaned infinite career lessons from his parents.
"There's a lot. I'm probably going to miss a couple here, but rule No. 1, and there's no substituting this one, Dad has instilled in me that your word is your bond, (even if) it takes the skin off your back … whatever you do, you back up whatever you say you're going to do.  and you make sure that's it," Autenrieth said.
"I think anybody in the industry that knows Dad, would agree that his handshake is probably better than any paper contract that you could write."
There is a sign in the company's business with a reminder that, "All auctions are similar; it's the employees that make the difference," Autenrieth said.
"We try to instill (that) and empower our employees to be able to make decisions, to make sure that we hit the customer's objectives. And we take ownership in that," he said.
Autenrieth said he has the same "highly competitive" spirt as his dad, and remembers pearls of financial acumen.
"He said, 'If you manage your expenses, you might be able to make just a little bit of money in this industry.'"
Meanwhile, Autenrieth says his turns to his mom for advice on the financial side of running a business and for strategy on office process.
"And if somebody has a question and they want to change something that we have that's worked for years, and they look to me to make that decision, I have to pick up the phone and say, 'Hey, Mom, what do you think about this?' because she knows the office and the finance pretty well," he said.
"She started off in the banking world and so that's followed her, and I still rely upon her a lot for that piece of it," Autenrieth said. "One thing that both of them would tell me is, 'If you run into a problem, don't put it on the side-burner. Solve it in the first five minutes and be done with it.'"
Starting a new chapter
Autenrieth will no doubt take much of that sage advice with him into his yearlong tenure as NAAA president, a job he begins during this year's convention, Sept. 26-28 in Chicago.
The event gives professionals in the auction industry the opportunity to network with peers and learn from experts on a national or even global scale.
And there are certainly opportunities for NAAA to do the same on a local or regional level.
In fact, one of Autenrieth's goals is to bring back the association's "Quad Zone" meetings, where at the start of his professional career in the late 90s and early 2000s, Autenrieth was able to learn more about NAAA and get involved.
"Over the next 12 to 18 months, I really hope to bring some sort of version of the Quad Zone meetings back into effect," Autenrieth said in the podcast interview. "Too often we're looking for individuals to serve this great association and we recommend only those that we're familiar with.
"And if we're not able to get to know more people at the direct auction level, we're not going to be able to get those individuals to serve … we need to grow the depth of the association and train those for the next level within the auctions. And there are so many talented individuals within our auctions, we just never get to meet them all," he said.
"We need to grow the next generation and through the Quad Zone meetings. If held regionally to reduce travel time and expense, and if held over a Friday, Saturday or Sunday, we'd allow auctions to send multiple individuals that would not normally be able to leave the day-to-day running of an auction to get education, training or networking."
He points to the "tremendous" work that Penny Wanna and her teammates at TPC Management Co. have done with the Auction Academy program.
"She's really cemented it as part of our industry and it really brings value and training and education sessions. Our teams have really benefitted just from the community and the relationships that they've developed by attending the Auction Academy," he said. "I think NAAA can't do anything but expand upon that if we had the Quad Zone meetings and being able to bring it in regionally, and try to reduce the expense, but get people involved on a local level."
Connecting with colleagues on a local or regional level, as Autenrieth has done through his work on NAAA chapters, allows for close collaboration, asking for or providing help on issues and relationship-building.
"It really builds the relationships and after all, this industry really is relationship-driven.  We have to produce and we have to do what we're supposed to do but relationships are really what drive the business. That Zone type of a meeting really helps build those relationship," he said.
Building relationships and developing the leadership skills of people on your team is crucial not just on an NAAA level, but also within the individual auction.
For Autenrieth, that has meant empowering his teams at both auctions to make decisions.
"If they run into a hurdle or a problem … they know I'm a phone call away and we can discuss it and walk through it. But at both of our locations, we really try to empower that level below (ownership) to make the decision and move on. And if it's the wrong decision, we're going to stand by it, but we're going to discuss it so that we know next time how to make the right decision," he said.
"And we're always looking for that next leader. Our management team's set, but that doesn't mean that they're going to be here next month, next year or whatever," Autenrieth said. "And so we're always looking to develop that next level of leadership."