NIADA Convention wrap-up: Tormohlen takes reins as association's new president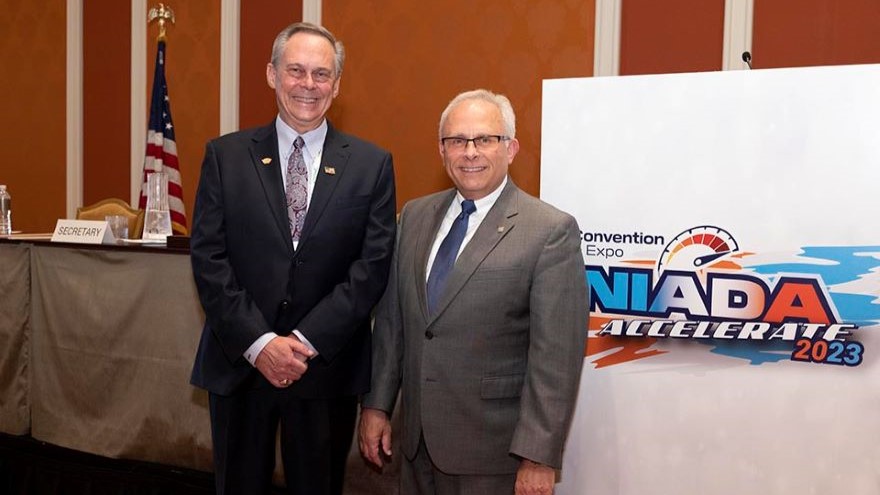 LAS VEGAS -
Gordon Tormohlen of Tormohlen's Good People Automotive in Freeport, Ill., was elected as the 74th president of the National Independent Automobile Dealers Association during the recent NIADA Convention and Expo at the Wynn Las Vegas.
Tormohlen was elected unanimously, along with a slate of nominees for the remaining positions on the board of directors, at the convention's annual general membership meeting.
Outgoing president Scott Allen of Auto Land in Haltom City, Texas passed the gavel to Tormohlen after the election. Allen will serve as chairman of the 2023-24 board.
Tormohlen was presented the traditional President's Ring by Black Book's Paul Machin.
"We are going to have a great year," Tormohlen said. "We have a terrific team and terrific leadership. Progress will occur.
"With the current economy, our dealers are going to face some tough times this year, and they are going to need their association. We are going to be there for them."
Below is the full list of 2023-24 NIADA board of directors
President: Gordon Tormohlen, Good People Automotive, Freeport, Ill.
President-elect: Michael Darrow, The Auto Finders, Durham, N.C.
Senior vice president: Don Griffin, CarHop Auto Sales, Edna, Minn.
Treasurer: Darla Booher, Deal Depot, Greer, S.C.
Secretary: Dan Johnson, LiteHouse Auto, Lakewood, N.Y.
Vice president Region 1: Chris Maher, Sr., Car Credit Nation, Winchester, Va.
Vice president Region 2: Ken McFarland, City Auto Sales, Hueytown, Ala.
Vice president Region 3: Greg Zak, Dixon Motors, Houston, Texas
Vice president Region 4: Brenna Stansberry, Park Marina Motors, Redding, Calif.
Vice president at large: Bentley Nolan, Nolan Brothers Motor Sales, Tupelo, Miss.
Vice president at large: Nick Markosian, Markosian Auto, Taylorsville, Utah
Cunningham receives Lifetime Achievement Award
NIADA past president Mike Cunningham was honored with the association's Lifetime Achievement Award during the NIADA Convention's Leadership Awards luncheon.
Cunningham was a member of NIADA's board of directors for five years beginning in 1999, serving as treasurer and budget committee chairman. He was elected president in 2003.
During his term, the association established the Certified Master Dealer program, increased membership to more than 19,000 and established the NIADA Foundation Corp.
"I don't feel like I deserve it," Cunningham said. "It's like a dream.
"I was just the quarterback on a team with really good players. Working with the best minds in the industry is so refreshing. They are excited about your business."
Cunningham owned and operated Payless Cars and Trucks in Tucson, Ariz., from 1979-2009. He became a Certified Master Dealer and was a four-time Arizona State Quality Dealer, earning that title in 1992, 1993, 1994 and 2002.
In 1995, he served as Arizona IADA president, leading the association as it grew its membership, hired a professional lobbyist, testified before the state legislature, rewrote its bylaws and initiated education seminars at its annual convention.
Cardella named top state executive
David Cardella, CEO of the Colorado Independent Auto Dealers Association, was named NIADA's State Executive of the Year.
Cardella succeeded Todd O'Connell, who won the award in 2015, as head of CIADA in 2020.
Cardella, who previously operated Mountain States Auto Group in Centennial, Colo., served two terms as CIADA's president is 2013 and 2014.
"I'm a proud car salesman," Cardella said. "I started in this business when I was 6 years old, tagging along with my dad who sold cars. The first thing I did when I left the franchise world and got my dealer's license was join my state association. Seven years later, they asked me to serve on that board."
When O'Connell retired, Cardella said, the CIADA board "believed in my vision. It's an honor to represent the industry."
Crystal Eagle winners
Twelve NIADA members were honored with the Crystal Eagle Award for their outstanding efforts in increasing association membership.
The winners were Jason Reaves of Wayne Reaves Computer Systems, Kevin Pendergrass of Carolina Auto Sales of Myrtle Beach, Steve Wetmore of McAdenville Motors, Jerry Padrick of M&M Auto Sales, Michael Threadgill of Triple T Motors, Dean Cantey of Automotive Experts, Dale Matthews of Matthews Motors, Wendy Pisor of Northside Auto Sales, Marty Coates of Coates and Associates Inc., Sammy Bernardo of ProGuard Warranty, Frankie Bordeaux of L&H Used Cars of Wilmington and Craig Amelung of Manheim MidAtlantic.
Auction Raises $21,200 for NIADA Foundation
Jason Berry of Action Auto Sales and Finance in Lehi, Utah, placed the winning bid of $21,200 for a 2016 BMW X1 in an auction held in the Expo Hall on the final day of the NIADA Convention and Expo.
All proceeds from the auction go directly to the NIADA Foundation.
"It's a good cause, and no buy fee!" Berry said.
The vehicle, which had just 53,000 miles on the odometer, was donated by Manheim, which also conducted the auction. ACERTUS provided free shipping for the auction winner.
Berry said he plans to add the car to the inventory of his dealership, which has locations in Lehi and Orem, Utah.
"Going straight back to the dealership," he said. "So we're going to get it back there, put it through the recon process and get it sold.
"I know I can sell it — a 2016 with less than 60,000 miles."
In addition to his dealership, Berry co-founded inventory management/digital inspection provider Carketa, along with Carketa CEO Brady Thurgood.
The auction marked the 11th consecutive year in which a front line-ready used vehicle has been auctioned off at the convention, raising more than $270,000 for the NIADA Foundation.
The NIADA Foundation coordinates the association's commitment to charitable giving and education.
In addition to making numerous donations to charities nationwide and providing matching funds for local charitable projects, the Foundation has raised hundreds of thousands of dollars to assist members of the automotive community affected by hurricanes and other disasters, and has established endowments that fund university scholarships for students pursuing careers in the automotive industry.
Over the past 15 years, the Foundation has awarded $356,500 in college scholarships to help young people continue their education in the automotive industry.
NIADA Foundation scholarships
Maxxim Kullis of White Lake, Mich., was awarded the $10,000 NIADA Foundation/Northwood University Scholarship presented by Cox Automotive during the Leadership Awards Luncheon.
Kullis is a senior at Northwood, studying automotive marketing and management. He participates in university-sponsored community volunteer activities and this fall will be the captain of the Acura OEM team at the university's 60th annual International Auto Show, responsible for securing and displaying all the Acura vehicles on display at the event.
Kullis has worked for Journey Auto Group in Akron, Ohio, and Rohrman Automotive in Lafayette, Ind. He is spending this summer as an intern for the Friedkin Group of Gulf States Toyota in Houston.
The $10,000 scholarship, sponsored by Cox Automotive, is coordinated by the NIADA Foundation and awarded to a student currently enrolled or planning to enroll in Northwood University's automotive marketing and management degree program.
The NIADA Foundation also awarded $2,500 scholarships to a deserving student from each of the association's four regions. The recipients were:
Region I: Carter Daly, Uniontown, Ohio
Region II: Grayden Phillips, Lexington, Ky.
Region III: Bethany Gray, Sikes, La.
Region IV: Micah Duke, Poway, Calif.