No shock: Ford F-150 Lightning tops survey of EV truck shopper consideration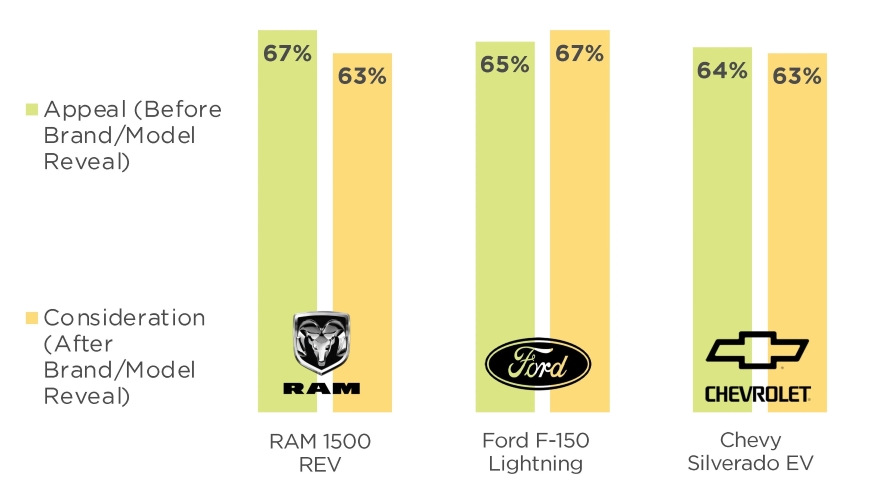 The Ford F-150 has long dominated the market for full-sized pickup trucks.
So the results of Cox Automotive's latest research into the electric truck market are not exactly… shocking.
Cox's 2023 Consumer Snapshot: Electric Full-Size Pickup Trucks found the F-150 Lightning is the No. 1 electric pickup considered by truck shoppers, ahead of models from Ram, Chevrolet, GMC, Rivian and Tesla.
But the gap is closing.
While the F-150 Lightning was consumers' top choice, with 67% saying they are considering it, the Ram 1500 REV and Chevy Silverado EV were close behind at 63%, followed by the GMC Hummer EV Pickup and Rivian RT1 at 48%, and the Tesla Cybertruck at 27%.
In Cox's 2022 survey, Ford's 59% consideration was farther ahead of the next choices — Chevy (50%), Hummer (41%) and Ram (40%).
And in the new survey Ram actually came out ahead in vehicle appeal — before the respondents were told what brand it was — at 67% to Ford's 65% and Chevy's 64%.
Cox said that suggests shoppers are more likely to consider full-size EV trucks from brands they know or currently own.
"Ford's full-size pickup has long been the best-selling best example of the genre, so perhaps it is no surprise that the F-150 Lightning arrives with a leg up on the competition," Cox Automotive senior manager of market and customer research Vanessa Ton said in a Cox Data Point report.
"Our studies continue to show the importance of brand strength, and that is particularly true in the full-size pickup truck segment, where brand loyalty often runs deep and fierce. That fact makes it particularly challenging for brands like Tesla and Rivian, both newcomers to the pickup segments."
The survey of truck shoppers who are in market and intend to purchase within the next two years, conducted in July and August, also looked at the factors go into the choice of an electric truck, including projected range, driving performance, styling, technology and price.
The F-150 Lightning was the top choice in all five categories, scoring its biggest wins in technology (69%), style (68%) and performance (64%). Tesla ranked at the bottom in three of the categories — performance, price and style.
"This research really shows how important it will be for a brand like Tesla to attract consumers and shoppers who are not traditional pickup truck buyers," Ton said. "The new Cybertruck will have to convert shoppers who are not already pickup owners or intenders. It's natural to consider the new Tesla truck as part of the full-size pickup segment, but this research demonstrates Tesla's need to attract a different audience."
The Data Point report said sales of full-size EV pickups are up this year, with more than twice as many sold in the second quarter as in the same period in 2022. But, the report added, those nearly 15,000 Q2 sales only account for about 5% of market share.
To read the report and download the study summary, click here.