Northwood benefits from charity auction, to honor 5 dealers during NADA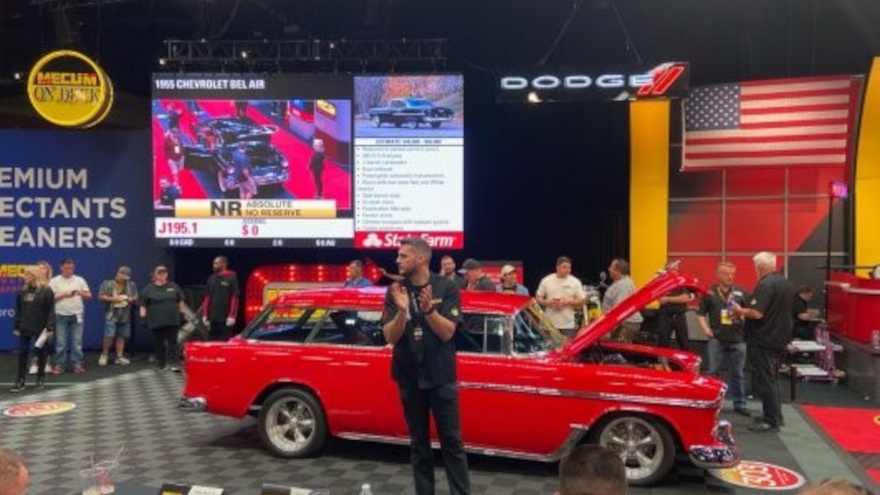 Along with highlighting the successes of a classic car auction that raised money for the school, Northwood University announced on Tuesday that it will honor five automobile dealers from across the United States with its annual Dealer Education Award at the National Automotive Dealers Association convention in Dallas later this month.
This year's honorees include:
• Jamar Brinkley, dealer principal, Renaissance Cars, Roanoke Rapids, N.C.
• Rik Fregia, vice president, Courtesy Automotive Group, Danville, Ill.
• Chris Saraceno, vice president and partner, Kelly Automotive Group, Melbourne, Fla.
• Brandon Tomes, owner/general manager, Tomes Auto Group, McKinney, Texas
• Kevin Vanatta, owner, Newberry Motors, Inc., Newberry, Mich.
Since 1972, Northwood has recognized owners and dealer principals in the automotive marketing field who have made noteworthy, individual contributions to public or private education inside or outside of the industry.
"This marks our 51st year of recognizing outstanding dealers and community leaders who have made significant contributions to the industry and to efforts to create the next generation of automotive leaders," Northwood president Kent MacDonald said in a news releae. "We are especially proud of this year's honorees, and look forward to celebrating them later this month."
The awards will be presented at a special breakfast on Jan. 28 at the Hyatt Regency in Dallas. Attendees will include students, alumni and automotive guests of Northwood University.
The school also shared more biographical information about each of the honorees.
Jamar Brinkley
Brinkley is the founder and managing partner of Renaissance Equity Group and president of The Renaissance Companies. Incorporating all he has learned over an extensive career with two major automotive groups, he formed Renaissance Cars in 2016 with a strong desire to be substantive in the automotive industry. He began his career with one of the nation's leading automotive retailers. He excelled early on due to his leadership, salesmanship, and focus on customer satisfaction.
A mentor helped him gain experience and confidence as a general manager, and the dealerships flourished under his leadership. Brinkley believes mentorship is critical because a mentor can be a sounding board for sharing ideas and someone with whom you can communicate and seek advice.
With Brinkley's success, he was able to purchase his own dealership after operating Renaissance Cars for several years. Putting his trust in a higher power, Brinkley purchased an existing store and rebranded it as Renaissance Nissan. As a testament to his abilities, he was recently recognized as one of Automotive News' 40 Under 40.
Rik Fregia
Fregia is the vice president of the Courtesy Automotive Group in Danville, Illinois. Fregia started his automotive career working for a Ford dealership owned by his father. When Ray Fregia Sr. retired and sold his store, Rik Fregia teamed up with his brother, Ray, who had recently bought his first dealership.
Supporting local organizations, Fregia has served as a board member for the Crystal Lake Chamber of Commerce and Deer Crossing. He also serves as chair of the New Hope Baptist Church Scholarship Committee, which supports seniors from the local high school pursuing a college degree.
Fregia's commitment to his community has earned him recognition with the Pride in Crystal Lake Award, McHenry County Best Under 40 Businessman Outstanding Achiever Award, Automotive News' 40 Under 40, and the Presidential Award of Excellence.
Chris Saraceno
Saraceno is a business executive, real estate investor, speaker and leader. He is the founder of the online community DealerElite.com and co-founder of the training company Team Builders Inc. He is a former advisory board member for Autotrader, DealerRater, Hire the Winners, and Cemboo Film Distribution.
Saraceno began his automotive career in 1984 and joined The Kelly Automotive Group in 1989. In 2009, he became a partner with the organization.
Saraceno has been a featured speaker at numerous conventions and has published hundreds of articles both online and in business magazines. One of his pieces is The Theory of 5, created to help individuals of all walks of life identify the five theories that propel them into happiness and prosperity. The Theory of 5 is based on selecting mentors in the five most significant areas of a person's life: spirituality, marriage, parenting, business and finance, and health. So powerful is this theory that Elgie Bright, chair of Northwood University's Automotive Marketing/Management Program, incorporates it into his teaching curriculum.
Brandon Tomes
Tomes is president and director of Brandon Tomes Subaru, and vice president of Bob Tomes Ford and Brandon Tomes Volkswagen of McKinney, Texas.
After graduating from Southern Methodist University's Cox School of Business, he joined his family business full-time in September 2007. But his learning didn't stop there, as he is a graduate of NADA's Dealer Candidate Academy and the NCM Associates' General Management Executive Program.
He has received numerous professional accolades over the years. Most recently, he was a finalist for Subaru Retailer of the year in 2020. His team has achieved 10 consecutive "Love Promise Customer Commitment Awards," Subaru's highest retailer award, and they also earned Ford's highest award, the President's Award, in 2020.
His family's philanthropic contributions have been substantial, and he has a proven record of being committed to giving back to the community through the McKinney Rotary Club's Academic Excellence Program and the Texas Chamber Music Ensemble program. Additionally, many McKinney students are motivated by the various incentives that Tomes provides to the local schools for students with excellent marks.
Kevin Vanatta
Vanatta is the owner/general manager of Newberry Motors. As one of six boys whose father passed away when he was 13 years old, Vanatta's childhood and teen years were influenced by his grandfather, who owned and operated an auto service garage and fueling station. Shaped by those experiences, Vanatta's natural inclination was to establish a career in the automotive retail industry.
In 1992, he had the opportunity to buy out his employer, the dealer principal of General Motors and Daimler Chrysler dealerships in Newberry, Mich. Since then, he has built a life there, raising his family, growing his business, and serving his community.
Vanatta's commitment to the Newberry community includes serving as president of the Newberry Area Chamber of Commerce, Ambassadors Club, and Kiwanis Club. He is also a St. Gregory's Catholic Church member, serving on the Parish Finance Council. Additionally, he serves as a member of the Tahquamenon Education Foundation. This organization provides financial support for college expenses to graduating high school seniors who have maintained a grade point average of 3.5 or higher throughout their high school careers.
Auction of classic cars raises $2.37M for Northwood
A classic automobile collection donated by a generous couple to Northwood University fetched more than $2.3 million during an auction on Friday in Florida.
Michael and Dianne Morey of Mount Pleasant, Mich., pledged 35 vehicles from their automotive collection, and the cars were auctioned off at Mecum Auctions in Kissimmee, Fla. The auction raised more than $2,371,000 to support Northwood University and The Northwood Idea.
"Mike and Dianne's incredible gift will be forever remembered by Northwood University," MacDonald said. "We have retained a 1958 Chevrolet Corvette to display on campus as a reminder of the Morey's generosity and American innovation."
In 1983, the Moreys believed they could build a wood chipper better than anyone else. Mike left his job, invested in a small workshop, and with six employees and a small operating budget, built the Model 100 Brush Bandit, a 12-inch capacity disc-style chipper. Based on the success of the Brush Bandit, Bandit Industries was created, and Dianne actively joined the company.
Bandit designed and launched the world's first self-propelled track whole tree chipper in 1990 and continues to be a leader in this industry segment. Bandit operates a network of more than 180 dealer locations worldwide, and it currently has 725 employees.
In 2018, the Moreys sold the company to their trusted employees, rather than accepting two offers to sell from private firms.
"The Moreys are stellar examples of how ingenuity, persistence and dedication pave the way for success in a free-market society," said Justin Marshall, chief development and engagement officer for Northwood University. "Each car the Morey family donated was part of their family story, and the story now evolves with Northwood University inspiring the dreams of young entrepreneurs from throughout the world."
At the end of Friday's auction, Mecum Auctions announced that two of the Morey vehicles were the top two automotive sales of the day.
The 1967 Shelby GT500 Fastback sold for $330,000, and the 1970 Plymouth Hemi Cuda sold for $275,000. The surprise of the day was a 1981 Teledyne Continental Cheetah, selling for $65,000 (which was well beyond its appraised value).
Northwood University said it will utilize up to $1 million of the cash proceeds to enhance the campus experience. The remaining proceeds will be used to build the university's endowment to create new scholarship opportunities for Northwood students.
The Moreys previously noted they are pleased their classic car collection will help support young men and women who want to work hard, build something of their own, and positively influence the communities they call home.
"Northwood University is a special place, filled with wonderful students, and we are thrilled to support their mission," they sad.
If you're interested in supporting the school, visit https://www.northwood.edu/advancement/give.