OnStar Reveals Additional Retailers to Offer Stand-alone Rearview Mirror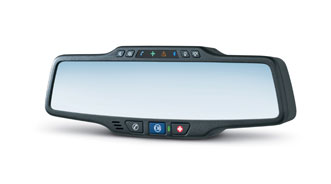 DETROIT -
On Monday, General Motors revealed more retailers beyond Best Buy that will be offering the new stand-alone OnStar mirror starting this spring.
Shoppers throughout the country can turn to Crutchfield, an online retailer, to buy the mirror. Crutchfield will refer customers to third parties for installation.
Best Buy — which will be selling the product at all of its stores throughout the country — will provide installation for $75 to $100.
Also, the following regional retailers will be selling the mirror:
—ABC Warehouse of Pontiac, Mich. (43 locations)
—Al & Ed's Autosound of Van Nuys, Cal. (18 locations)
—Car Toys of Seattle, Wash. (49 locations)
—Columbus Car Audio of Columbus, Ohio (three locations)
—Drive-In Autosound of Colorado Springs, Colo. (six locations)
—P.C. Richard & Son of Carteret, N.J. (65 locations)
—Sound Of Tri-State of Wilmington, Del. (three locations)
As previously announced, the stand-alone product will allow owners of non-GM vehicles and older GM products to tap into the key services of OnStar, such as stolen vehicle location assistance, one-button access to emergency and roadside services, and Bluetooth connectivity.
"Our customers have been asking for years to add OnStar in the cars and trucks they already own — so we're confident there will be strong demand for the OnStar product right out of the gate," stated Greg Ross, vice president of business extensions at OnStar.
Serving as the exclusive master distributor of the product is Ingram Micro. This company is heading up distribution, logistics, merchandising, installation and technical support.
"OnStar is a strong brand name that will drive significant numbers of first-time customers into 12-volt and consumer electronics retailers," shared John Soumbasakis, senior vice president of specialty solutions at Ingram Micro.
"As a safety product, many drivers view OnStar as a 'must-have' rather than a 'nice-to-have' purchase. Ingram Micro looks forward to helping retailers make the most of this unique opportunity," he added.