Paragon to offer online sales & become 'store without walls'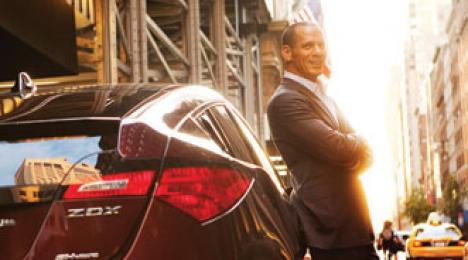 CARY, N.C. -
Paragon Honda in Woodside, N.Y., has been the No. 1 certified pre-owned dealer in the U.S. every year since American Honda Motors Co. began tracking the data in 2008, according to the company's remarketing department.
It sold 3,012 CPO units in 2016, good enough for a 20-percent gain, says Paragon Honda's Brian Benstock.
And very soon, it will begin offering the sales process completely online, which will be available for customers at the Paragon Acura store, too.
Here's how that came to be.
As the leader in Honda CPO sales yet again, Auto Remarketing posed this question to Benstock: How do you incorporate the digital/online world into your CPO sales process at Paragon Honda?
"A key ingredient to our CPO success is a long-term strategy that we implemented in 2009 called the Paragon Honda Vehicle Exchange Program. We pioneered this strategy to find more Honda trade-in vehicles that would qualify as a CPO vehicle for Honda," Benstock said in an email.
"Our Vehicle Exchange Program is the primary way that we generate qualified trade-ins, rather than the auctions we used to frequent. We've found great success with this program over the past seven years," he said.
Benstock said the store then challenged itself to ramp things up a few months back: double sales over the next two years but still make customer experience a focal point.
And that involves having transactions with the store available entirely online.
"Our plan is to make Paragon a 'store without walls,' where customers can complete the entire transaction online with their Honda delivered to their home or office. Obviously, a massive part of this will be digitally focused," Benstock said.
"We want our customers to enjoy a frictionless transaction experience, beginning and ending online. We are relentless in our pursuit of a better experience for our customer," he said.
Paragon Honda has already taken steps to get the process moving. Benstock said in the January email that the online buying will be available within two months "if not sooner."
He said: "This is where the industry is headed, and we want to deliver this convenience to our customers as quickly as we can."
Benstock said these efforts have utilized various new technologies along with Facebook, YouTube and Google search.
"Our new technology has dramatically increased our clicks and views to CPO inventory and our inbound phone calls. We are now able to dynamically create paid search ads along with fast and mobile-friendly landing pages for every CPO vehicle in-stock," he said. "It automatically updates all our paid search ads, pricing and landing pages nightly. This allows consumers to directly engage with our CPO inventory in one click."
Paragon put a "huge investment" last year toward Facebook, YouTube, Google and Bing, and those have borne fruit. But the efforts have not been about simply getting "likes" or "page fans," he said. There's a precise ad approach that the store has utilized with these platforms.
"These platforms are now media networks unto themselves, which is a huge opportunity to reach thousands of people at a fraction of the cost with a very targeted message," Benstock said.
"We've developed very targeted Facebook, YouTube, Google AdWords, Bing campaigns and Online Display ad strategies that have allowed us to be very nimble and efficient with our targeting and spend while getting real-time ROI. We shifted a large percentage of our budget to these platforms last year, and we plan to invest heavily in this space again in 2017."
Benstock said more than 60 percent (and climbing) of its website traffic is via mobile, so that plays right into this strategy.
"The shift to mobile has already happened, and you have to be in that space to succeed," Benstock said.
"The best part of this strategy and our success this past year is that we did not have to build or upgrade to an expensive new facility, buy more land, or get more aggressive at auctions to find this business," he said. "Our incredible team earned each sale using what we already had, in our own backyard. Our 20-percent sales increase went straight to the bottom line."
Shopping the traditional way
Of course, many shoppers may want to buy vehicles in person.
Asked if consumers would still be able to buy cars the "traditional" way by walking into the store, Benstock said: "We see traditional sales as the foundation of our core strategy; however, we want to offer all services currently available 'in-store' online. This includes pickup and delivery for service clients for all locations as well.
"Consumers will still be able to purchase vehicles as the always have. Consider Apple products: many of us have purchased apple products in store as well as out of store (online)," Benstock said. "The experience is different yet the client care is excellent and consistent, regardless of the purchase point."
2-prong strategy to leverage Acura CPO for Paragon
Meanwhile, the Paragon Acura store was the No. 1 Acura certified pre-owned dealer in the U. S. last year, moving 1,048 units. So, Auto Remarketing posed this question to Benstock: To what degree has the CPO program served to get aspirational luxury buyers into new cars at Paragon Acura?
"We advantage the Acura CPO program in two major areas. First, we actively market to our current customers that are already driving a CPO Acura. We have specific messaging, mediums and strategies we deliver through our Vehicle Exchange Program to help our customers upgrade into a new Acura," he said via email. "We leverage our new technology to create a custom, private portal for each customer that configures custom upgrade options to lease or finance a new Acura as they reach a certain point in their loan where upgrading is most likely."
Retention is key, he said, and this technology they have employed gives Paragon Acura an edge in terms of providing "a unique personal consumer experience versus shopping on our public websites," Benstock said.
"We advantage everything we know about the existing Acura CPO customers including their financial history, all their service transactions and any new Acura factory programs they might qualify for towards their upgrade," he said. "We believe this will have a huge impact on our goal to double sales in the next 24 months."
As for the second piece of its strategy, Benstock said Paragon Acura uses digital means to target online shoppers who are looking for competitive luxury brands.
"The Acura CPO program is perfect for these consumers. We use data-driven technology to determine which brands and models have the highest statistical probability of switching to Acura based on our dealerships actual trade patterns. This technology allows us to precisely market to consumers shopping for the makes and models we are already winning against," Benstock said.
"With a large Honda store, we naturally upgrade many Accord, Pilot and CR-V owners into CPO Acura vehicles through our Vehicle Exchange Program. We use the same technology we have at Honda to deliver targeted online search ads and campaigns with Facebook, Google, and YouTube that are specifically designed to attract and convert aspirational luxury buyers to an Acura," he said.