Part I on vehicle-feature subscriptions: OEMs face 'uphill battle'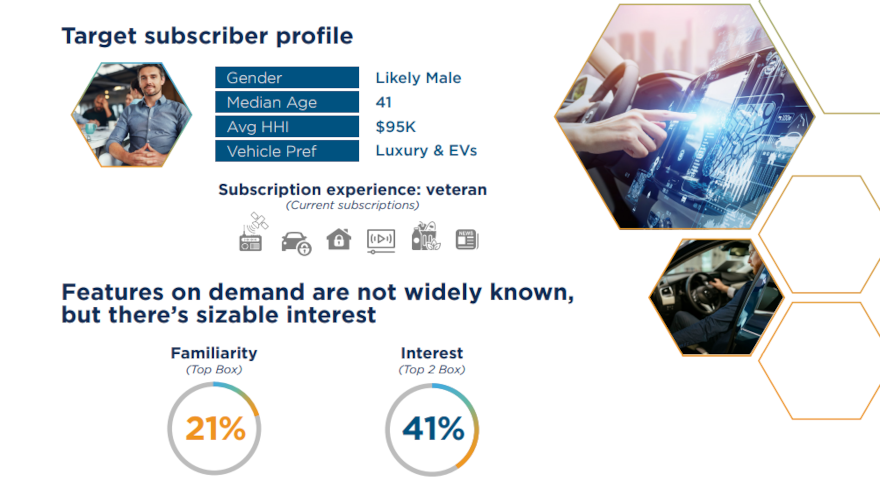 Bluetooth and backup cameras used to be features reserved for high-line models. Now, Bluetooth is as prevalent as vehicle seating, and backup cameras have been a mandated safety feature for vehicles manufactured since 2018.
With even more robust products inside the cabins now available, some automakers see the potential to generate significant revenue from subscription-type features, also known as Features on Demand (FoD).
But recent consumer research from Cox Automotive shows OEMs may face challenges if they choose to forge that path.
In a study titled "Software Monetization: The Emergence of Vehicle Features on Demand," the Cox Automotive Research and Market Intelligence team explored the trend toward offering vehicle features through subscription-type services.
"Our initial research indicates that the transition to Features on Demand will be an uphill battle for many automakers," said Vanessa Ton, senior manager of market and customer research at Cox Automotive, who helped lead the research project.
"In the market right now, there is low consumer awareness and some skepticism on the part of shoppers. To gain consumer acceptance, automakers must ensure consumers perceive subscription-based features as a good value and not just a money-grab," Ton continued in a news release.
Cox Automotive indicated its research showed consumer skepticism, as three out of four respondents agreed with the statement, "Features on Demand will allow automakers to make more money."
Further, researchers discovered that 69% of respondents indicated that they would likely shop elsewhere if certain features were available only via subscription.
The study revealed three areas automakers should address when developing a Features on Demand strategy. They included:
—Low awareness: The study suggested that understanding of Features on Demand is still very low among shoppers, with only 21% of in-market shoppers familiar with the concept. However, 41% indicate that they are interested in Features on Demand.
—Perceived high price: The research also showed that, at least initially, most shoppers (58%) expect an FoD approach to be too expensive, and there are concerns about data security and privacy.
—Free trial periods: 65% of survey respondents suggested that a free on-demand subscription — a free-trial period — would be a positive selling point and make them more likely to consider a brand.
"As consumer familiarity is low, automakers will have to be careful in how they present an FoD strategy and make sure not to turn off shoppers from the start," Ton said. "Our research suggests that free trial periods might be one way to approach the issue."
However, Cox Automotive didn't go so far as to recommend that automakers abandon the concept altogether. Rather, researchers said shoppers see potential upside in features on demand subscriptions if done right.
Cox Automotive noted that automakers can develop a win-win Features on Demand strategy that creates a new revenue stream and provides the perceived value for money that consumers desire. Three recommendations included:
—Base models: Researchers think most shoppers believe a top benefit of FoD would be a lower starting price for the vehicle. Features on Demand could be a way for some automakers to offer a more affordable base model vehicle that could evolve.
—Future upgrades: Cox Automotive contends shoppers view FoD as an opportunity to upgrade their vehicles and try new technology. Nearly half of the shoppers surveyed felt FoD features would be a reason to retain a vehicle longer, as new capabilities or options could be added well after purchase.
—Try before you buy: According to the study, most shoppers see some benefit in the strategy, as an FoD approach will allow vehicle buyers to try out unfamiliar features without requiring a long-term commitment (i.e., buying something they don't like or need.)
"As with everything in the auto business, the value proposition has to be front-and-center for the consumer," Ton said. "Automakers will need to steer away from mandates and instead ease consumers into features they can access by offering free trials on safety and convenience options."
The Cox Automotive research indicates that FoD with the greatest revenue opportunity for the automakers would be stolen vehicle location and recovery systems, parking-assist features, digital keys via smartphone applications, and in-vehicle Wi-Fi.
According to the report, the greatest longer-term revenue opportunities for FoD would be through streaming services, virtual assistants, and driver monitoring or self-driving capabilities.
Editor's note: Part II of this series delves into how FoD could impact operations at auctions and dealerships.