Part I: Retail innovation key in dealer strategy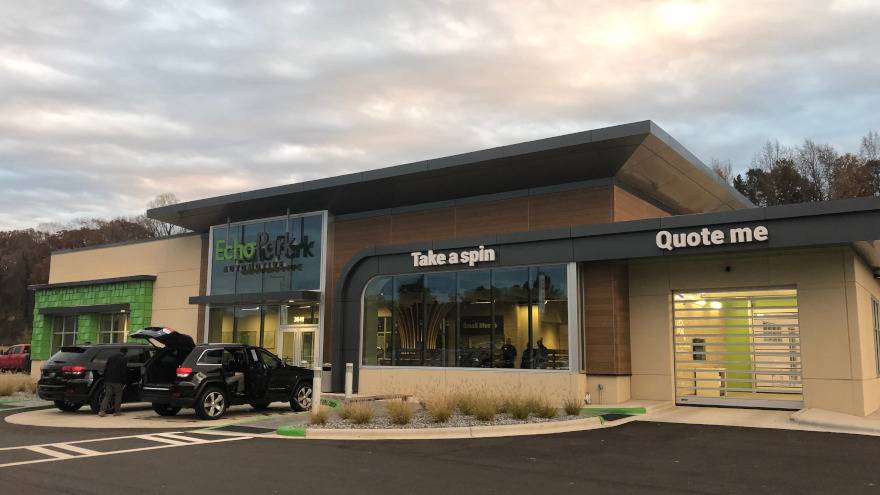 CHARLOTTE, N.C. -
A walk through the customer-facing side of the EchoPark Automotive store in Charlotte, N.C., has the feel of a cafe, not a car dealership.
The employee work area, separated from the consumer-facing front, has the trappings of a young, tech-leaning startup.
But the innovation of this store and its fellow EchoPark locations go well beyond appearance.
These standalone used-car stores, launched by the publicly traded Sonic Automotive dealer group, take a new approach to auto retail — perhaps representing, on a larger scale, the shifting sands of how dealerships operate.
This innovative way of thinking was evident in a late November interview at the Charlotte store with Jeff Dyke, president of EchoPark and Sonic, and Sanjay Prakash, the location's general manager.
Everything from inventory pricing to employee management at EchoPark is a bit different than what you might find at a traditional car dealership.
Buy smart, and in bulk
Take, for instance, how these stores find inventory.
"We source everywhere, but we try to buy in bulk," Dyke said. "And the best way to sort of think about how we buy is, you go to a meat market.
"And at the meat market, there's chicken and steak and hamburger and sausage and you name it," he said. "We look for what's on sale today.
"We don't necessarily buy to a, 'Hey, here's what the customer wants'; We buy to a price-point, so that we can create a really low price-point that brings the consumers into the store," Dyke said. "And that's everything — you've got to get the right price on a car.
"And once you hit that, it really drives the volume. And why others have a hard time replicating that is the expense. The process: You have to be able to buy the car, ship the car, recon the car, detail the car, take the pictures of the car, get it on the front line and get it out fast," he said. "And if you have any disruptions to that, like a big holiday sale, where you sell a ton of cars, it throws everything off."
Establishing a rhythm in buying is key in inventory management for EchoPark. So is consistency. Buying to a number. And not over-buying.
"You're going to sell more cars on a Saturday than you do on a Thursday, but we know those rhythms, so we buy in conjunction with that," Dyke said. "And we try not to over-buy; we do have projections for what we think we're going to sell the next week, and we try to buy to that number. And then the next week, buy to that number.
"Everything is done by week, so that we keep a consistent flow of inventory. And that's critical. Inventory management is imperative in order to be able to be profitable in a store like this."
Pricing right
So, too, is pricing of that inventory, which Dyke said is based on algorithms built internally and on data points from what is happening in the market.
An example of that is the electronic hangtags on the vehicles. When the company's internal pricing system changes the prices, that change is automatically reflected on the hangtag.
The EchoPark managers don't have to worry about buying inventory or pricing cars.
"They might give opinions on a car here or there, but overall, their job is to manage the associates and to manage the guest experience," Dyke said. "And we have an inventory team and a pricing mechanism that handles everything else."
The fact that the majority of the technology at these stores was developed internally means that making changes is typically easy, inexpensive and efficient, Dyke said.
"It's amazing how intertwined everything else is, too, and how much math and science is involved," said Prakash, the manager of the Charlotte location. "You think of inventory, purchasing and pricing, and then how it's attached to recon and then attached to sales, it's all intertwined. They all move in unison."
Lessons learned
Innovation, as it turns out, can be an evolving process. Since launching EchoPark Automotive in 2014, Dyke said there have been a number of lessons learned about how these standalone used-car stores should operate.
For instance, days' supply should in the low- to mid-20s at the stores, as opposed to the 29- to 32-day range for Sonic's new-car business. Also, pricing right from Day 1 is paramount. Don't overbuild.
"We tried to put this exact process in our new-car stores. But to take that culture and to convert it into this culture with the same people? Mistake. We learned that. You can't do that," Dyke said. "We've taken the technology out of the new-car stores and put it in here; that's worked very well. But certainly, hiring from day one and testing and making sure that you're bringing the right people into the organization and lots of training before you open — it's been an earmark for us from day one, but it's just gotten a lot better as we've moved forward," Dyke said.
"The people piece, the inventory piece. Don't overbuild the facility," he said, pointing out that a facility can be nice without being massive.
"And we don't have to have tons of people. Our technology allows us to sell two-and-a-half times what a traditional salesperson would sell in a regular store" where an associate might sell eight to 10 vehicles a month, he said.
"It's not about how many people you add; it's about how efficient you can be," Dyke said.
Store openings?
As far as store additions, the company aims to open one more location in March, putting its EchoPark store count to nine, and then they will likely "take a breather" for the rest of 2019 to focus on execution, Dyke said.
"What we want is for the nine stores to be profitable, and when we add a store … we stay profitable, and then you just build on that," Dyke said.
Starting next year, Sonic plans to start adding two to five stores annually, "depending on what our capabilities are and the performance of the organization," he said.
They want to grow, but do so profitably.
"Speed to market is really important, but when you have a formula like this, and you know that you can open up a store and it's going to sell 300 cars and it's a very, very good chance that it could break even in its first month, I'm not worried about the rest of the world anymore," Dyke said.
"I'm worried about how much can our people take on, and how much complexity do we put in front of them, how simple we can make it and the ease of opening stores," Dyke said.
"We know how to scale," Dyke said. "I did it at AutoNation, I've done it at Sonic Automotive. Scalability is one of our strengths. And our biggest strength is inventory and pricing. We really understand the inventory. All of our systems are all built internally. So, if you can scale, you can hire and train, and you can manage inventory; it puts you in a situation that gives you a pretty good competitive advantage."
Establishing culture
Another competitive advantage that EchoPark prides itself on is its workplace culture. Instead of spending 30 percent of his time working with employees and 70 percent on other tasks, Prakash said he spends 90 percent of his time coaching, teaching and working with the team at the EchoPark Charlotte store.
In fact, in a recent survey where team members could give feedback anonymously, they were asked what three words they would use to describe the culture at the store. The top response in the heat map of words was "family."
"That's really good to see as a GM and a leader of the team to see that we're living the values. And to Jeff's point, it's about reducing complexity. I'm allowed to focus on a lot of the activities that generate that," Prakash said. "I don't have to interact with a lot of guests, if I provide them with this, just like Jeff provides it for me, they're going to automatically be engaged every day.
"We've got mechanisms to keep us focused on the most important activities of the day, which is developing operating rhythms, making sure we're working with the people, making sure our building's tight and right all the time and our message to the community is good," he said. "That's all we focus on. We don't have a lot of other side science projects that take our eye off the ball."
For more, see Part II of this story.