Paul Lips reaches his career goal as NAAA's new executive director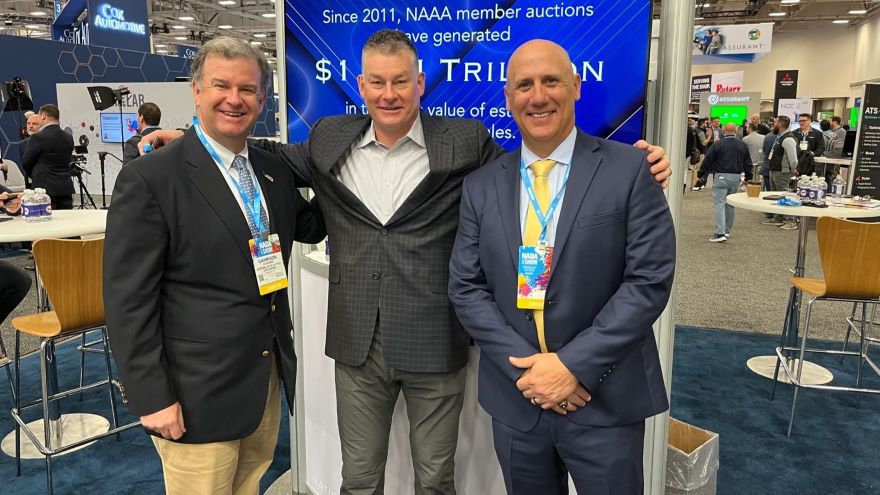 Paul Lips had a long, successful career with ADESA and its former parent company (then KAR Global, which rebranded as OPENLANE this year) that spanned more than 25 years and included numerous accolades.
But in the midst of all that, Paul Lips actually had a different career goal in mind, an aspiration he confessed one day while talking to Frank Hackett, then CEO of the National Auto Auction Association.
"I told Frank probably 10 years ago, 'Hey, if the timing works out, I'd love to run the association if you ever retire,'" Lips said.
That dream came true on July 1, when Lips officially began his tenure as NAAA executive director.
By then, the 55-year-old Indiana native had already served as interim executive director for six months following the January resignation of predecessor Tricia Heon.
"Frank retired a little too early for me, but when things didn't work out for Tricia and she decided to leave, it created the opportunity," Lips said. "It's something I always had my mind set on one day — you know, kind of let's see if it happens. And the stars aligned."
One of those stars was the purchase of ADESA's physical auctions by Carvana last year.
"Oh, yeah, that shook things up a little bit," he said. "But you know, I think it created opportunities for the folks at ADESA and KAR, on both sides of the fence. The people at KAR didn't have the ADESA guys, and that created some opportunities. And vice versa — Carvana suddenly had a presence in the auction world, and that created opportunities for others to step up.
"And it gave me the opportunity to go do something else and to now be a part of this great association."
When Hackett retired in 2021, Lips wasn't yet ready to make the jump from his post with ADESA and pursue the NAAA job, which went to Heon, NAAA's longtime legislative director and chief operating officer.
But not long after the Carvana acquisition, Lips, then serving as executive vice president of ADESA's Central Region, left the company to start a consulting business.
One of his first clients was NAAA, which sought his help with its finances. So, when Heon left, Lips was already on board, and the NAAA board asked him to take on the interim role.
"I thought, you know, it's kind of like dating somebody — you want to know you've got the right person before you propose," he said. "So, I said, 'I'm very interested, but let's do a contract first. Let's do an interim and get to know each other. Then if you guys are happy, I'm good to go.' And if not, I was going to pursue my consulting contract work."
The relationship seems to be a perfect match.
As an NAAA past president and board member, Lips knows the inner workings of the operation from the association side. And as a longtime auction industry executive, he brings an intimate understanding of NAAA's member auctions, including their needs, their issues — and even how to talk to them.
"It's a tremendous help because I understand what our members are saying the first time they call in," Lips said of his auction experience. "No disrespect to anyone else here, but there's terminology and comments about what happens on a daily basis in the auctions, and when I hear that I'm just in synch with them. Some of what I've been doing with the team has been translating some of those questions that come in."
"Then there's just understanding our members and working with teams as we think about things like: Why is this important to XYZ Auction? What can we be doing? Because I know what our challenges were when I was in the industry, and some of those challenges still exist. So how can we help our members solve them?"
That kind of sums up Lips' priorities as executive director. No. 1 on that list, he said, is finding more ways to help its members.
While NAAA's staff is very small — a total of nine people — Lips said "we pull off miracles every day." Still, he believes there is far more the association can do to make auctions, and the industry as a whole, better.
"I think we have more to give back to our members and more to give back to our industry," he said. "We couldn't do what we do without our members. So, I think we need to listen to what our members' needs and wants are. There's the opportunity to create programs and opportunities for our members to run their businesses better. We can share best practices, we can share ideas, we can train and educate our members.
"But the biggest thing is how do we also give back to them? Maybe create some affinity programs or benefits for them they haven't seen before. So that will be on the forefront going forward."
One area Lips wants to highlight is the NAAA Services Corp., which operates AuctionNet, a repository of wholesale transactional data from some 200 NAAA-member auctions that is used by auto manufacturers, financial institutions and other in the auto industry.
"We are a data source for the industry through the Services Corp.," he said. "Because of the experience of our team members there – [vice president of auction data solutions] Larry Dixon and [senior director of business development] Jim Gibson, we should be at the forefront, too, in terms of updating the industry on what the latest trends are and where we're headed.
"That's exciting to me to be able to work with those guys and see how we can bring that to our members."
Lips' immediate attention, though, is NAAA's annual convention, coming up Sept. 26-28 at the Hilton Chicago.
For the association's 75th anniversary, the convention has been rebranded as the NAAA World Remarketing Convention.
"We are international — we have members outside the U.S. who attend our annual convention each year," he said. "So, it makes sense, since we're the remarketing leader and we have international members, to change the name to the World Remarketing Convention.
"The annual convention is a great opportunity to pull everyone together — vendors, customers, member auctions — to create a vibrant event. We've changed things up a little bit this year. It will be exciting to see where that goes."
Of course, a bigger question might be about the current and future state of the auction industry itself, which has undergone considerable disruption over the past decade and especially since the beginning of the COVID pandemic as online auction platforms mushroom and dealers increasingly look toward alternative methods of sourcing inventory.
But through all that, Lips sees brick-and-mortar auction industry as solid.
"It's surprising how stable the physical auction business has been," he said. "I really think it's driven by the fact that we adopted and embraced the Internet a long time ago. Cars have been selling over the Internet through auctions for more than 20 years now, starting in the late '90s when the Internet was just starting to come into play.
"That said, one thing the Internet can't do is it can't store cars for you. It can't recondition a car. Those are things only physical auctions can do. And that's why, when I say stability, there are going to be peaks and valleys in terms of the volume but there's always a core business that we're going to need from physical auctions."
Currently, Lips said, auctions are in one of those valleys. But, he added, that doesn't mean the industry is in trouble.
"It's the law of supply and demand," he explained. "How many cars are in the marketplace right now that need to be remarketed? There are different channels — off-lease and repo and rental and dealer. And even within those, they ebb and flow.
"We're at that low point now, where on the supply side just about every segment is down. But that will rebound. We see those trends coming down the road. New car sales are looking a little bit stronger this year. That will translate into trades this year, and it will translate into cars coming back off-lease or through repos or rental programs two or three years from now."
To be sure, Lips is bullish on auto auctions. He's been hooked on them since he first set foot in one in 1996.
"I've had an amazing career and have had a wonderful life because of being in the auction industry," he said. "I've met so many people who are amazing businesspeople, amazing individuals, really great people."
When Lips began his term as NAAA president in 2012, Hackett asked when he wanted to do first.
"I think Frank about had a heart attack when I said, 'Well, it's our 65th anniversary so I want to visit 65 auctions,' " Lips recalled with a laugh. "We quit counting, but we saw a few along the way that we popped into so we ended up over 70.
"I wanted to get out and see everybody, and not just the chain I worked for, not just ADESA. I wanted to see everyone. And that's what I love about this industry. We can all come together. People compete every day, but they come together and they work together to make the industry and the association better. That's what it's all about.
"I look at it this way: The industry gave me an amazing career and an amazing life. Now I get a chance to go help the industry take it to the next level."