Quality at Top of Buyers' Minds While on Dealer Lots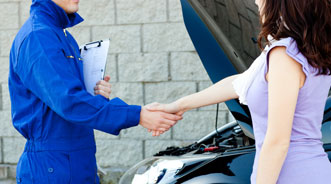 RICHMOND, Va. -
It is crucial to know exactly what customers are looking for when they are searching the lots and priorities range from dependability and speed to image and technology, to name a few.
But according to a recent CarMax survey, the most important element for buyers to consider remains "quality," for the third year running.
In fact, almost double the amount of respondents chose quality over price as the most important factor influencing a car-buying decision, according to a recent telephone survey conducted for CarMax by Ipsos Public Affairs.
"Consumers want to drive off the lot knowing they are in a high quality vehicle, and they also want to feel good about the price and safety of the vehicle," said Troy Flaherty, Mid-Atlantic region vice president of purchasing.
Interestingly, the results of a recent Global Quality Survey released by AIAG show that the methods currently used to measure quality in the industry are considered outdated by industry leaders who took part.
J. Scot Sharland, executive director of AIAG, noted that the automotive industry has made significant strides in improving quality over the past decade, something he said is evidenced in the upward trends in published product quality and customer satisfaction surveys.
"However," Sharland said, "continuous improvement is key to any manufacturing strategy, and AIAG is driving that discussion, using this study as a road map to identify likely trends as we reshape our vision of quality in the future."
Those who participated indicated they believe too many external quality metrics currently exist, with misaligned targets and objectives, AIAG said. Respondents suggested replacing these metrics with new ones that identify leading quality indicators, such as design and process.
Breaking the Carmax survey numbers down further, 41 percent of responders chose quality, followed by price (41 percent) and safety (17 percent), respectively.
And it seems men and women are buying with the same frame of mind, as both chose quality as their top factor individually too — 46 percent of men and 36 percent of women chose quality.
On the other hand, resale and environmental factors were least important, at 5 and 4 percent, respectively, according to survey results.
Interestingly, the rank results for the survey have been mostly the same for three years in a row, with the only change being resale value falling below environmental factors in 2010.
Earlier this year, though, when gas prices spiked past $4, high fuel prices made their mark on consumers, who were driving less and contemplating the move to smaller, more fuel-efficient vehicles, according to recent survey by Consumer Reports.
The survey, conducted by the Consumer Reports National Research Center, found that 37 percent of those polled said their leading consideration when shopping for their next car will be fuel economy, with approximately two-thirds of car owners saying they expect their next vehicle to get better fuel mileage than their current one.
Other factors were considerably behind that number in the survey, with quality ranked tops by 17 percent of respondents; safety by 16 percent; value by 14 percent; and performance by 6 percent.
"These results make it clear that high fuel prices are continuing to impact driver behavior and influencing future purchase considerations," said Jeff Bartlett, Consumer Reports' deputy auto editor. "While quality, safety and value are still important, this may be foreshadowing a market shift by folks seeking relief at the pump."
But what about what consumers are looking for in a dealership and store staff after already finding their perfect ride?
Just last year, CarGurus scoured more than 1,000 written reviews posted on its website during the prior six months and found five clear reasons why some dealers are loved by shoppers while also listing the top five reasons why some dealers are found to be not so appealing.
Site officials discovered poor communication and deceptive business practices were the dominant themes in the negative reviews. On the bright side, they said friendly service and upfront, timely communication were cited most often in favorable consumer reviews.
CarGurus suggested its findings prove a dealer's candor and responsiveness carry significant weight and can make or break a sale among online shoppers — sometimes even before the consumer meets the salesperson face-to-face.
And according to J.D. Power and Associates 2012 U.S. Sales Satisfaction Index Study, online reviews are becoming even more important to potential buyers, as well.
While nearly 80 percent of new-vehicle buyers use the Internet during their shopping process, J.D. Power also found that nearly one-third consult online ratings/review sites when selecting a dealer.
Also, per the study results, J.D. Power contends that customers prefer salespeople who invest the time up front to listen to them and ensure they select the right vehicle. The firm said perceived pressure decreases when sales consultants establish a business relationship and understand customer needs.
Given the increasing complexity of technology in today's new models, J.D. Power went on to mention there is a growing need for dealers to spend time explaining complicated audio, entertainment and navigation systems so buyers can fully utilize all the benefits these technologies offer.
A majority (86 percent to be exact) of new-vehicle buyers indicate that the dealer staff spent "just the right amount of time" with them during the delivery process.
Among the 8 percent of new-vehicle buyers who say that the dealer staff did not spend enough time at delivery, the study determined nearly three-fourths indicate they would have preferred staff to spend more time reviewing their vehicle's features and technologies, such as pairing their phone to Bluetooth or demonstrating the navigation system.
To read more on the recent J.D. Power study, see the Auto Remarketing story here.