Recall impact on CPO vehicle marketing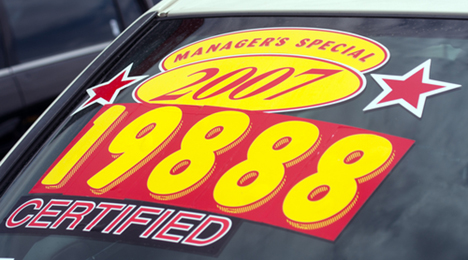 CARY, N.C. -
With the millions of recalls in the pipeline nowadays, compliance expert Randy Henrick contends dealerships find themselves in "a difficult situation," especially in light of how the Federal Trade Commission settled with General Motors and two large dealership groups about how certified pre-owned vehicles are marketed.
Back in January, the FTC indicated GM as well as Jim Koons Management and Lithia Motors touted how rigorously they inspect their vehicles, yet failed to disclose that some of the used models they were selling were subject to unrepaired safety recalls.
Under proposed consent orders, which would remain in effect for 20 years, the FTC said the companies are prohibited from claiming that their used vehicles are safe or have been subject to a rigorous inspection unless they are free of unrepaired safety recalls, or unless the companies clearly disclose the existence of the recalls in close proximity to the inspection claims.
And with the ongoing Takata airbag inflator issue involving possibly 60 million units, recalls could include a wide array of CPO models. Henrick explained the precarious position dealers might face as a result.
"Having to advertise for every certified vehicle that this vehicle may be subject to a recall — unless the dealer services the brand and cures the recall or gives the customer a copy of the recall certificate — dilutes the certification value as recall information can be accessed on the (National Highway Traffic Safety Administration) website," said Henrick, who was Dealertrack's regulatory and compliance counsel for 12 years and now conducts industry consulting at www.autodealercompliance.net.
"But when you are dealing with hundreds of used vehicles, it is not practical for a dealer to look them all up," Henrick continued. "If a dealer is selling another brand's used car, the dealer can't practically cure the recall."
The FTC added the proposed orders with GM, Koons and Lithia also would prohibit the companies from misrepresenting material facts about the safety of used vehicles they advertise.
These proposed orders will also require the companies to inform recent customers, by mail, that their vehicles may have an open recall.
"Safety is one of the biggest considerations for consumers shopping for a car," Jessica Rich, director of the FTC's Bureau of Consumer Protection said when the regulator announced its settlements at the beginning of the year.
"So companies touting the comprehensiveness of their vehicle inspections need to be straight with consumers about safety-related recalls, which can raise major safety concerns," Rich continued.
Is the FTC achieving its objectives as a result of this action? Henrick isn't so sure.
"I think as consumers begin to see these notices on all certified used car sales, they will become insensitive to them and that will hurt the recall business, which is the exact opposite effect the FTC would like to achieve," he said.