Recurrent adds $4.5M in funding, plus retail & wholesale partners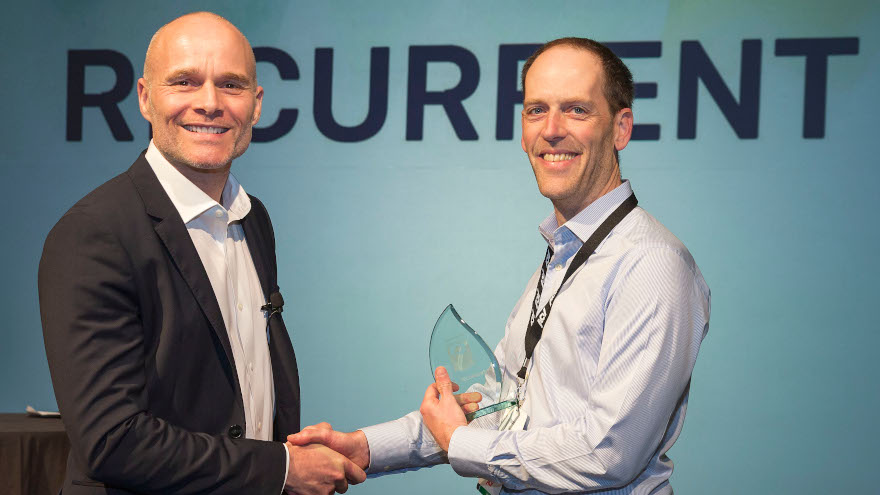 Recurrent, a company that analyzes electric vehicle battery health, announced a series of growth moves during last week's Auto Intel Summit.
Those include new investors as well as new dealer and auction partners for the company, which was among Auto Fin Journal's 2022 Emerging 8 honorees.
Starting with the new clients, Bay Area-based Del Grande Dealer Group and its 19 dealerships will utilize Recurrent's ratings on its used EV listings.
"In addition, we're thrilled that one of the largest used auto wholesale auction providers (Company name to be disclosed soon!) will be adding Recurrent to its digital auctions to offer buyers new levels of transparency when purchasing used electric cars," Recurrent co-founder and chief executive officer Scott Case said in a message last week.
"This allows its customers to quickly determine how well an individual EV has retained its driving range and how that range can be expected to vary in different temperatures," Case said. "Our ratings will be available to all auction bidders on the site."
Offering his take on the partnership with the dealer group, DGDG CEO Jeremy Beaver said in a news release: "The shift to electric vehicles continues to be a great opportunity to help our guests reduce commuting costs and their carbon footprints.
"A key to helping our guests make informed buying decisions includes education around charging and range. Recurrent reports are an amazing resource for our team of product specialists that helps with the EV shopping journey and experience," Beaver said.
Moving on to the new investors, Recurrent said it has added these new investors, who have contributed a total of $4.5 million in additional funding: Automotive Ventures, Goodyear Ventures, Hearst Ventures, Avesta Ventures, MAP Investco, Circumference Group, Enertech Capital, and E8 Angels.
"I have shared in the past that each new investor, advisor and seasoned customer helps me be a better CEO. I learn from them each day," Case said in the message.
"Today, as I look around at the Recurrent community, which now includes 8,000 EV owners, tens of thousands of EV shoppers, 20 team members, and a growing client base, I am equal parts thankful for the past and excited for the future. Recurrent would not be what is without all of you," he said.
In a separate news release, Case said: "For almost two years, we have been working tirelessly to develop a product that is capable of revolutionizing the secondary EV market. It is such a proud moment for everyone on our team that we are able to welcome these new investors as they help us scale it for all types of EV buyers. Whether you are a wholesaler, dealership or individual car buyer, we are ready to add transparency and confidence to your purchase."