Reputation report shows volume and impact of dealership reviews rising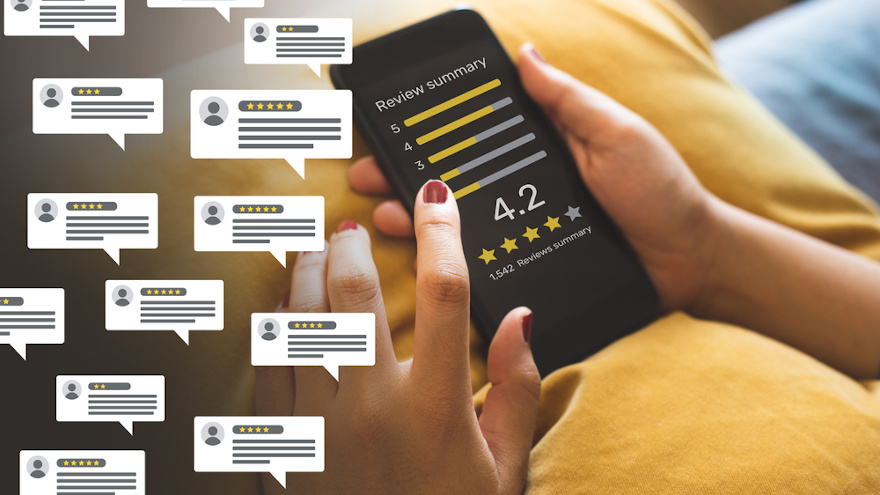 In a competitive market with vehicle prices hovering at near-record highs, the reach and influence of online reviews continues to rise.
The 2023 Automotive Reputation Report released this week by Reputation found the number of reviews in 2023 rose by 11% year over year to its highest level in the past three years across all major sources of review locations.
The reputation experience management platform analyzed 5.5 million car buyers and service reviews using AI-powered data analysis and partnered with Prodege to survey 1,500 consumers in the U.S. and United Kingdom about their purchasing preferences.
The report, Reputation said in a news release, shows consumer reviews are "the single most important factor for vehicle-buying decision-making."
That assertion is backed by survey results showing 84% of consumers said reviews are important in their choice of dealerships, and 74% insist on at least a 4-star rating. In addition, 62% said they read more than five reviews in evaluating a dealership and 63% are willing to drive more than 20 miles to visit a highly rated dealership.
The influence of reviews is even greater on the coming-of-age Generation Z. According to the survey, 93% of Gen Z consumers use reviews to make purchasing decisions, and they're more than twice as likely (17%) to have their choice of dealership influenced by social media than the general population (8%).
Overall, 40% said they're likely to provide feedback in a public forum like a review site.
The report said online reviews also help drive consumer satisfaction as dealerships work to earn a four-star rating by responding to and managing feedback at the local level.
"People are willing to pay the higher prices we're seeing today, but expect a premium experience – which means where they buy their car matters now more than ever," Reputation CEO Joe Fuca said. "With reviews of dealerships spiking and 84% of consumers saying reviews are a crucial factor in their purchasing decisions, dealerships can build trust and boost sales by listening to customer feedback and acting on it."
Reputation Scores
The report also ranks vehicle brands, dealer groups and individual dealerships based on their Reputation Score.
Reputation uses its Reputation Score to measure the sentiment, visibility and engagement of brands and dealerships down to the local level. The report found the average dealership score held steady year-over-year at 643 on a 1,000-point scale, and said dealerships that raised their Reputation Score by 150 points from 2022 to 2023 increased sales by 10%.
Infiniti was the top-rated luxury brand in the U.S., over Lexus, BMW, Acura and Porsche, while Mitsubishi led non-luxury brands, ahead of Subaru, Nissan, Hinda and Volkswagen.
AutoNation ranked No. 1 among public dealer groups, followed by Group 1, Sonic, Penske and Asbury. Hendrick Automotive Group had the top score among private groups, with West Herr, Ken Ganley, Holman and Napleton also in the top five.
The report named Infiniti of Nashua (N.H.) as the nation's top-rated dealership, followed by Porsche Southpoint in Durham, N.C., Madison Ford in Madison, Va., Hendrick Lexus Charleston (S.C.) and BMW of Kansas City South in Kansas City, Mo.
The full report and complete rankings are available at reputation.com/auto-report.