Dealer philanthropy: Rick Case Automotive CEO honored & Chicago event for military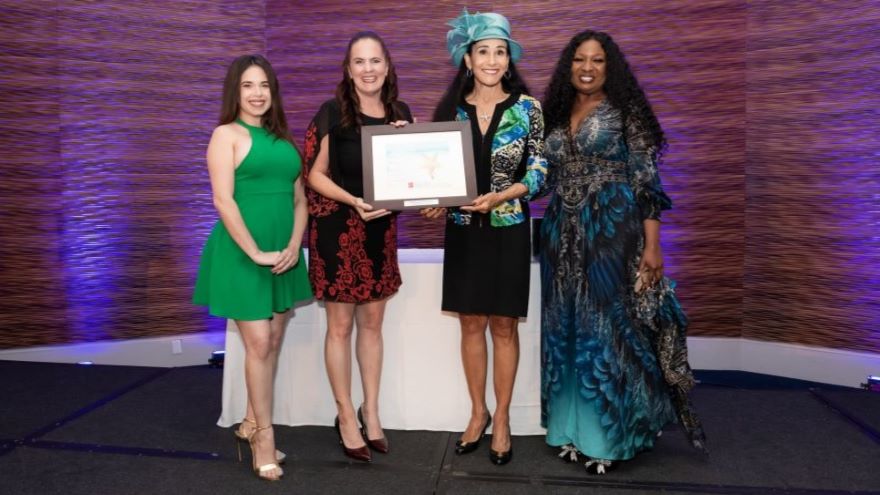 Rita Case, president and CEO of Rick Case Automotive Group, was among those honored at the 16th annual Women In Distress Starfish Luncheon in Fort Lauderdale, Fla.
The event, focused on the power of generational philanthropy and volunteer work in securing a safe future for the community, raised more than $260,000 for victims of domestic violence.
Rita was honored for her work with WID, funding multiple campaigns and signature events to empower survivors. Wearing the original Starfish pin given to charter board members in 1974, Rita spoke about how education and empowerment are the key to helping the future generations.
The Starfish Luncheon event helps Women In Distress provide free and confidential services in multiple languages to families affected by domestic violence, including a 24-hour crisis hotline, emergency shelter, counseling and therapy services, injunction-for-protection legal services, education and prevention services for the community and Broward County's first pet shelter for families affected by domestic violence.
Rick Case Automotive Group – the largest female-owned and operated independent automotive dealer group in the U.S., was a presenting sponsor of the luncheon, which drew more than 450 community and business leaders.
Case and her late husband Rick have created, developed and led numerous fundraising initiatives for community organizations.
The family and its dealerships, through Rick Case Cares, support a variety of non-profit organizations, including Boys & Girls Clubs, college and vocational scholarship funds for deserving students, Habitat for Humanity, United Way, Humane Society, Feeding South Florida, Broward Center for the Performing Arts, American Cancer Society, Broward Health and many more worthy causes.
Among those charitable initiatives are a $50,000 donation to provide two Broward County public schools with newly upgraded CPR in Schools Training Kits from the American Heart Association.
The donation was part of Rick Case Automotive's multi-year financial commitment to the American Heart Association's mission.
Case visited Seminole Middle School in Plantation, Fla., to deliver the kit and participate in the training session. Whiddon-Rogers Education Center in Fort Lauderdale also received a kit as a result of the donation.
The kits are used by the schools to teach lifesaving CPR skills and to familiarize students with the use of automated external defibrillators, as well as how to provide choking relief.
"It was incredible to see the students so eager and willing to learn," Case said. "They could one day potentially save a peer, teammate, colleague, friend, relative, teacher or a complete stranger. … It's so important that we teach them at a young age."
Chicago dealers to host USO Barbecue for the Troops
The Chicago Automobile Trade Association will host the 10th annual USO Barbecue for the Troops, a series of community events on July 15 to raise awareness and funds for local military and their families.
More than 80 dealerships have signed on to support the cause. They'll offer patriotic ceremonies, classic car shows, live music, games for kids of all ages and — of course — barbecue.
Since the program's inception, CATA dealers have rallied to raise more than $1 million to support USO programs and services with more than 600 fundraisers taking place.
CATA includes some 420 franchised new car dealers and an additional 150 allied members.
"New car dealers are pillars of their communities and so it makes a lot of sense for the dealers to rally their neighbors for this grassroots fundraiser in support of local troops and their families," CATA chairwoman Kelly Webb Roberts said. "Last summer we achieved a major fundraising milestone and we look forward to adding to that running total with this year's barbecue."
USO Illinois executive director Christopher Schmidt said CATA's fundraising efforts have impacted more than 300,000 service members and their families annually.
In addition to the July 15 event, CATA's USO fundraising will continue online throughout the month of July. To contribute, click here.