Roadster raises $15 million, doubles funding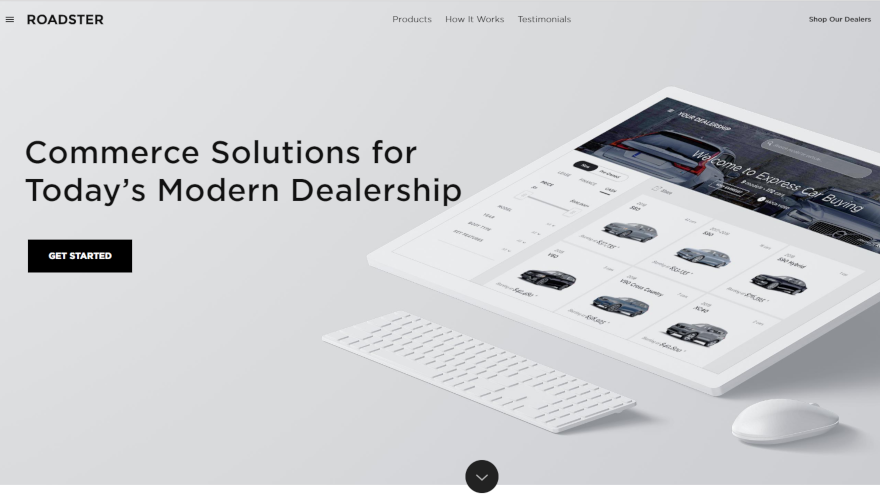 CARY, N.C. -
Roadster has more than doubled its funding.
The dealership commerce solutions provider said Wednesday it has secured $15 million of funding in a round led by existing investor Costanoa Ventures, bringing its total money raised to nearly $30 million.
Roadster plans to use the funds to continue scaling operations, expand field and sales teams, give its marketing a boost and continue the growth of its Express Storefront products.
This is the latest in a line of major moves by the company, which has signed dealers and dealer groups like Lithia Motors, Penske Motor Group's Longo Toyota and Paragon Honda/Acura, while also being named one of Lexus' four certified digital retail partners.
A Roadster spokesperson said that by the end of the month, all Lexus dealers will be able to utilize the services of Roadster on their respective websites, as it will be one of the official digital retailing options for the automaker's dealer body.
"Over the past year, Roadster has transformed from a Silicon Valley startup into a powerful force in the automotive industry," Roadster chief executive officer Andy Moss said in a news release.
"Our suite of branded Express products have helped dealers, dealer groups and OEMs significantly improve operating results and we have become the go-to omnichannel commerce solution for dealers looking to streamline their sales processes," he said.
"With over 300 rooftops, including relationship programs with automotive groups like Lithia and our participation as one of four of Lexus' certified digital retail partners, it's clear we're onto something big."
Moss and Roadster chief marketing office Michelle Denogean discussed those big plans in more detail with Auto Remarketing by phone earlier this week.
Scaling up operations
Roadster, which currently works with dealers in 38 states, has more than doubled its dealer partner count since the beginning of the year, Moss said.
"So, we're adding new dealers at a rapid clip, as well," he said. "That's including expansion into additional states."
But as Roadster continues to bring in dealers, the goal is to continue having close working relationships with its dealer partners. That makes broadening its field and sales teams necessary.
"A lot of what we're doing on the scaling side is making sure we have closer and local field teams for dealers' success in those markets," Moss said. "Similarly, on the sales side, we're also putting sales teams across the country. I'd say, a lot of it is really, 'how do we scale up the business to really keep up with the demand?'
"Obviously, there's ongoing investments also in the product and engineering part of our business as well. We're still very much a product and technology company," he said.
"But I think one of the things that differentiates us is really the level of support we've been able to provide our dealerships and we need to continue making the investments to continue to provide that level of support."
While the increased digitization of automotive — one of the last bastions of retail to go this route — is fundamental to Roadster, Moss points out that the company's software is used just as much in store as it is online, making its work with dealers really an "omnichannel approach."
That underscores the need for dealer training and why Roadster is investing in this area.
As far as a specific timetable on when it would be in all 50 states, Moss said the geographic expansion is largely driven by the location of dealer customers. And most of the customers it is signing now are dealer groups, which could vary between concentrated in a certain geographic area or spread out.
In fact, the company launched Express Marketplace, which is geared toward dealer groups, at NADA Show 2018 earlier this year.
"In addition to Express Storefront, where we can sell individual dealership solutions, we can also roll up each of those dealership solutions into a marketplace, where you can cross-shop across all the dealers in that group," Moss said. "That also then brings the geographic coverage as well because many of those groups have stores in locations we haven't been in before."
Adding dealerships in an area can have a "viral" impact, Moss said.
"Once we start adding dealerships in a certain location, the dealer down the street starts to notice, and there's some level of viral effect there, as well."
Investing in marketing, omnichannel
On the marketing side of the equation, Denogean, the Roadster CMO, said the company is, "looking at partnerships that will bring more distribution to our dealer partners," she said.
And since they are not consumer-facing, marketing on the awareness side would be on behalf of dealer, dealer group and OEM partners.
"The rest of it will go towards just continuing to create awareness within the automotive industry about Roadster and our omnichannel solution," she said.
Going back to the omnichannel approach, Denogean discussed that in further detail in this contributed commentary last week.
"Connecting the online and in-store experience together is what is referred to as omnichannel retail. Omnichannel means allowing a customer to enter from any channel and pick up where they left off — consistent and continuous," she wrote.
"When done right, omnichannel retail benefits more than just the customer, it is also great for business. By enabling the customer to do some or all of the process online, you are saving the valuable time of your sales staff, who as a result can attend to more customers," Denogean said. "Some of our dealer partners claim to be saving three to six hours per transaction."
Changes to Express Storefront
The company's Express Storefront is a white-label product that lets dealers automate each step of car-buying by merchandising and selling all inventory from online to in-store.
As far as upgrades to Express Storefront, Moss said they will focus on two areas.
First, Roadster aims to go more in-depth on in-store processes and integrate through core systems like the DMS and add more enhancements around desking tools.
"Our goal really is to be the primary sales system for dealers to use, pretty much on every transaction," Moss said.
He also sees the potential to move from a lead-based automotive ecosystem to one based on transactions.
"We see lots of opportunities to partner with existing third-party marketplaces, with OEMs, with other lead providers, and make it seamless," Moss said. "Instead of just ending up with a lead form, flow that customer directly into sales process at our dealerships."
Noting that this could help save the customer time, Moss said he also thinks there will be a move from shoppers clicking a dealer contact button and filling out a lead form to instead go directly into a store's online sales or checkout process.
"We think that's the other big opportunity for us over the next six to 12 months," Moss said. "And we're talking to many of the players in the space around how to make that a reality."