Roundup of NAAA action at NADA Show 2023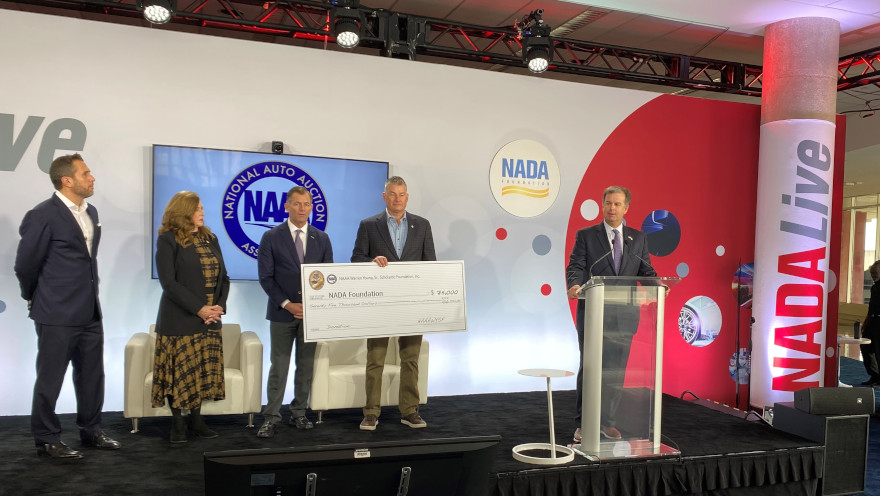 It was a busy week for the National Auto Auction Association, which hosted its annual Total Access event Wednesday and Thursday in conjunction with NADA Show 2023 in Dallas.
And on Saturday, the group's NAAA Foundation presented a $75,000 donation to the National Automobile Dealers Association's Workforce Initiative, which began in 2019 as a way to bring in more service technicians to retail automotive, but has since expanded to include recruitment efforts across all dealership departments.
"As representatives of the auto auction industry, our mission and values align with NADA and the important work of their foundation," NAAA Foundation Board president Charles Nichols said in a news release. "We know firsthand the wide range of career paths in the auto industry and the importance of recruiting, training, and retaining a talented and diverse workforce."
Annette Sykora, who chairs the NADA Foundation board of trustees and is dealer principal at Smith Auto Family Ford-Lincoln, added: "We are grateful for the support of industry partners like NAAA and the NAAA Foundation who align in our mission to support and develop the auto industry.
"The Workforce Initiative is evidence of our belief that effective talent development starts with meeting potential employees where they are. That is why our resources focus on promoting education and accessibility to dealership career paths."
Elsewhere during the events, NAAA renamed its Disaster Relief Fund after Mike Browning, who is the association's executive vice president and general manager of Manheim San Antonio.
The fund is now known as the Mike Browning Disaster Relief Fund and is part of the NAAA Warren Young Sr. Scholastic Foundation.
Browning helped to establish the fund, and was inspired to do so during his time as GM of Manheim New Orleans, where in the aftermath of Hurricane Katrina and the impact to his auction and employees' homes, Browning saw how individuals giving back and lending a hand can really make a difference in difficult times.
"I can't think of anyone who is more deserving of this honor," said NAAA President Garrison Hudkins. "Mike's selfless dedication to the NAAA, Manheim, his team members, and above all his genuine caring and compassion for others make him the perfect person to name the Disaster Relief Fund after."
Next up, NAAA announced that it has named the following as Warren Young Fellows for 2023:
Ed Ammar, vice president, assurance and arbitration at ADESA
Kevin Cook, AVP of client shared services at Manheim
Tommy Rogers, general manager, BSC America
The trio were recognized for their service to the auction industry and leadership as co-chairs of NAAA's Auction Standards Committee.
"Ammar, Cook, and Rogers currently serve as co-chairs of the NAAA Auction Standards Committee, helping to lead a team that develops and evolves auction industry policy and standards. Under their leadership, the committee has made great strides in building consensus among members in support of the industry," NAAA said in a news release.
The group added: "NAAA congratulates Ammar, Cook, and Rogers for earning the lifetime distinction of being named a Warren Young Fellow and for joining this exclusive group of individuals who further the legacy of Warren Young, a pioneer of the auto auction industry."