Service drive revenue for franchised stores remain at record level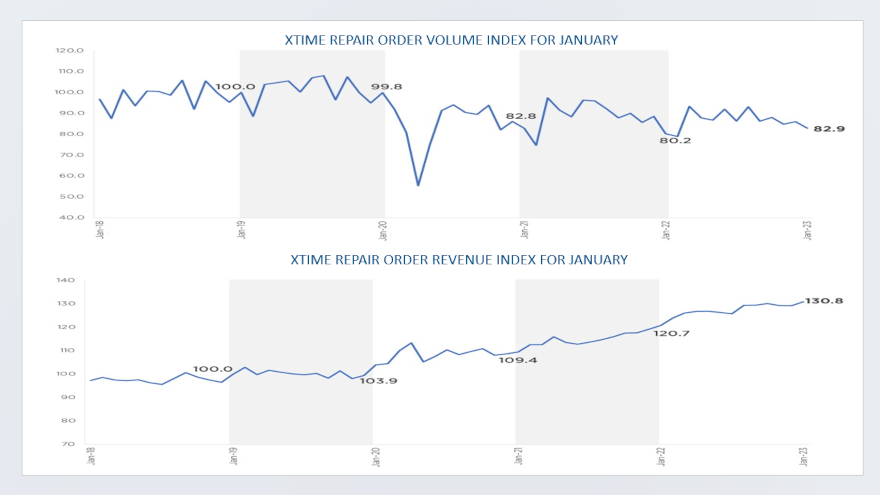 If franchised dealerships didn't retail as many used and new vehicles in January as they anticipated, perhaps their service drives helped to keep the store finances on a positive path.
While still a mixed bag, the latest Cox Automotive analysis of Xtime metrics showed service activity decreased but service revenue increased month-over-month at U.S. franchised dealerships in January.
Analysts also said both the Repair Order Revenue Index and the Repair Order Volume Index were both up compared to last January.
Cox Automotive recapped that its monthly Xtime volume and revenue metrics are designed to showcase average service department performance over time, with the information indexed to January 2019.
The two top-line measures provide a glimpse into service department performance at franchised dealerships in the U.S.
Xtime, a Cox Automotive brand, provides software that helps auto dealers facilitate more than 10 million service appointments monthly.
"The decline in the January Repair Order Volume Index is likely a capacity issue — from shortages of both technicians and parts — as opposed to declining consumer demand," Cox Automotive chief economist Smoke said in a Data Point that recapped the information.
"Service demand remains strong, and traditionally service is an area where dealers see a lot of resilience during a negative economic cycle," Smoke added.
Cox Automotive indicated the January Repair Order Volume Index, which decreased to 82.9, dropped 3.6% month-over-month from December's upwardly revised number but rose 3.4% compared to January of last year.
Cox Automotive research showed that consumers are holding on to their vehicles longer and fixing them instead of trading them in. Those big-ticket repairs, along with inflation, are helping to keep service revenue high, according to company experts.
Meanwhile, at 130.8, January's Repair Order Revenue Index ticked up 1.3% from December's upwardly revised reading and jumped 8.4% year-over-year.
Cox Automotive also pointed out the average revenue generated per repair order increased by $7, setting a record high for the index.
"Dealers are telling us that inflation and rising costs are causing them to increase their service prices, and the January Xtime Repair Order Revenue Index reflects that reality," Xtime performance manager Tiffani Stefanescu said.
"Service revenue is essential to the overall health of a dealership, so dealers need to focus on recommending additional services during the service visit and providing an excellent customer experience so that the boost in revenue translates to profit and customer loyalty," Stefanescu went on to say.